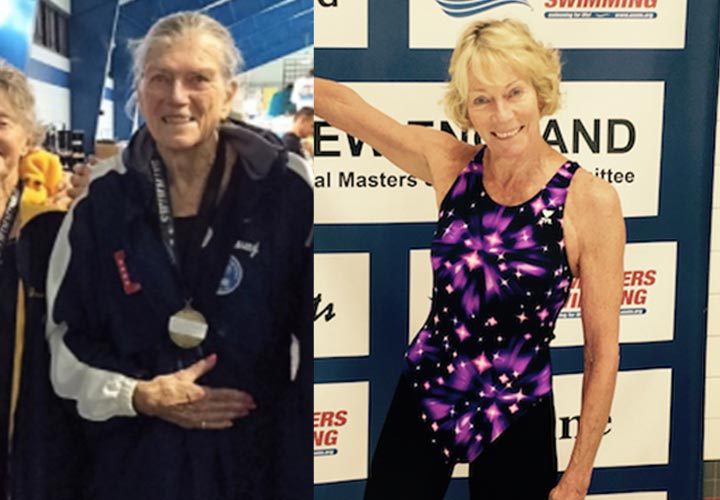 (L-R): Betty Lorenzi and Diann Uustal
2017 Top 12 World Masters Swimmers of the Year
Sponsored by TriSwim whose products remove chlorine, chlorine odor & salt water, and green tint.  Their salon quality products hydrate & moisturize the skin, heal itchy skin & hair, relieve dandruff, eliminate pool rash & relieve symptoms of eczema.
Swimming World Magazine has been recognizing the Top 12 World Masters Swimmers of the Year for the last 14 years. Running from April 2nd through April 7th the staff at Swimming World will be shining a spotlight on the accomplishments of our Top 12 World Masters Swimmers of the Year.
Betty Lorenzi, USA (90-94)
Fleeing the harsh winter in the Midwest, Betty Lorenzi joined the Florida Aquatic Combined Team (FACT) in the Tampa Bay area in 2008 to continue her lifelong love of swimming. She had been swimming since the age of 2, but took a 50-year hiatus from the sport after failing to make the Olympic team.
When she was 70, she returned to competitive swimming. She completes about a mile daily to stay at the top of her age group and has managed to demolish some Masters world records along the way, including six in 2017—all in backstroke. The 90-year-old set WRs of 56.84, 2:04.90 and 4:24.90 in the 50-100-200 back short course, and 56.89, 2:07.31 and 4:38.73 in the same events long course. She credits longtime coach and friend, Joe Biondi, for all of her swimming success.
It's hard to find a dry eye in the natatorium when Lorenzi and others in her age group touch the wall in record-breaking fashion, inspiring swimmers of all ages to stay active and continue to pursue their dreams. Lorenzi's daughter, Betsy, is by her side at each meet and continues to be motivated by her mother's example.
Lorenzi is looking forward to the Pan American Masters Games in Orlando in July and August of this year. "I'm still learning about life. That's what's helped me along," Lorenzi said. She had to fight her way back from a broken neck last year and claims that swimming helped her heal.
She enthusiastically enjoys life—"especially when I break world records!" But it's not the records that keep her swimming—it's the people.
"It's a wonderful sport to get involved with because you have so many people you get to know over the years. We continue to see each other year after year," she said. "Swimmers are very interesting people."
Diann Uustal, USA (70-74)
For the second straight year, Diann Uustal is one of Swimming World's Top 12 honorees. She's actually been named three times, having also been recognized in 2011.
In addition to the five women's 70-74 global standards she swam in 2016, she added another six world records this past season.
She set four SCM standards (50-200 free, 32.38, 2:43.60; 200 back, 3:04.82; and 100 IM, 1:23.23) and two long course records (50 free, 33.02; 50 y, 35.02).
But racing doesn't come as easily as it once did. Uustal earned the nickname of "phoenix" from her swim friends after returning to competition from multiple surgeries to repair tendon tears due to a genetic connective tissue disorder.
When asked about her proudest accomplishment, Uustal focuses on the bigger picture: "I'm most proud of bouncing back. To be injured is one thing, but to be told you have an incurable genetic disease is another. The only reason why I broke that (SCM) 200 backstroke record (last October) was because something in my head started to say, 'You aren't who you used to be.' I had to prove it to myself."
Like many competitive athletes, Uustal doesn't easily back down from her goals when obstacles come her way. Instead, she redefines success: "Success doesn't mean being No. 1 or being the best in the world. That's an incredible feeling, but it really has to do with the confidence it engenders because you've done all the work to get there. We need to emphasize what sport teaches about yourself: being fully what you're called to be while focusing on loving others."
And loving others is what Uustal does best. "The camaraderie is what keeps me in Masters swimming. My best friends are my swimming friends because they 'get it.' We support each other no matter what. If you intentionally surround yourself with healthy people, you'll stay healthy, too."