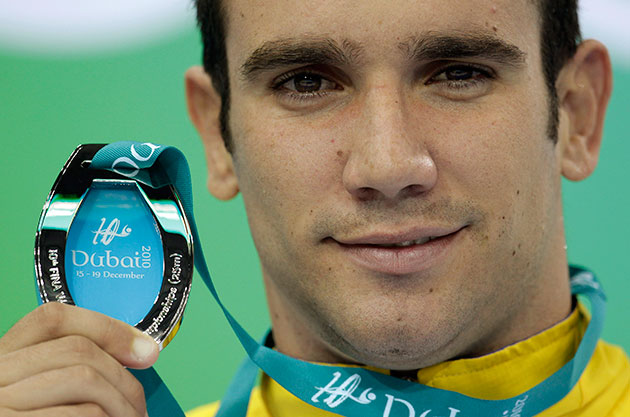 SANTIAGO, Chile, March 9. THE third day of the South American Games in Chile featured Brazil and Venezuela trading top times with Albert Subirats putting up the most impressive time of the evening.
Venezuela's Albert Subirats shot to the top of the world rankings in the men's 100-meter fly with a strong time of 52.26 in the finale. That time smashed the previously top-ranked 52.58 of Laszlo Cseh from the Euro Meet in Luxembourg earlier this year. The two-time Olympian had taken some time off from the sport, but is back with a vengeance training at Auburn University. Mauricio Villanueva touched second in 53.24 with Brazil's Fernando Da Silva claiming third in 53.88.
Venezuela's Andreina Pinto had another amazing night, running her gold-medal tally to five here in Chile. Pinto topped the women's 200-meter freestyle with a time of 1:59.89, while Colombia's Jessica Camposano touched second in 2:01.10. Brazil's Jessica Cavalheiro earned third in 2:01.27.
Just 30 minutes later, Pinto returned to the water to win the women's 200-meter fly in 2:12.42. Teammate Isabella Paez placed second in 2:15.31 with Argentina's Virginia Bardach picking up third in 2:16.79.
After posting a 22.12 in prelims of the men's 50-meter freestyle, Brazil's Bruno Fratus cruised to a 22.40 to win the splash-and-dash to kick this evening off in Chile. He's been faster than both this year, with a third-ranked 22.00 to beat compatriot Cesar Cielo (22.15) at the Arena Grand Prix in Orlando, but he didn't need that type of speed for the win tonight. Argentina's Federico Grabich touched out Suriname's Rezno Tjon-a-Joe, 22.86 to 22.88, for silver.
Brazil's Thiago Pereira raced his way into the top 10 in the world with a 2:00.09 to win the men's 200-meter IM. That performance pushed him to sixth overall in the rankings as he smashed the field in the event. Compatriot Thiago Teixeira finished nearly three seconds behind with a 2:02.80, while Venezuela's Carlos Claverie wound up third in 2:05.77.
Ecuador's Esteban Enderica won the men's 1500-meter freestyle by nearly three seconds with a 15:27.92, while Venezuela's Andy Arteta (15:30.80) and Alejandro Gomez (15:35.58) finished second and third in the finale.
Brazil's Pamela De Souza dominated the women's 200-meter breaststroke finale with a 2:31.02 as Venezuela's Mercedes Toledo finished a distant second in 2:34.62. Brazil's Juliana Marangoni wound up taking third overall in 2:36.32.
In relay competition, Brazil's Fernando Dos Santos (55.46), Felipe Lima (1:00.50), Nicholas Dos Santos (52.95) and Matheus De Santana (49.04) easily won the men's 400-meter medley relay in 3:37.95. Argentina (3:40.51) and Venezuela (3:42.66) took second and third. Brazil then swept the relays this evening as Daynara De Paula (56.15), Larissa De Oliveira (55.61), Alessandra Harrison (56.01) and Graciele Herrmann (56.42) took the women's 400-meter free relay title in 3:44.19. Venezuela (3:48.78) and Argentina (3:50.03) comprised the rest of the podium.