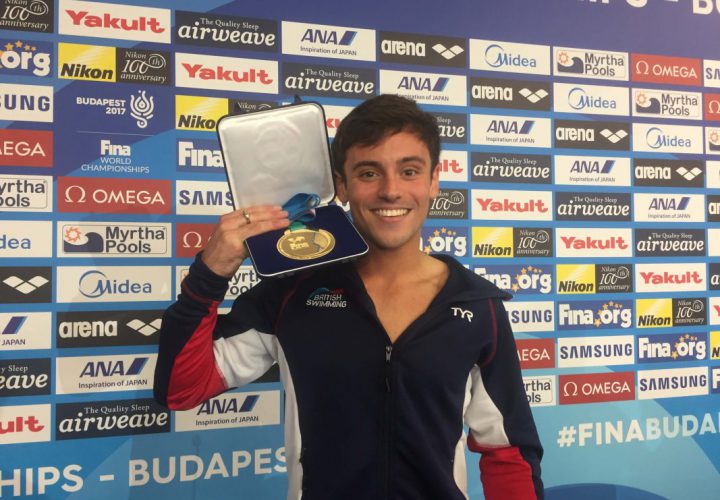 Photo Courtesy: Brent Rutemiller
Editorial Coverage provided by

Following the 10-meter diving final at the FINA World Championships in Budapest, Swimming World caught up with British World Champion Tom Daley as well as the top American, sixth-place finisher David Dinsmore.
Daley spoke about moving past a disappointing performance at the Olympics in Rio, where he missed the final of his signature platform event, and bouncing back to stand on top of the World Champs podium. He also discussed his final dive, when he had to beat a monumental effort from China's Chen Aisen to win gold.
"I can put to bed Rio now and be like, now I can move on on my journey to Tokyo… Going into the last round and having a five point lead, I saw Chen hit the water, and I was like, 'Yeah, that's how you want to play? I'm here to play, too." – Tom Daley
Dinsmore discussed his rebound from last year, when he took third in the platform event at U.S. Olympic Trials, how excited he was to win a medal in the mixed platform event and what making the World final does for his career.
"Finishing third at Olympic Trials) definitely affected me quite a bit in my everyday life, but I use that as motivation to improve my diving, and I made my first final at World Championships and finished sixth, so I'm very happy." – David Dinsmore