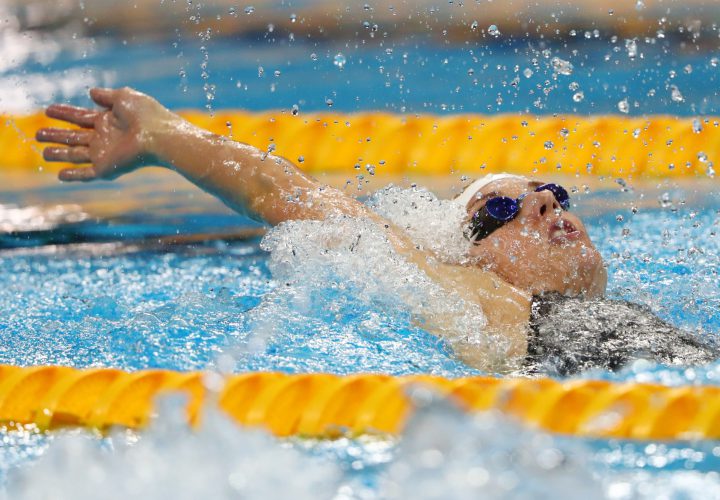 Photo Courtesy: Rob Schumacher-USA TODAY Sports
Editorial Coverage provided by

The heat sheets are out for day two finals at the FINA World Championships in Budapest, and Katinka Hosszu has scratched out of the 100 back semi-finals. She won Olympic gold in the event last year in Rio.
Click here to view the full heat sheets.
Hosszu will also be the top seed for the final of the women's 200 IM, which she also won gold in last year. The final is scheduled for a few minutes after the 100 back semis in the evening session, prompting Hosszu's withdrawal.
Great Britain's Siobhan-Marie O'Connor also scratched the women's 100 breast semis in anticipation of her race in the 200 IM final.
Elsewhere, Egypt's Marwan Elkamash will swim in the semi-finals of the men's 200 free, and Austria's Felix Auboeck will not. The two initially tied for 16th in prelims, but no swim-off ever happened.
Aside from Hosszu, two other Olympic gold medalists will go in finals of their signature events Monday evening: Sweden's Sarah Sjostrom in the women's 100 fly and Great Britain's Adam Peaty in the men's 100 breast. Caeleb Dressel enters the men's 50 fly final as the top seed.
In the four semi-final events scheduled for the evening session, Canada's Kylie Masse and China's Xu Jiayu are the top seeds for their respective 100 back races, while the USA's Lilly King was first in the women's 100 breast prelims. China's Sun Yang took the top spot in the men's 200 free.