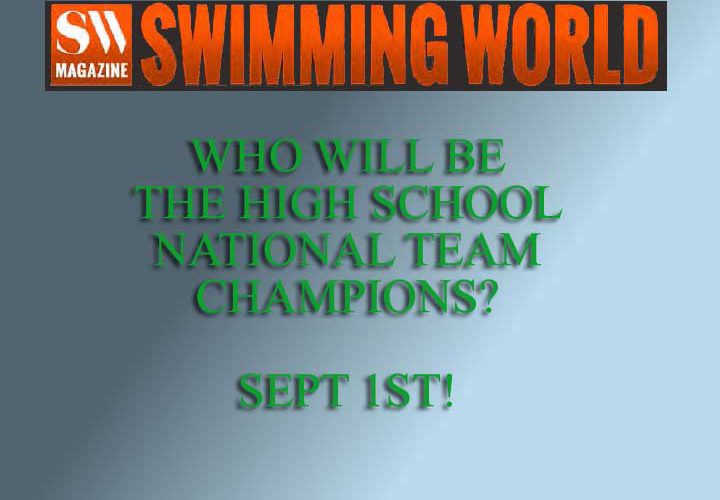 Every year Swimming World highlights the top Male and Female High School National Team Champions in the September issue. In anticipation of the release of the September issue we at Swimming World would like to take a look back at previous winners.
Subscribe now to receive the Swimming World Magazine High School National Team Champions issue! Click here to receive a 1-year subscription for $39.95. Use code "realnews" to receive 25% off during checkout.
2016 Female Winner – Carmel High School
The Carmel High School girls' swimming and diving team won their 30th straight Indiana state championship last season on their way to becoming Swimming World Magazine's girls' national high school champions for the fifth time in the last six years.
2016 Male Winner – La Salle College High School
After finishing runner-up in 2015 in Swimming World's boys' national high school championships, La Salle College High School of Wyndmoor, Pa. came back and won its first-ever national team title.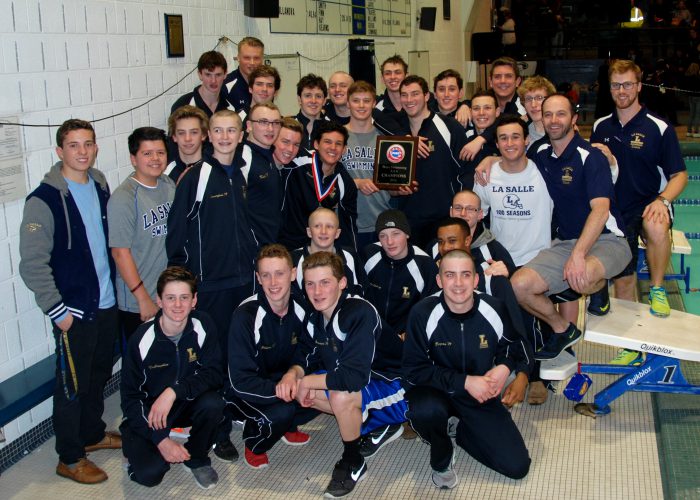 Photo Courtesy: La Salle University High School
Year
Boys HS
Boys Prep
Girls HS
Girls Prep
2017
Carmel
St. Xavier
Carmel
Santa Margarita Catholic
2016
Upper Dublin
La Salle
Carmel
Sacred Heart
2015
Upper St. Clair
The Bolles School
Carmel
Crean Lutheran
2014
Chesterton
The Bolles School
Carmel
Crean Lutheran
2013
Campolindo
The Bolles School
Carmel
JSerra Catholic
2012
New Trier
The Bolles School
Holland
The Baylor School
2011
Hershey
The Bolles School
Carmel
The Baylor School
2010
Hershey
The Bolles School
Carmel
Carondelet
2009
Saratoga
The Baylor School
Carmel
The Baylor School
2008
Yucaipa
The Baylor School
Austin Westlake
Germantown Academy
2007
New Trier
Bellarmine Prep
Austin Westlake
Germantown Academy
2006
Humble Kingwood
The Bolles School
Ann Arbor Pioneer
Germantown Academy
2005
Upper Arlington
Brophy Prep
Ann Arbor Pioneer
Germantown Academy
2004
Carmel
St. Xavier, OH
Lake Forest
The Bolles School
2003
Lake Forest
St. Xavier, OH
Ann Arbor Pioneer
Ursuline Academy
2002
Firestone
St. Xavier, OH
Irvine
Ursuline Academy
2001
Evanston Township
St. Xavier, OH
Irvine
Ursuline Academy
2000
Firestone
The Bolles School
St. Charles
The Bolles School
1999
The Woodlands
The Bolles School
St. Charles
Trinity Prep
1998
The Woodlands
The Bolles School
Carmel
The Bolles School
1997
Cypress Creek
Brother Rice
Shadow Mountain
The Bolles School
1996
Cypress Creek
The Peddie School
Carmel
The Bolles School
1995
Humble Kingwood
The Peddie School
Carmel
The Bolles School
1994
Humble Kingwood
St. Xavier, OH
Davis
Germantown Academy
1993
Humble Kingwood
Jesuit
Davis
Pine Crest
1992
Plano
St. Xavier,
OH
Americus
Germantown Academy
1991
San Marino
The Peddie School
McCullough
The Peddie School
1990
Churchill
The Peddie School
North Penn
The Peddie School
1989
Churchill
Bellarmine Prep
Mission Viejo
The Peddie School
1988
Hinsdale South
Mercersburg
Edina
St. Andrews
1987
Mission Viejo
Mercersburg
Spanish River
Germantown Academy
1986
Mission Viejo
Germantown Academy
Mission Viejo
Germantown Academy
1985
Mission Viejo
Germantown Academy
Mission Viejo
The Bolles School
1984
Campolindo
Mercersburg
Mission Viejo
The Bolles School
1983
Mission Viejo
Mercersburg
Mission Viejo
Mercersburg
1982
Mission Viejo
Mercersburg
Mission Viejo
The Peddie School
1981
Mission Viejo
Mercersburg
Mission Viejo
N/A
1980
Mission Viejo
Mercersburg
Mission Viejo
N/A
1979
Mission Viejo
The Hill School
Mission Viejo
N/A
1978
Mission Viejo
Jesuit
Mission Viejo
N/A
1977
Mission Viejo
The Peddie School
Mission Viejo
N/A
1976
Episcopal
N/A
Upper Dublin
N/A
1975
Santa Clara
N/A
N/A
N/A
1974
Santa Clara
N/A
N/A
N/A
1973
St. Xavier, OH
N/A
N/A
N/A
1972
Santa Clara
N/A
N/A
N/A
1971
Santa Clara
N/A
N/A
N/A