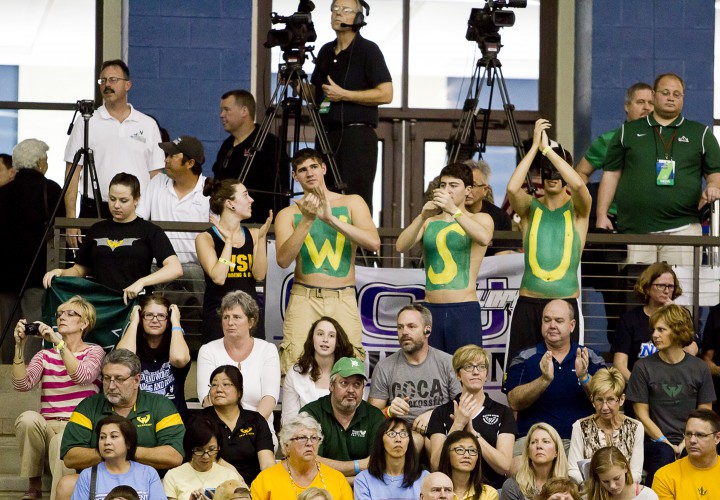 GENEVA, Ohio, March 12. THE first day of preliminary qualifying at the NCAA Division II Championships at the SPIRE Institute featured an NCAA D2 record in the men's 200-yard medley relay, while Drury also had a particularly strong morning with a dominant 50-yard freestyle.
Women's 200 IM
West Chester's Katharina Fischer and Drury's Agnieszka Ostrowska put the NCAA D2 record on notice in the 200-yard IM as Fischer (2:00.83) and Ostrowska (2:00.86) broke dipped into the 2:00 range during preliminary qualifying. Southern Connecticut State's Amanda Thomas owns the record with a 2:00.09 from 2012.
Wingate's Sofia Petrenko qualified third overall in 2:01.67, while Queens (Charlotte) went two-up in the event with Caroline Arakelian (2:02.37) and Hannah Peiffer (2:03.30) both making the top eight with the chance for some huge team points for the Royals.
Bridgeport's Adeline Martin (2:03.38), IUP's Allyson Mitidieri (2:03.47) and Ashland's Hannah Mattar (2:03.91) rounded out the championship finale.
Men's 200 IM
In another event likely to see a new NCAA D2 record this evening, Queens' Matt Josa rocked to a 1:45.10 in prelims. That's within striking distance of Piotr Jachowicz's record 1:44.82 set a year ago at NCAAs while swimming for Wayne State. Josa is a Division I talent who chose to stay home and train with his local club of SwimMAC, while also competing collegiately. Jachowicz, however, could have something to say about Josa's run to the title as he qualified second in 1:46.58.
Drury picked up a pair of A final qualifiers with Albert Lloyd (1:46.79) and Kacper Pelczynski (1:47.76) taking third and eighth, while Wingate's Marko Blazevski (1:47.36) and Tim Kniffler (1:47.53) qualified fifth and sixth.
Grand Valley's Gianni Ferrero (1:47.23) and Southern Connecticut's Raymond Cswerko (1:47.62) earned the fourth and seventh-place transfer spots into what should be a fast finale.
Women's 50 free
Wayne State's Ana Azambuja produced the only 22-second swim of the morning as the top-seeded sprinter posted a 22.85. She has a bit of time to make up to clear Melissa Gates' NCAA D2 mark of 22.56 this evening, but should have the potential to pull it off.
Drury's Wai Ting Yu turned in a 23.00 for the second seed, while Cal Baptist's Mary Hanson snared third this morning with a 23.01. Bridgeport's Tatiana Shepel also posted a 23.0 with a 23.04 to take fourth in qualifying.
Simon Fraser's Nicole Cossey (23.16), Limestoen's Emily Reh (23.23) and NMU's Deborah Lawrence (23.29) earned the fifth through seventh-place spots in the championship heat. Meanwhile, Hillsdale's Rachael Kurtz and Drury's Tinsley Andrews set up a swimoff for eighth with matching 23.32s.
Men's 50 free
Bridgeport's Oscar Pereiro and Drury's Nicholas McCarthy set up a big-time battle in the finale with a 19.73 and 19.79, respectively, in the splash-and-dash preliminary qualifying heats. The two have a bit of time to drop, however, to rival Andrey Seryy's NCAA D2 record of 19.39 from 2011.
Meanwhile, Drury had a huge event to begin to open up some distance in terms of team scoring. McCarthy, Daniel Rzadkowski (19.86) and Samuel Olson (20.12) qualified second through fourth in the big final, while Sean Feher tied for ninth with a 20.31 to make the consolation heat.
Limestone's Sean Gunn (20.14), UC San Diego's Nicholas Korth (20.21), Florida Southern's Robert Swan (20.27) and Saint Leo's Matheus Assis (20.29) also made the championship finale.
Women's 200 medley relay
Drury's Yakaterina Rudenko (25.53), Agnieszka Ostrowska (28.81), Wai Ting Yu (24.19) and Kaylan Gieseke (23.65) turned in a 1:42.18 to lead qualifying in the medley relay, while Alaska Fairbanks' Victoria Adams (26.15), Thanh Nguyen (28.29), Margo Adams (24.46) and Bente Heller (23.42) qualified a close second in 1:42.32. Bridgeport (1:52.60) and LIU Post (1:42.92) even jumped into the 1:42 range to set up a potentially exciting finale.
Grand Valley (1:43.12), UC San Diego (1:43.30), Wayne State (1:43.34) and Queens (1:43.51) rounded out the championship heat to close out the morning for the women.
Men's 200 medley relay
The first NCAA D2 record fell to close out the preliminary session. Wayne State's Juan David Molina Perez (22.43), Piotr Jachowicz (23.81), Soren Holm (20.89) and Till Barthell (19.99) touched in 1:27.12. That swim clipped Florida Southern's record of 1:27.21 set a year ago. There's little doubt that Wayne State could become the first 1:26 squad in NCAA D2 history considering how close they are to the barrier.
Drury might challenge for the title, however, as Igor Kowal, Banjo Borja, Stanislav Kuzmin and Nicholas McCarthy finished second in 1:27.77. UC San Diego's Sean Malley, Nicholas Korth, Julian Jacobs and Arthur Heale earned third in 1:27.95.
Queens (1:28.52), Tampa (1:28.79), Ashland (1:28.91), Bridgeport (1:29.05) and Florida Southern (1:29.49) also made the championship finale in the relay.