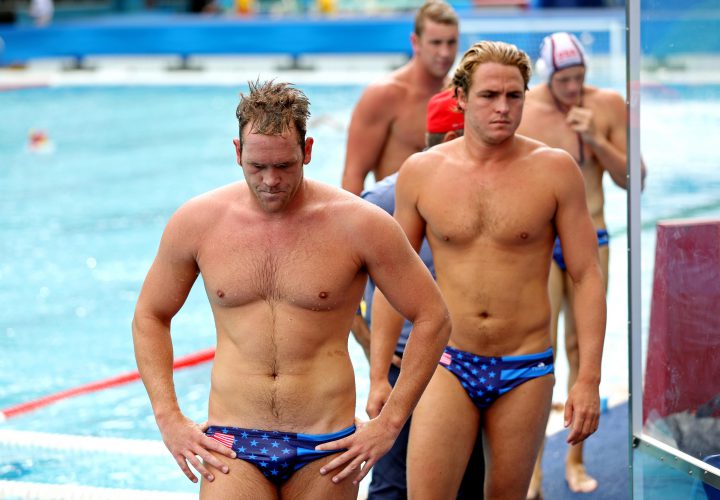 Photo Courtesy: Jeffrey Swinger-USA TODAY Sports
By Dan D'Addona
The U.S. men's water polo team's chance of advancing to the quarterfinals at the 2016 Rio Olympics was all but excluded when an exclusion penalty decided its match against Montenegro.
Early in the fourth quarter, Alex Roelse was ejected for a match exclusion and Montenegro took full advantage of the four-minute man advantage, scoring three goals to defeat the U.S. 8-5 on Friday.
It was a tough loss for the Americans, who hung with Montenegro the entire match and had three shots hit a goal post.
The U.S. is 1-3 with one match remaining in group play and will face Italy on Sunday. Josh Samuels scored twice for the U.S.
Milos Scepanovic had 13 saves for Montenegro, including stopping all 10 shots from the U.S. past the five-meter mark. Montenegro will face Spain on Sunday.
Serbia 10, Australia 8
Coming into the Olympics as the favorite to win gold, Serbia has struggled in Rio.
The team that has won four of the past five international tournaments turned things around Friday defeating Australia 10-8 to stay alive in group play.
Serbia clinched the victory with three goals in the final three minutes of the fourth quarter. Nikola Jaksic scored to give Serbia an 8-7 lead and Filip Filipovic followed with a goal.
Serbia still needs a win against Japan on Sunday for a spot in the quarterfinals. So does Australia, which faces Greece.
Hungary 17, Japan 7
Hungary finally got a victory in Rio after starting the tournament with three consecutive ties, defeating Japan 17-7.
It was the largest margin of victory in the men's tournament so far.
After failing to win the first three, Hungary took out its aggression early in the match, racing to an 11-3 halftime lead.
Gabor Kis scored five goals, while Krisztian Manhercz added four goals and Denes Varga tallied three. Meanwhile, Viktor Nagy saved 11 shots.
Hungary (1-0-3) faces Brazil in the final group play match on Sunday. Japan dropped to 0-4 and will face Serbia.
Croatia 10, Italy 7
Sandro Sukno scored five goals and Croatia handed Italy its first loss in Rio, winning 10-7 on Friday.
In the fourth quarter, Valentino Gallo scored to pull Italy within one, but it was as close as the Italians would get.
Croatia will take on France on Sunday, while Italy will face the U.S.
Greece 9, Brazil 4
Brazil, like Italy came into Friday's matches unbeaten, and like Italy, Brazil was handed its first loss in Rio on Friday.
No unbeaten teams remain as Greece defeated Brazil 9-4. Both teams have qualified for the quarterfinals.
Georgios Dervisis, Ioannis Fountoulis and Alexandres Gounas led Greece with two goals apiece, while Konstantinos Flegkas had seven saves on 11 shots. Greece will face Australia on Sunday.
Slobodan Soro had 10 saves in goal for Brazil, which faces Hungary next.
Spain 10, France 4
Spain clinched a spot in the quarterfinals by defeating France 10-4 on Friday.
Gonzalo Saglietti scored three goals for Spain (3-1-0), which led 6-1 at halftime and cruised through the second half. Daniel Lopez had nine save in goal.
Spain will face Montenegro on Sunday, while France (0-4), which was eliminated with the loss, will face Croatia in the final game of group play Sunday.