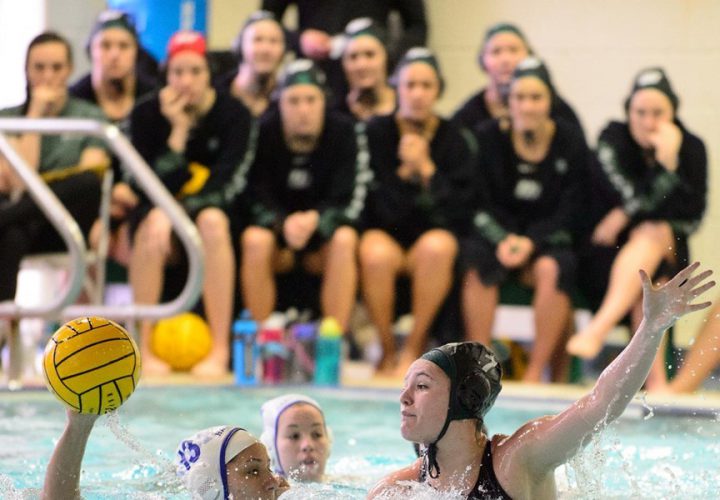 Wagner's Erica Hardy in action. Photo Courtesy: Wagner Athletics
Continuing one of the more dominant stretches in NCAA varsity women's water polo, Wagner College finished a third-straight undefeated season of Metro Atlantic Athletic Conference (MAAC) play with decisive wins yesterday over St. Francis Brooklyn and Marist.
Now riding a 42-match regular-season winning streak, the Seahawks (22-6, 14-0 MAAC)—who have already won four straight conference titles and with them back-to-back-to-back-to-back trips to the NCAA tournament—captured the top seed in the upcoming MAAC championship, to be held on April 28-29, in McCann Natatorium on the campus of Marist College.
Chris Radmonovich's squad will face No. 4 Virginia Military Institute (20-10, 8-6 MAAC) in the first semifinal matchup of the championship on Saturday, April 28. This is the Keydets—led by Shelby Barkley's 100 goals—make their second-straight appearance in the postseason after seven years of MAAC membership.
The Red Foxes of Marist (19-16, 12-2 MAAC) again slot in at No. 2 seed and will look to end four years of title game frustration against Wagner, their primary conference antagonists. First, they will have to beat No. 3 Iona College (12-22, 9-5 MAAC) in Saturday, April 28's second semifinal contest. Key to the contest will be how Head Coach Chris Vidale's charges handle senior Hannah Schultz, who powered the Gaels with 91 goals.
Outside of VMI, there's been very little change over the years in the postseason line-up for the MAAC. Marist returns to the MAAC Water Polo Championship for the 15th year in a row, while Iona and Wagner are making their 16th-straight trips.
One newcomer who made a tremendous impact on the conference is St. Francis Brooklyn's Kelsey Snelgar. Tops among conference players in goals (103) and second in points (130), the New Zealander—a freshman this year in Brooklyn Heights—is the first male or female Terrier water polo player to hit the century mark.
For more information on the 2018 MAAC Water Polo Championship, visit MAACSports.com/wp. Championship tickets can be purchased at maac.ticketleap.com, and will also be sold on-site during the event.