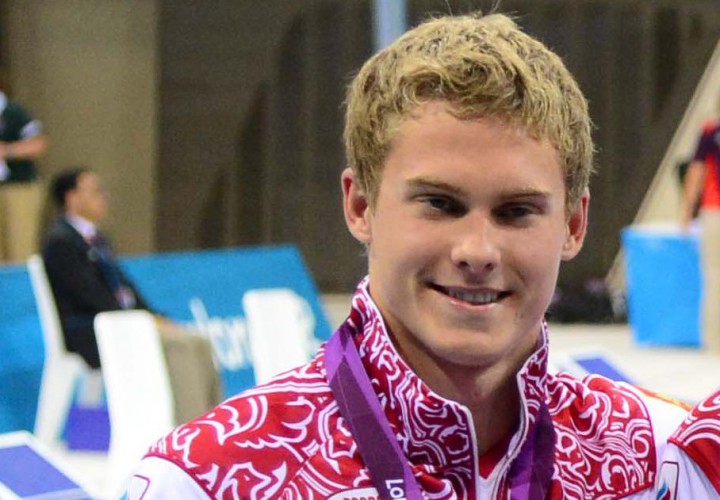 Photo Courtesy: Rob Schumacher - USA Today Sports
Vlad Morozov chased down an individual Olympic spot in the men's 100-meter free, and moved into a tie for eighth in the world at the 2016 Russian Nationals.
Morozov raced his way to a 48.09 for the win, tying Santo Condorelli for eighth in the world this year.
Andrey Grechin also cleared the Russian Olympic selection time of 48.57 with a second-place time of 48.18 to move to 10th in the world and secure an individual event in Rio.
Alexander Popkov (48.41) and Alexander Sukhorukov (48.55) set themselves up for 400 free relay duty by taking third and fourth.
Danila Izotov (48.58), Nikita Lobintsev (48.60), Stepan Surkov (48.82) and Ivan Kuzmenko (49.20) also competed in the finale.
Мужчины
1. MOROZOV Vladimir 1992 змс Volgograd Region 48.09 * мсмк 928
50m: 22.64 22.64 100m: 48.09 25.45
2. GRECHIN Andrey 1987 змс Altai Territory 48.18 * мсмк 922
50m: 23.16 23.16 100m: 48.18 25.02
3. POPKOV Alexander 1994 змс St. Petersburg 48.41 * мсмк 909
50m: 23.16 23.16 100m: 48.41 25.25
4. SUKHORUKOV Alexander 1988 змс St. Petersburg – Komi 48.55 * мсмк 902
50m: 23.48 23.48 100m: 48.55 25.07
5. IZOTOV Danila 1991 змс Krasnodar Territory 48.58 мс 900
50m: 23.34 23.34 100m: 48.58 25.24
6. LOBINTSEV Nikita 1988 змс Moscow Reg. – Sverdlovsk Reg. 48.60 мс 899
50m: 22.91 22.91 100m: 48.60 25.69
7. SURKOV Stepan 1994 мсмк Volgograd Region 48.82 мс 887
50m: 23.46 23.46 100m: 48.82 25.36
8. KUZMENKO Ivan 1995 мс Volgograd Region 49.20 мс 866
50m: 23.48 23.48 100m: 49.20 25.72
Финал B
1. VEKOVISHCHEV Mikhail 1998 мс Kaluga Region 49.51 мс 850
50m: 24.14 24.14 100m: 49.51 25.37
2. GALCHENKO Evgeny 1998 мс Novgorod Region 50.45 мс 803
50m: 24.35 24.35 100m: 50.45 26.10
3. SHAKHANOV Semen 1998 кмс Moscow City 51.01 мс 777
50m: 24.54 24.54 100m: 51.01 26.47
4. TARASENKO Alexey 1999 Uzbekistan 51.10 мс 773
50m: 24.68 24.68 100m: 51.10 26.42
5. VOLOSHIN Anton 1998 мс Kaluga Region 51.26 мс 766
50m: 24.69 24.69 100m: 51.26 26.57
6. ZUBRITSKIY Ivan 1998 мс Nizhny Novgorod Region 51.37 мс 761
50m: 24.46 24.46 100m: 51.37 26.91
7. SANNIKOV Viacheslav 1999 мс Perm Territory 51.69 мс 747
50m: 25.01 25.01 100m: 51.69 26.68
8. KARASEV Gleb 1999 мс Tatarstan 51.98 мс 735
50m: 24.78 24.78 100m: 51.98 27.20