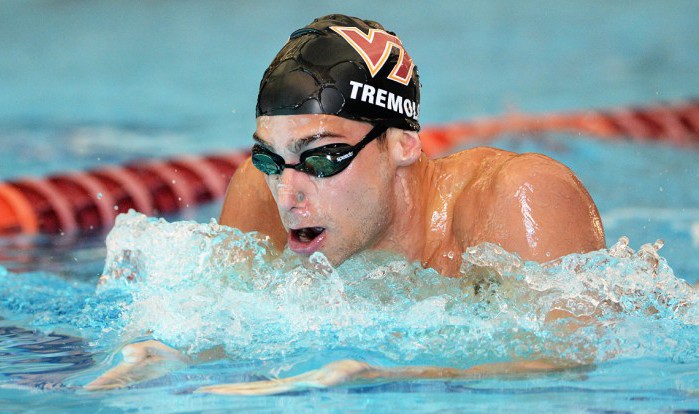 Photo Credit: Virginia Tech Athletics
BLACKSBURG – The Virginia Tech H2Okies had a successful showing at home against Kentucky and Richmond on Saturday, as the men topped the Wildcats, 186-114, and the women defeated the Spiders, 184-104.
Virginia Tech Press Release
The Virginia Tech swimming & diving teams dominated in their dual meets against the Kentucky men and the Richmond women on Saturday. Jessica Hespeler and Klaudia Nazieblo each won three individual events in the meet to lead the women, and Morgan Latimer and Collin Higgins led the men with two wins apiece.
The 12th-ranked H2Okie men beat Kentucky by a score of 186-114 and improved their dual-meet record to 8-1. The H2Okie women topped Richmond by a score of 184-104 and improved their dual-meet record to 7-2.
"It's been a great two weeks of training," head coach Ned Skinner said. "We've never swam faster or dove better in practice. It's rewarding to see the camaraderie on the pool deck, knowing that they're tired, and we want to build on this."
Women's Meet
The Tech women began the day in dominating fashion and never looked back. They took first and second in the 200 medley relay, clocking in at 1:42.81.
Hespeler then won two races in a row, taking the 1000 free in 10:18.32 and the 200 free in 1:52.54. Later in the meet, she won the 500 free with a time of 5:00.40.
Alongside Hespeler, Nazieblo was also stellar for Tech, winning three races of her own. She won the 100 back with a time of 55.47, the 200 back with a time of 2:03.67 and the 100 fly with a time of 55.08.
Also winning races for Tech were swimmers Veronika Paluszek (100 breast, 200 breast), Laura Schwartz (200 fly), Adriana Grabski (50 free, 100 free) and Fiona Donnelly (200 IM).
In the diving competition, Tech swept every event. In the 1-meter, Kelli Stockton finished with a score of 309.70. Ashley Buchter finished second, scoring 298.90, and Emma Villarreal finished third, scoring 285.35. For the 3-meter, Stockton picked up another win, scoring 357.70 with Buchter in second with a score of 327.00 and Villarreal in third with a score of 300.35.
In all, the H2Okie women finished first in every event of the day, securing top-three finishes in 10 out of the 16 events.
Men's Meet
The men got off to a great start of their own, taking the top-two spots of the 400 medley relay to begin the day. Their winning team finished with a time of 3:19.08.
Higgins led the H2Okie men with two first-place finishes. He won the 100 back with a time of 49.01, and he won the 200 back with a time of 1:48.30.
Morgan Latimer also earned two top finishes. In the 100 free, he took first with a time of 45.77, and, in the 100 fly, he took first with a time of 49.19.
Tech also garnered first-place finishes from Owen Burns (200 free), Harrison Cefalo (100 breast), C.J. Fiala (50 free), Justin Edwards (200 breast) and Jake Ores (50 free).
In the diving events, Tech once again dominated. Jared Butts secured first-place by posting a 335.40 score in the 1-meter event. T.J. Shinholser was behind him in second with a score of 325.60, and Logan Stevens took third with a score of 323.15.
In the 3-meter, Butts earned another top finish, scoring 379.65. Mauro Castro-Silva finished second barely behind Butts with a score of 379.40, and Logan Stevens finished third only a few points behind at 373.35.
The Tech men finished the day with 10 first-place finishes en route to their eighth dual-meet win.
The H2Okies return to the pool next Friday when they travel to take on Virginia in Charlottesville, Virginia.
Kentucky Men's Press Release
The Kentucky men's swimming and diving team opened the new year with a loss at Virginia Tech Saturday.
Against the defending Atlantic Coast Conference champions, the Wildcats tallied four wins, with a 1-2-3 finish in addition to a first- and second-place showing.
"The men competed hard today against a really good Virginia Tech team," UK head coach Lars Jorgensen said. "We have to do a lot better in two weeks when we host Louisville, but we're happy with the progress the team made after the last month away from competition."
Sophomores Drew Aviotti, Brandon Flynn and Kyle Higgins and freshman Isaac Jones each posted one win, while Flynn also had two second-place finishes and Jones had one.
Kentucky's most dominating performance came in the 400 individual medley as the Wildcats claimed the top three spots. Flynn won with a 3:59.21, while Jones was second in 4:04.63 and junior Matt Roman third in 4:05.36.
UK's first win of the day came in the 1,650 freestyle, thanks to Aviotti. The sophomore touched the wall in 15:32.01 to notch the victory by over six seconds. Flynn also finished third in 15:44.01.
Higgins earned the win in the 200 butterfly with a 1:49.93, with Roman finished second in 1:51.56. Jones also notched a victory for the Wildcats with a 4:33.01 in the 500 freestyle.
Roman also placed second in the 100 fly in 50.41, and Flynn's second runner-up finish was in the 200 breaststroke with a time of 2:05.79. Freshman Walker Thaning recorded two second-place finishes, in the 100 backstroke with a 50.76 and in the 200 backstroke with a 1:51.27. Sophomores Tanner Anderson and Sean Gunn also finished second, in the 100 breaststroke and 100 freestyle, respectively.
The Wildcats return home for an in-state clash with Louisville on Jan. 24. The Senior Day contest begins at Noon, ET with diving, while swimming commences at 1 p.m.
For complete news and updates on the Kentucky Swimming and Diving program, go to UKathletics.com/SwimmingDiving. Breaking news, behind-the-scenes updates, photos and more can be found on Twitter at @UKSwimDive and Facebook at Facebook.com/UKSwimDive.
Richmond Press Release
Richmond tested itself in the first meet of 2015 and faced tough competition, taking a 184-104 loss at Virginia Tech Saturday at the Christiansburg Aquatic Center.
Despite the score, several individuals showed promise coming off the training trips the swimming and diving squads took over the Holiday Break.
"We will get better," said head coach Matt Barany. "We know that, but there is a lot of hard focus, hard work and care ahead."
Sophomore diver Mikaela Gekas-Robinson (Woodbury, New Jersey) posted career best scores in both the 1m and 3m springboard in the diving portion of the meet, while sophomore diving teammate Irina Chiulli (Westwood, Massachusetts) put up a season-best score in the 3m, a NCAA Zone-qualifying score of 294.40 to go with her 1m qualifying score back in November.
"Today was another great opportunity to learn and our team did just that," said head diving coach Sean Letsinger. "There was a lot of exceptional diving today across the board. I believe this experience today will be instrumental going forward into the remainder of our season."
Senior swimmer Meredith Gouger (Cockeysville, Maryland) came in second in the third event of the day, swimming a 10:30.62 in the 1000 free in the event's early stages.
Junior Kelley Yang (Ellicott City, Maryland) later posted a 56.08 time in the 100 fly, the second-fastest time in that event for the day.
Four events later, freshman Annie Lane (Vinton, Virginia / William Byrd HS) finished second in the 200 IM, swimming a 2:06.69 to score points for the Spiders.
Richmond will dip its toe back in the pool against a pair of Atlantic 10 Conference foes next weekend in the Bronx, N.Y. The Spiders take on La Salle and host Fordham, starting at 1 p.m.
The Spiders are home for Senior Day on Saturday, January 24 against James Madison, starting at noon.