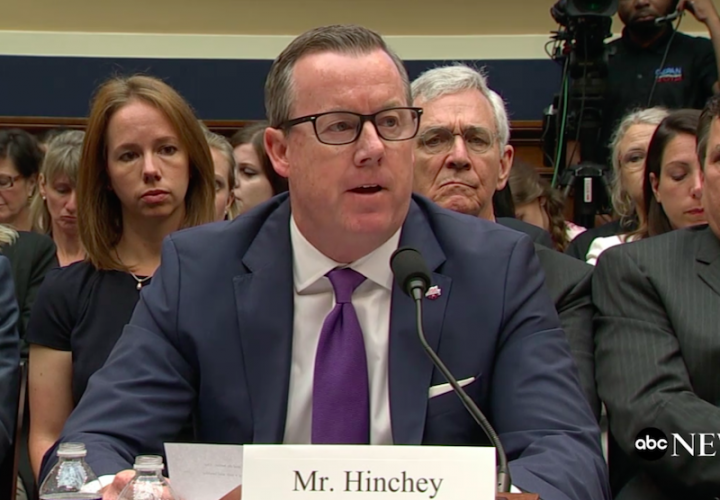 Photo Courtesy: ABC News Video Testimony
Earlier this month, it was announced that USA Swimming CEO, Tim Hinchey, would be one of several sports executives that would testify before a House subcommittee on sexual abuse in Olympic sports. The aim of the House Energy and Commerce subcommittee is to analyze the policies and procedures that U.S. Olympic sport organizations have in place to protect athletes.
During his testimony, Hinchey addressed the 2010 scandal that brought USA Swimming and sexual abuse into the spotlight, stating that,
"In 2010 USA Swimming faced its own reality that children and swimmers were being sexually abused in sport. USA Swimming apologizes, acknowledges, and deeply regrets the abuse suffered by children, athletes, and other participants in swimming programs."
Hinchey concluded his testimony by stating that,
"I regret that we continue to receive reports of child sexual abuse in swimming. The organization can, should, and will do more and I will lead that effort. While we cannot change the past, we will learn from it and we will do better.

Our commitment to preventing child sexual abuse and providing a safe and healthy environment for our athletes is constant and long-lasting." 
A full PDF of Tim Hinchey's prepared testimony can be viewed by clicking here.
Watch Tim Hinchey deliver his testimony, courtesy of ABC News, below:
Hinchey began his role as CEO of USA Swimming on July 12, 2017. Approximately seven months into his tenure, Olympian Ariana Kukors Smith came forward with allegations that her former coach, Sean Hutchison, had sexually assaulted her.
Earlier this week, Kukors Smith filed a civil suit against Hutchison, USA Swimming, former national team director Mark Schubert, and more, claiming that USA Swimming knew about the sexual relationship between Hutchison and Kukors, but did nothing.
The hearing, titled "Examing the Olympic Community's Ability to Protect Athletes from Sexual Abuse," also includes testimonies from USA Gymnastics CEO Kerry Perry, U.S. Olympic Committee's (USOC) acting CEO Susanne Lyons, USA Taekwondo's Steve McNally and the U.S. Center for Safe Sport CEO, Shellie Pfohl.
Watch the full hearing here:
ABC News contributed to this report.