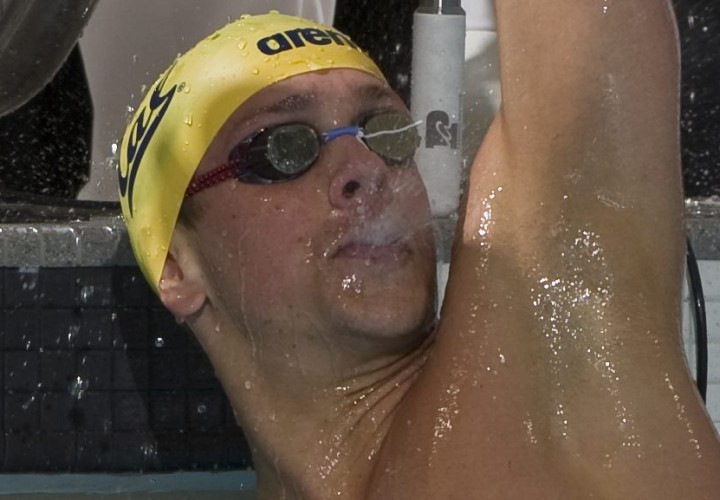 Special thanks to ArenaUSA for proudly sponsoring our coverage of the Arena Grand Prix circuit. For all of our coverage and more, please visit our event coverage page
AUSTIN, Texas, January 18. CALIFORNIA's Tom Shields, fresh off altitude training in Colorado Springs, nearly posted an in-season best with a scintillating time of 52.72 in the men's 100-meter fly at the Arena Grand Prix in Austin.
That swim came up a bit short of his 52.53 from the Fran Crippen Memorial last summer in June. He clearly beat his best Grand Prix time as well, which previously had been a 52.99 from the Mesa stop of the Arena Grand Prix last year.
Stanford's Eugene Godsoe raced his way to second in 53.69, while Cardinal teammate Jason Dunford snagged third-place honors in 53.73.
SwimMAC's Nick Thoman (51.40), NCAP's Andrew Seliskar (54.17), Stanford's Bobby Bollier (54.44), Canada's Coleman Allen (54.47) and Germany's Christian Diener (54.98) wrapped up the championship heat.
NBAC's Tom Luchsinger dominated the B final this evening with a 54.10, just missing his lifetime best of 53.78 in the process. Although he's a stronger 200-meter butterflier, it was a bit surprising to see him miss out on the finale. It's obvious he decided to demonstrate his speed in the consolation heat.