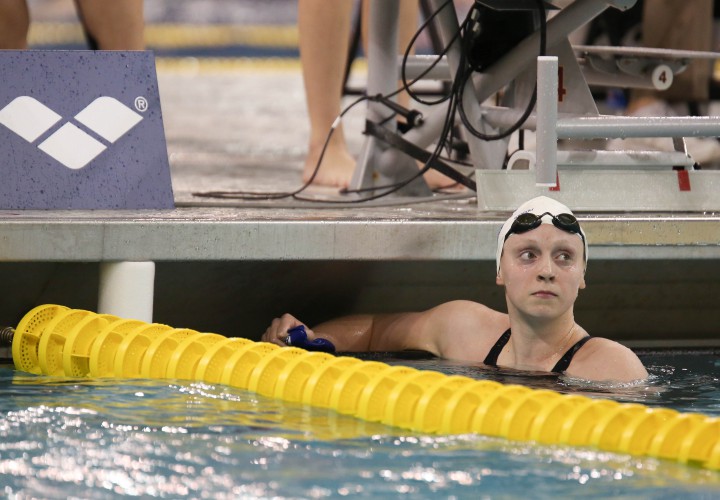 Photo Courtesy: Brenton Tse
Arena Pro Swim Series editorial coverage is proudly sponsored by Arena USA. Visit ArenaUSA.com for more information on our sponsor. For all the latest coverage, check out our event coverage page.
NCAP's Katie Ledecky is feeling a bit different lately as the best distance swimmer in history is now starting to feel like her shorter events were better than the longer ones at the 2015 Arena Pro Swim Series Minneapolis.
Original 800 free report:
Katie Ledecky of Nation's Capital cruised to another first place finish and a new pool record in the women's 800 free posting a final time of 8:19.16. Ledecky's time sits only 12 seconds off her world record time of 8:07.39.
Ledecky's 8:19.16 replaces the former pool record of 8:31.23 set in 2011 by Camille Muffat.
Fellow distance star Becca Mann of North Baltimore stuck close to Ledecky for a second place finish with a final time of 8:21.77, also under the former pool record.
Mission Viejo's Stephanie Peacock turned in a time of 8:28.39 to grab third in the event, finishing just shy of her 2015 world best of 8:28.25 from this summer's US Nationals in San Antonio.
Leah Smith, swimming unattached, slipped to fourth in the event with a final time of 8:30.27.
North Baltimore teammates Cierra Runge and Sierra Schmidt finished fifth and sixth respectively. Runge stopped the clock at 8:31.64, while Schmidt turned in a final time of 8:35.16.
Trojan Swim Club's Haley Anderson stuck close to Schmidt finishing a slim .04 behind her with a time of 8:35.19.
Sam Harding of the University of Minnesota finished eighth in the event with a time of 8:40.36.