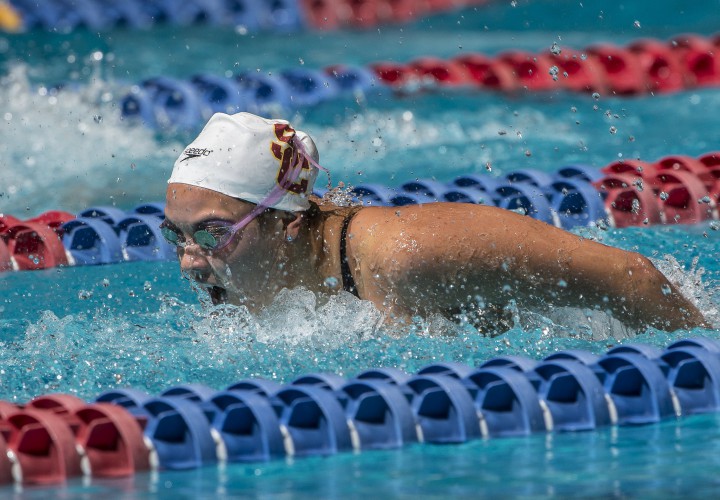 Photo Credit: Peter H. Bick
LOS ANGELES – The University of Southern California swimming and diving teams celebrated the life of former head coach Peter Daland Friday night at the Peter Daland Invitational, a meet that included USC and swimmers from Irvine Novaquatics, Rose Bowl Aquatics and Canyons Aquatic Club. The meet was recently renamed following Daland's passing on Monday.
USC Press Release
USC hosted the newly renamed Peter Daland Invitational on Friday (Oct. 24), racing in the pool named after him at the Uytengsu Aquatics Center for the first time since the legendary Trojan coach passed away on Monday.
The meet, previously named the USC Invite and including the Trojans and a handful of local club teams, honored the nine-time NCAA championship coach with a moment of silence before events began.
A public celebration of the life of legendary USC men's swimming coach Peter Daland, who passed away earlier this week at the age of 93, will be held on Nov. 21 at 10:30 a.m. at the Uytengsu Aquatics Center.
USC junior Jasmine Tosky won the first race by taking the 100y fly in a season best 54.63 and was followed by freshman Hannah Weiss (55.31) and junior Lucy Worrall (56.62).
USC freshman Ralf Tribuntsov won the men's 100y fly in 48.03 with sophomore Santo Condorelli second (48.51) and junior Maclin Davis third (48.86).
Senior Andrea Kropp won the 200y IM in 2:02.27 with Tosky second (2:03.06) and sophomore Maggie D'Innocenzo third (2:05.48).
Freshman Pawel Furtek topped USC's efforts in the 500y free with a 4:29.58 while sophomore Reed Malone was finished in 4:29.79.
Sophomore Michael Domagala won the 200y IM in 1:50.29 with Irvine Nova swimmer Erik Juliusson second (1:53.97) and Trojan senior Dakota Hodgson third (1:54.27).
Sophomore Evan Swenson took first in the women's 50y free in 23.58 with Wilk second (23.65) and junior Kendyl Stewart third (23.92). Condorelli won the men's 50 in 20.34.
In the mixed 400y free relay to close the evening's sessions, Malone, Domagala, Stewart and Swenson won in 3:15.37.
The meet continues Saturday with sessions at 8:30 a.m. and at 4 p.m.