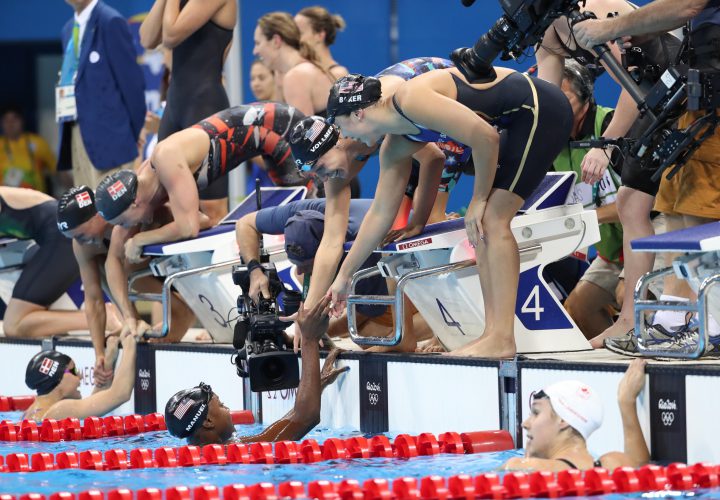 Photo Courtesy: Erich Schlegel-USA TODAY Sports

Editorial Coverage Sponsored By FINIS
Women's 400 Medley Relay FINAL:
The women of the USA successfully continued their reign as Olympic Champions of the 400 Medley Relay but not without a challenge. Australia, Russia, and Denmark all kept a tight race throughout the 250-meter mark, but a dominant butterfly leg from Dana Vollmer separate the USA from the competition.
Simone Manuel built upon Vollmer's lead with a dynamic freestyle leg, splitting a 52.43 to secure USA's tenth gold medal in this event, and USA's 1,000th gold medal in Olympic Summer Games history. Kathleen Baker (59.00), Lilly King (1:05.70), Vollmer( 56.00), and Manuel (52.43) delivered a combined time of 3:53.13 to win the final women's race of the 2016 Rio Olympic Games.
The race for second was won by the Australian relay team of Emily Seebohm (58.83), Taylor McKeown (1:07.05), Emma McKeon (56.95), and Cate Campbell (52.17) who stopped the clock at a 3:55.00.
Denmark blew by Canada in the final 25-meters to pick up the bronze medal. Mie Nielsen (58.75), Rikke Moller Pedersen (1:06.62), Jeanette Ottesen (56.43), and Pernille Blume (53.21) posted a combined time of 3:55.01.
China squeezed ahead in a dominant freestyle leg for fourth with a 3:55.18, while Canada took fifth overall with a 3:55.49.
Russia finished sixth with a time of 3:55.66, ahead of Great Britain's 3:56.96.
Italy was eighth with a 3:59.50.
Full results can be found here.