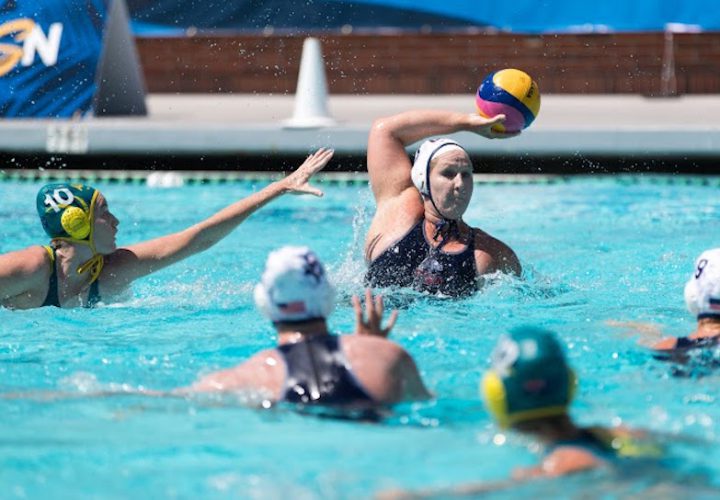 Photo Courtesy: Jared Gray/USA Water Polo
Shanghai, China – June 10 – The USA Women's National Team reached the medal round of the FINA World League Super Final with a 14-7 defeat of Russia earlier today. Five different players scored two goals in the victory including Melissa Seidemann (Walnut Creek, CA/Stanford/NYAC), Maggie Steffens (Danville, CA/Stanford/NYAC), Aria Fischer (Laguna Beach, CA/Laguna Beach HS/SET), Makenzie Fischer (Laguna Beach, CA/Laguna Beach HS/SET), and Courtney Mathewson (Anaheim Hills, CA/UCLA/NYAC). Ashleigh Johnson (Miami, FL/Princeton/NYAC) stopped 11 shots in goal in the victory. Team USA now advances to meet China in the semifinal match on Saturday at 7pm local time/4am pt. The match is expected to stream through beIN Sports 8 and can be accessed by clicking here. The semi-finals of the FINA World League Super Final will also air on beIN Sports main channel starting at 6pm et/3pm pt. Cable provider authentication is required for streaming.
Team USA grabbed a 4-2 lead after the first quarter and then built an 8-2 lead at halftime. In the third quarter the United States put the match away outscoring Russia 4-0 to go up 12-2 headed to the fourth quarter. In the final eight minutes Russia outscored Team USA 3-2 but it was not enough as Team USA pulled out the 14-7 victory.
The United States went 5/8 on power plays and 2/2 on penalty shots while Russia was 2/4 on power plays and did not attempt a penalty shot. "I thought we were fortunate we had a few things go our way and it changed the complexity of the game. The third quarter was clearly the difference for us," said USA Head Coach Adam Krikorian.
After returning home Team USA will take on Hungary in a three game series on the East Coast with stops in Miami, FL (June 27), Greenwich, CT (June 29), and Bronx, NY (July 2). To purchase tickets for the Miami or Bronx matches, click here.
Scoring
USA 14 (4, 4, 4, 2) M. Seidemann 2, M. Steffens 2, C. Mathewson 2, A. Fischer 2, M. Fischer 2, R. Fattal 1, K. Clark 1, K. Neushul 1, K. Gilchrist 1
RUS 7 (2, 2, 0, 3)
Saves – USA – A. Johnson 11
6×5 – USA – 5/8 – RUS – 2/4
Penalties – USA – 2/2 – RUS – 0/0
USA Water Polo contributed this report.