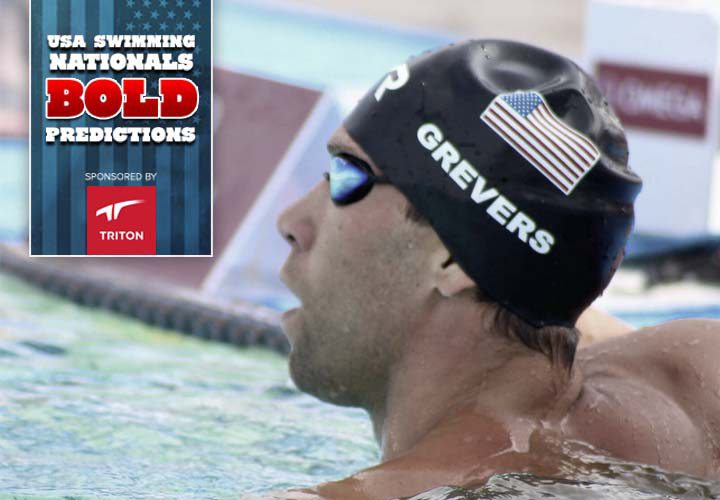 Photo Courtesy: Taylor Brien
Editorial content for the 2017 USA Swimming Nationals is sponsored by TritonWear. Visit TritonWear.com for more information on our sponsor. For full Swimming World coverage, check event coverage page.
By David Rieder.
After three days of World Championship Trials, it's all but certain that Katie Ledecky, Lilly King and Ryan Murphy will have already made the team in at least one event. (If you've read any of our previous predictions, you'll see that we have them each making the team in two separate events in the first three days.)
But the penultimate day of competition features the event in which each won their first gold medal of the Rio Games: Ledecky in the women's 500 free, King in the women's 100 breast and Murphy in the men's 100 back.
The men's 100 back will actually feature the two previous Olympic gold medalists in the event, as Matt Grevers will attempt to return to the World Championships after a disappointing third-place finish in his signature event at last year's Olympic Trials.
It's not the busiest event lineup, but those three events plus some crazy depth of the women's 100 back should make for a fun Friday night.
Event schedule for day four:
• Women's 400 free
• Men's 400 free
• Women's 100 breast
• Men's 100 breast
• Women's 100 back
• Men's 100 back
1. Lilly King won't beat Yulia Efimova's world-leading 1:04.82 in the women's 100 breast.
Much of America remembers King's history with Efimova, the Russian swimmer who she beat out for Olympic gold in the 100 breast last summer in Rio. King called Efimova a cheater in the lead-up to the race, and the two did not speak afterwards. King remarked, "I don't think she wanted to be congratulated by me at that point."
To sum it up, not what you call the friendliest of rivalries, and Efimova picked up the latest blow, throwing down a 1:04.82 in the 100 breast at the Mare Nostrum stop in Canet last week.
That time is the No. 1 mark in the world this year by more than a second, and it is faster than the 1:04.93 King swam at the Olympics last summer, and you can be certain that King hopes to respond at Nationals. She will be the favorite in the 100 breast, even with a strong field that includes Katie Meili and Molly Hannis, but the pick here is that she does not break 1:05.
Meili, the Olympic bronze medalist has been swimming pretty fast herself in recent months, and her 1:05.95 from early June ranks second in the world behind Efimova. Hannis was an Olympian last summer in the 200 breast, but the 100 is undoubtedly her stronger event, and she looks like the only swimmer who could break up the top two.
But regardless of what happens in Indianapolis—even if, in a shocker, King finishes second in her signature event—all eyes will be on King and Efimova when the two meet again at the World Championships, but when the two arrive in Budapest, expect Efimova to have the No. 1 seed.
2. At least three swimmers go under 59 in the women's 100 back.
Yes, only three women have swum that fast all year, but it would be no surprised to see three or four get that low in the U.S. National final alone. Kathleen Baker is the obvious favorite as the Olympic silver medalist and NCAA champion, and Olivia Smoliga also broke 59 last year in the Olympic final.
Amy Bilquist finished third at Olympic Trials in 59.37, and Ali DeLoof and Hannah Stevens have both clocked times in the 59.4-range in mid-season meets. 15-year-old Regan Smith has been a quick riser, having already been 59.74 this year, and then there's Ally Howe, who broke Natalie Coughlin's 15-year-old American record in the 100-yard back this year—even if Howe has traditionally excelled more in short course than in long course.
Not saying that every single one of these ladies will get under the 59-second mark, just that three of them will. With the talent in this field, that doesn't feel like such a big ask.
3. Matt Grevers gets back on the World Championship team.
He's 32 years old, but Grevers has looked strong all season in his signature event. It's not that he was bad last year—but 52.76 was not enough to put him on a third Olympic team when Murphy and David Plummer were swimming 52.2s.
Now, Plummer is retired, and Murphy is the reigning Olympic gold medalist. The second spot looks like Grevers' to lose, but his challengers, most of them 10 or more years younger, include 200 back Olympic finalist Jacob Pebley, NCAA runner-up John Shebat and Justin Ress, who ranks third among Americans this year at 53.49.
But Grevers is one of sprint backstroke's all-time greats, having been among the best in the world for almost a decade—remember, he won Olympic silver in the 100 back in 2008. Call it a hunch that he gets back to being one of the top two backstrokers in the U.S. for at least one more year.
Event Predictions
Women's 400 Free
1. Katie Ledecky
2. Leah Smith
Men's 400 Free
1. Clark Smith
2. Zane Grothe
Women's 100 Breast
1. Lilly King
2. Katie Meili
Men's 100 Breast
1. Cody Miller
2. Kevin Cordes
Women's 100 Back
1. Kathleen Baker
2. Olivia Smoliga
Men's 100 Back
1. Ryan Murphy
2. Matt Grevers
Don't forget to check out our bold predictions for the earlier days of the meet:
All commentaries are the opinion of the author and do not necessarily reflect the views of Swimming World Magazine nor its staff.