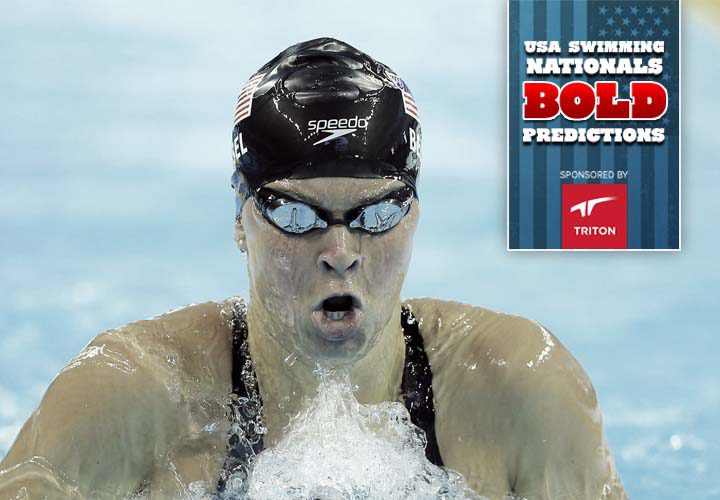 Photo Courtesy: Vaughn Ridley/Swimming Canada
Editorial content for the 2017 USA Swimming Nationals is sponsored by TritonWear. Visit TritonWear.com for more information on our sponsor. For full Swimming World coverage, check event coverage page.
By David Rieder.
At the 2016 Olympics in Rio, Michael Phelps won a silver medal in the men's 100 fly, Maya DiRado was the runner-up in the women's 400 IM, and Dana Vollmer finished with a bronze in the women's 100 fly. None of them will be at World Championship Trials this year—Phelps and DiRado having retired and Vollmer due to give birth in July.
So there are some holes to fill, big ones. Nothing atypical for the first year of the quad, even if the Americans have to take some lumps come Budapest.
Event schedule for day three:
• Women's 400 IM
• Men's 400 IM
• Women's 100 fly
• Men's 100 fly
• Women's 50 breast
• Men's 50 breast
• Women's 50 back
• Men's 50 back
1. New girls in, Beisel out in 400 IM.
Elizabeth Beisel has been on every major U.S. team dating back to the Pan Pacific Championships in 2006—so, yes, 11 years in a row. She will have a chance to make it 12 in-a-row this summer, but it won't be easy after a long post-Olympic break from the sport.
Katie Ledecky continues to indicate that she's not interested in swimming the 400 IM internationally, but there's still an abundance of candidates, including Trials third place finisher Bethany Galat, two-time NCAA champion Ella Eastin, World Short Course bronze medalist Madisyn Cox and fast improvers like Brooke Forde and Allie Szekely.
It's a tough call, and it's easy to see this race unfolding a lot of different ways. The pick here: Eastin converts her short course success to long course, and Cox continues her consistent ways from this short course season—at Beisel's expense.
2. Chase Kalisz won't get down to the 4:06-range again in the men's 400 IM, but he comes close.
Kalisz finished off his college career with an American record-setting performance in the 400 IM, and he has spent the spring establishing himself as a legitimate force in the 200 fly, 200 IM and even the 200 breast. But the 400 IM is still his baby event, and he already has the fastest time in the world this year at 4:09.43, faster than he went to win the event at Olympic Trials last year.
At the World Championships, Kalisz will be a bona fide threat to win gold, even with the Japanese duo of Kosuke Hagino and Daiya Seto still around. Kalisz pushed Hagino to the limit on the freestyle leg in the Rio final, and they ended up swimming considerably quicker than most expected: Hagino 4:06.05, Kalisz 4:06.75.
Kalisz should have no challenges getting back on the Worlds team—even if the race is tight at the halfway point, no one in the world is better on the back half. Without Hagino to chase, getting back down to the 4:06s might be pushing it, but a 4:07-high or 4:08-low will be plenty to get the job done.
Kalisz figures to be busier in Budapest than he's ever been at an international meet, but he should be ready for the re-match against Hagino and Seto in the 400 IM on day eight.
As for the second spot in that event, Jay Litherland looks like an obvious choice. He was fifth in the event in Rio and enters the meet having swum a full second faster than any other American has this year aside from Kalisz.
3. Lilly King breaks American record in women's 50 breast.
Don't be surprised if this year's Nationals are not a haven for broken world and American records. In fact, Ledecky and Ryan Murphy are the only two world record-holders competing, and the World Championships figure to be a better opportunity for those two to lower their own marks.
But the 50 breast mark could be vulnerable as King gets a chance in the non-Olympic sprint event. Only one swimmer from this event will be selected for Worlds, and the 100 breast Olympic gold medalist looks like the clear favorite, even with Molly Hannis and Katie Meili both putting up quick times in recent weeks.
Jessica Hardy still holds the American record at 29.80, first set back in 2009 (in a polyurethane suit), and Hardy tied her own mark at the 2013 World Champs. If King can swim under 1:05 in the 100 breast, as she proved in Rio that she can, 29.80 looks like a very legitimate target for her in the one-lapper.
Event Predictions
Women's 400 IM
1. Ella Eastin
2. Madisyn Cox
Men's 400 IM
1. Chase Kalisz
2. Jay Litherland
Women's 100 Fly
1. Kelsi Worrell
2. Kendyl Stewart
Men's 100 Fly
1. Tom Shields
2. Jack Conger
Women's 50 Breast
1. Lilly King
Men's 50 Breast
1. Kevin Cordes
Women's 50 Back
1. Ali DeLoof
Men's 50 Back
1. Ryan Murphy
Be sure to check out the bold predictions for the earlier days of the meet:
All commentaries are the opinion of the author and do not necessarily reflect the views of Swimming World Magazine nor its staff.