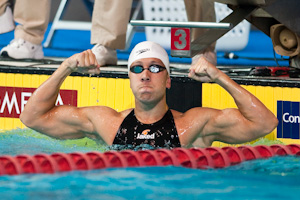 Click here for the latest Swimming World coverage of the U.S. National Championships, including on-the-spot interviews!
INDIANAPOLIS, Indiana, July 7. MARK Gangloff of SwimMAC Carolina knocked Brendan Hansen off the American pedestal as he scared the world record in the 100 breast, but wound up with the American standard.
Gangloff raced out to a 27.64 at the 50-meter mark to be under Hansen's 27.66 and Kitajima's 28.03 in the 100 breast. Gangloff finished the race with a sterling time of 59.01 to clear Hansen's national mark of 59.13 set at the 2006 U.S. National Championships held in Irvine, Calif. The time just missed Kitajima's global standard of 58.91.
Gangloff's time is the quickest in the world, besting the 59.03 set by Brazil's Henrique Barbosa.
"I have been trying to get that barrier for so long, I almost skipped 59," Gangloff said. "I was really focused before the race. It is really hard to get under the 1:00 barrier."
Eric Shanteau of Longhorn wound up taking second in 59.45, and received a round of applause from the crowd as he continues to show what a cancer-free body can do.
Tucson Ford's Marcus Titus placed third in 1:00.00, just missing becoming part of a select crowd of American swimmers to break the 1:00 barrier.
SwimmingWorld.TV Interviews