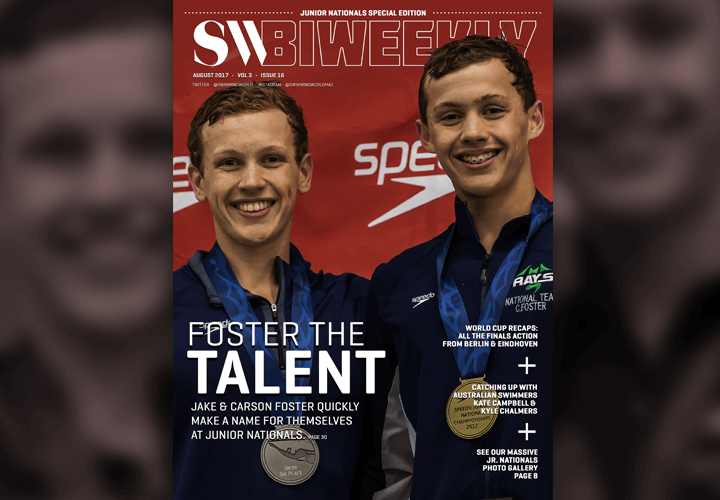 The Foster brothers, Carson and Jake Photo Courtesy: Peter H. Bick
The Foster brothers, Carson and Jake, made quite a name for themselves at the 2017 Speedo Junior Nationals in East Meadow, N.Y., both collecting numerous medals throughout the course of the meet. Sister Hannah Foster was also on deck, showing the depth of talent in the Foster family. The two Foster brothers highlight the latest edition of the Swimming World Biweekly, which also features a full photo gallery from the meet and features on the Foster family, young breaststroker Daniel Roy, and more!
Also available in this special Junior Nationals edition are recaps of the FINA World Cup stops in both Eindhoven and Berlin, plus features on Australian Olympians Cate Campbell and Kyle Chalmers.
Current subscribers can visit the Swimming World Vault to download this issue and the latest Swimming Technique Magazine! Non-Subscribers can download and sample the current Swimming World Biweekly for FREE!
Special $4.95 Offer For New Subscribers!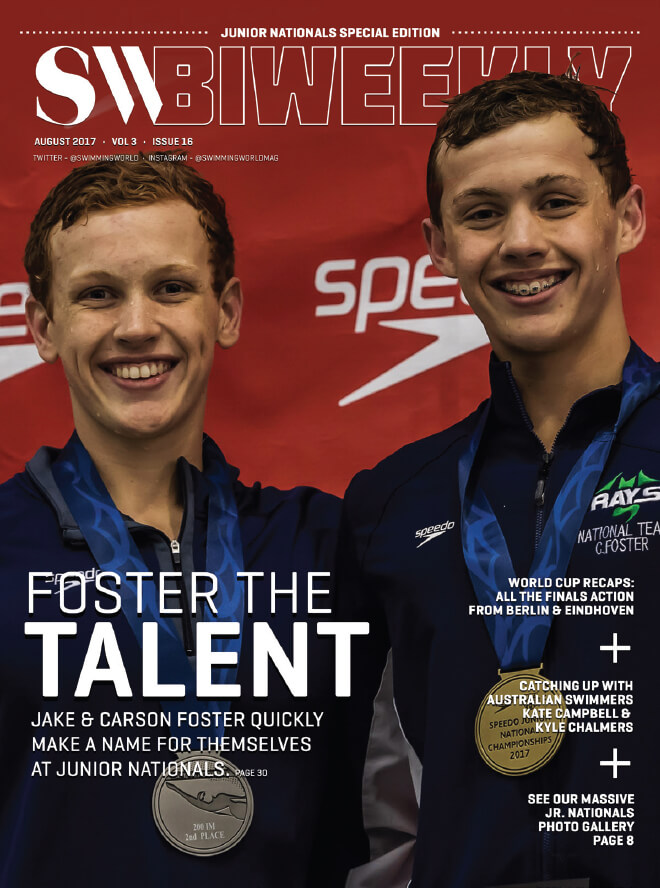 Save 25% on a 1 year subscription and download more issues from the Swimming World Vault and get the following:
Use Coupon Code: realnews and save 25%
A monthly print copy of Swimming World Magazine in the mail for 1 year!
Free download of the next 12 issues and the past 12 issues of Swimming World Magazine!
Free download of next 24 issues and the past 24 issues of Swimming World Biweekly!
Free download of next 4 issues and the past 4 issues of Swimming Technique Magazine!
Click Here For This Special Offer with coupon code "realnews" during checkout.
FEATURES:
008 2017 JUNIOR NATIONALS PHOTO GALLERY
photos by Peter H. Bick
029 AFTER WORLD CHAMPS DEBUT, DAKOTA LUTHER RETURNS CONFIDENT AND MOTIVATED
by David Rieder
With no offense to the other swimmers at Junior Nationals, the caliber of competition is not nearly as high as at the last meet Dakota Luther swam at: the FINA World Championships…
030 THE FAST FOSTER SIBLINGS AT JUNIOR NATIONALS
by David Rieder
Just over an hour after 15-year-old Carson Foster dominated the men's 200 back final at Speedo Junior Nationals–his second victory in two days–16-year-old Jake Foster pulled away from his competition to win the men's 400 IM…
032 MEET DANIEL ROY, THE TEENAGE BREASTSTROKER YOU'VE NEVER HEARD OF
by David Rieder
Daniel Roy stands a not-that-imposing 5 feet 8 inches and he doesn't dictate the race right off the gun in his signature event, the 200 breast. But once he gets going, well, he can move…
034 JUST OUTSIDE NEW YORK CITY, USA SWIMMING'S UP-AND-COMERS ON THE VERGE
by David Rieder
The Nassau County Aquatic Center could be anywhere. The facility holds a 10-lane, 50-meter competition pool and a diving tower, and it smells strongly of chlorine…
036 HEART SURGERY BEHIND HIM, AUSSIE OLYMPIAN KYLE CHALMERS EYES RETURN
by David Rieder
At only 18 years old, Kyle Chalmers had made his first Olympic Games and his first Olympic final in the 100 free. The 6-foot-4-inch teenage dynamo had overachieved to qualify second-fastest in the event, but he was clearly still Australia's No. 2 sprinter…
038 AFTER OLYMPIC LETDOWN, CATE CAMPBELL FINDS BALANCE
by David Rieder
Cate campbell arrived in Budapest last month confident that her 100 free world record was about to go down, and there was nothing she could do about it…
041 KATIE LEDECKY, BECCA MEYERS FINALISTS FOR 2017 WSF SPORTSWOMAN OF THE YEAR
by David Rieder
Olympian and World Champion Katie Ledecky and Paralympian Becca Meyers have been named finalists for the individual sport category for the 2017 Women's Sports Foundation (WSF) Sportswoman of the Year award…
042 RYAN MALLAM ACCEPTS HEAD COACH POSITION AT RENO AQUATIC CLUB
by David Rieder
Reno Aquatic Club and Ryan Mallam recently announced that Mallam will be taking over the head coaching position for the club in Reno, Nevada…
044 TODD DESORBO NAMED HEAD COACH OF UNIVERSITY OF VIRGINIA SWIMMING
by David Rieder
Todd DeSorbo, previous the associate head coach at NC State, has been named head coach of the University of Virginia swimming and diving teams.
046 WORLD CUP EINDHOVEN: FULL FINALS RECAP
by Taylor Brien
Sarah Sjostrom of Sweden continued to etch her name further into history by posting her fifth world record for 2017. The 23-year-old once again downed the 100 SCM free world record…
052 WORLD CUP BERLIN: FULL FINALS RECAP
by Taylor Brien
World Cup records tumbled down in the men's 100 free and women's 400 IM as Vladimir Morozov and Katinka Hosszu lowered the meet records en route to gold…