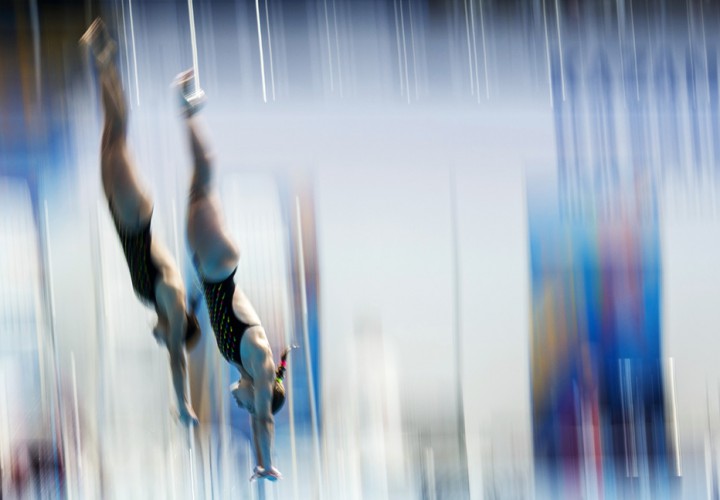 Photo Courtesy: Alex Malgavk/FINA Kazan2015
USA Diving has announced the 24 divers who have been named to the 2017 Junior Pan American Championships Team.  Competition is set for September 28 – October 1 in Victoria, British Columbia. The Junior Pan American Championships are held every other year and feature competition on 1-meter, 3-meter and platform for boys and girls in four age groups: 11-and-under, 12-13, 14-15 and 16-18.
The U.S. squad includes 2017 World Championships team member Brooke Schultz (Fayetteville, Ark.) as well as 2016 FINA World Junior Diving Championships team members Max Flory (Fairfax, Va.), Anne Fowler (Burke, Va.), Jack Matthews (Powell, Ohio), Bridget O'Neil (Southlake, Texas) and Carolina Sculti (Rye, N.Y.). Thirteen members of the Junior National Squad will also be attending the meet including Grace Cable (Winter Park, Fla.), Tyler Downs (Ballwin, Mo.), Noah Duperre (New Albany, Ohio), Fowler, Denny Gulia-Janovski (Fort Lauderdale, Fla.), Hailey Hernandez(Southlake, Texas), Matthews, O'Neil, Jordan Rzepka (Solon, Ohio), Sculti, Lily Witte (Dexter, Mich.), Daryn Wright(Plainfield, Ind.) and Lyle Yost (Shaker Heights, Ohio).
Divers were selected to the 2017 Junior Pan American Championships following a set selection criteria based off scores and performances at the recent 2017 USA Diving National Championships, held July 29 – August 12 in Columbus, Ohio.
2017 USA Diving Junior Pan American Championships Team
Individual events:
11 and under boys
Bennett Green (Knoxville, Tenn./Tennessee Diving) – 1-meter, 3-meter, Platform
Dominic Roberto (Solon, Ohio/American Flyers Diving) – Platform
Aiden Sadler (Lithia, Fla./Team Colwill Diving) – 1-meter, 3-meter
11 and under girls
Avery Worobel (Cary, N.C./Duke Diving) – 1-meter, 3-meter, Platform
Lanie Gutch (Orlando, Fla./YCF Diving Team) – 1-meter, 3-meter, Platform
12-13 boys
Max Fowler (Burke, Va./Alexandria Dive Club) – 1-meter, 3-meter, Platform
Denny Gulia-Janovski (Fort Lauderdale, Fla./Fort Lauderdale Diving Team) – Platform
Nicholas Harris (Chester Springs, Pa./West Chester Diving) – 1-meter, 3-meter
12-13 girls
Lily Witte (Dexter, Mich./Legacy Diving) – 1-meter, 3-meter, Platform
Elena Yeh (South Pasadena, Calif./Arrow Dive Club) – 1-meter, 3-meter, Platform
14-15 boys
Tyler Downs (Ballwin, Mo./RipFest) – 1-meter, 3-meter
Jack Matthews (Powell, Ohio/Ohio State Diving Club) – 1-meter, 3-meter, Platform
Jordan Rzepka (Solon, Ohio/Ohio State Diving Club) – Platform
14-15 girls
Anne Fowler (Burke, Va./Alexandria Dive Club) – 1-meter, 3-meter
Hailey Hernandez (Southlake, Texas/GC Divers) – 1-meter, 3-meter, Platform
Daryn Wright (Plainfield, Ind./The Indiana International School of Diving) – Platform
16-18 boys
Joshua Davidson (Tomball, Texas/Woodlands Diving Academy) – 1-meter, 3-meter
Noah Duperre (New Albany, Ohio/Ohio State Diving Club) – 3-meter, Platform
Max Flory (Fairfax, Va./Dominion Dive Club) – Platform
Lyle Yost (Shaker Heights, Ohio/American Flyers Diving) – 1-meter
16-18 girls
Grace Cable (Winter Park, Fla./Duke Diving) – 3-meter, Platform
Bridget O'Neil (Southlake, Texas/GC Divers) – 1-meter, Platform
Brooke Schultz (Fayetteville, Ark./Unattached) – 1-meter, 3-meter
14-18 synchronized 3-meter events
Boys: Noah Duperre (New Albany, Ohio/Ohio State Dive Club)/Lyle Yost (Shaker Heights, Ohio/American Flyers Diving)
Girls: Anne Fowler (Burke, Va./Alexandria Dive Club)/ Carolina Sculti (Rye, N.Y./Marlins Diving)
Press release courtesy of USA Diving