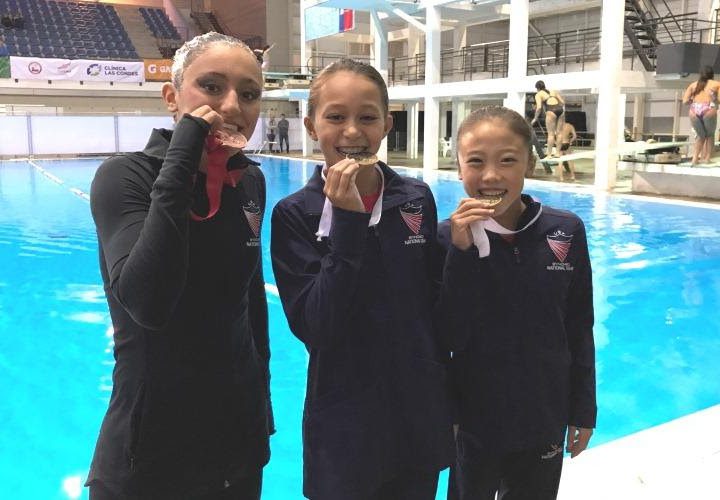 Photo Courtesy: USA Synchro
Several U.S. national team members picked up medals Thursday at the UANA Pan American Synchronized Swimming Championships.
Megumi Field and Sarine Cho, members of the 12 & Under National Team, won gold in duet, and Junior National Team member Emmanuella Tchakmakjian earned solo bronze on the second day of competition.
Field and Cho scored 130.4493 total points to win the 12U duet final. They led the field with 65.9493 points in figures and 64.5000 in free.
Field also placed first in 12U figures 
on Wednesday
, totaling 66.9167 points. 
Anya Melson
(66.8514) placed second and 
Nicole Chung
 (65.1522) finished fifth. Cho was seventh at 64.9819, and 
Juna Park
 placed ninth with 64.7101.
Also in the top 20 for the U.S. were Cambell McMillan (11th, 64.4746), Lydia Yi (17th, 62.3333), Jennah Hafsi (19th, 62.0942) and Taylor Sullivan (20th, 61.7572).
Tchakmakjian won bronze in the junior solo final with 142.1491 total points. She had 70.0158 points in figures and 72.1333 points in the free final.
In the 13-15 division, U.S. national team members Jade Low and Elizaveta Polyakovaplaced second in the duet free prelim with 72.0000 points. Ryan Lewis and Katherine Reveno were fourth at 69.7667, and Delaney Beach and Ashley Latchford were sixth at 69.6000.
Victoria Zimm was fourth in the 13-15 solo prelim with 135.3805 points, and Gabriella Ospina was seventh at 130.5259.
Low was the top U.S. swimmer in 13-15 figures, placing eighth with 66.8153 points. Lewis was ninth at 66.4403. Also placing for the U.S. were Zimm (11th, 66.2472 points), Reveno (16th, 66.0540), Polyakova (19th, 65.7926), Latchford (20th, 65.7926) and Ospina (37th, 64.2926).
Competing 
Friday
 for Team USA will be Megumi Field (12U solo final), Jade Low and Elizaveta Polyakova (13-15 duet final) and Victoria Zimm (13-15 solo final).
Press release courtesy of USA Synchro