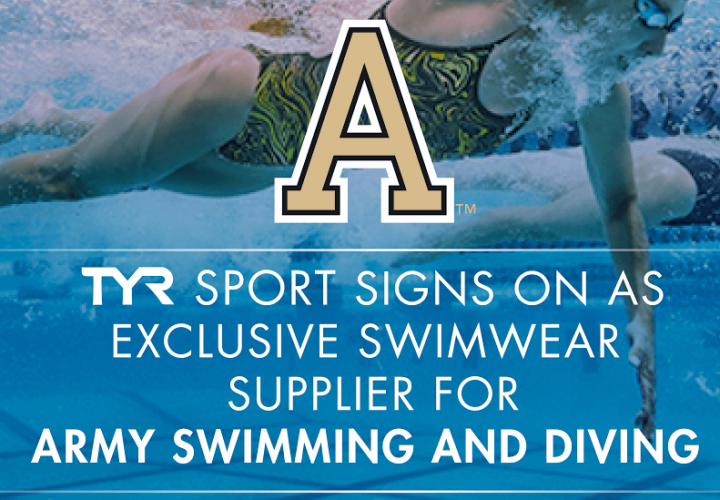 Photo Courtesy: TYR Sport
TYR Sport is proud to announce that it has signed on as the exclusive swimwear supplier for the Army West Point Swimming and Diving Program.
With a mission to educate, train and inspire the next generation of Corps of Cadets, the United States Military Academy at West Point is a renowned institution known for developing excellence both in and out of the classroom. The Academy provides a superb four-year education, which focuses on the leader development of cadets in academic, military, and physical domains, all underwritten by adherence to a code of honor.
At the helm of Army's swimming and diving programs is eleven year veteran head coach Mickey Wender. During his tenure, Wender has not only led both the men's and women's teams to top finishes at the Patriot League Championships, but has also coached 89 cadet-athletes to Patriot League Honors.
The 2015-16 season was the most successful for both the men's and women's teams in recent history. Boasting a combined 20-2 record, the teams have not seen such joint success since the inaugural season of the women's program in 1978-79. In addition, both squads finished as the runner-up at the Patriot League Championships, which is the highest simultaneous finish in program history. Other accomplishments in his tenure include two Patriot League Championship "Swimmer of the Meet honorees, five Diver of the Meet selections, one Rookie of the Meet, one Scholar-Athlete of the Year and two CoSIDA Academic All-American certificates.
"Army West Point Swimming and Diving could not be more excited about our partnership with TYR," stated Wender. "It's a natural connection based on mutual respect and common goals. I have always admired the quality of the TYR brand and what it represents in terms of competitive excellence and integrity. It's also clear that TYR has tremendous respect for the men and women who will serve our country as commissioned leaders of character. We couldn't be more proud to work together."
"West Point has an incredible history, not only for its success as a Division 1 program, but also for its ability to provide the world with true leaders committed to the values of duty, honor and country," began Matt DiLorenzo, Chief Executive Officer of TYR Sport. "We look forward to working with the men and women of Army Swimming & Diving and cannot wait to watch them continue to succeed."