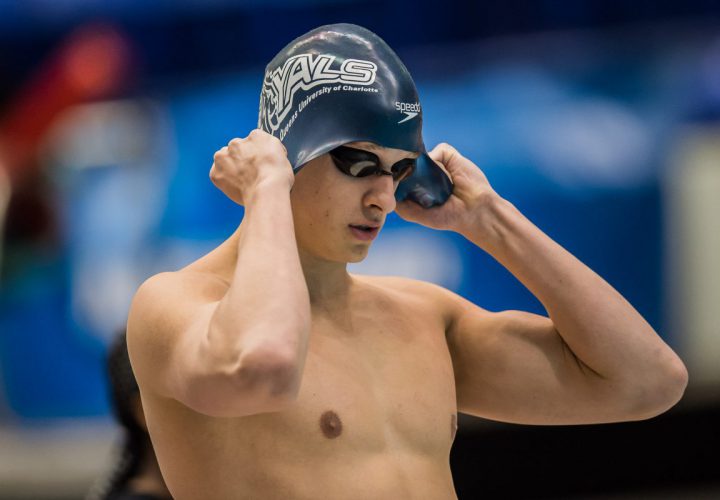 Photo Courtesy: Peter H. Bick
By Andy Ross.
With the Division II NCAA's a little less than a week away, Swimming World has compiled a list of 10 swimmers from each gender to pay special attention to at the meet in Greensboro, North Carolina. The meet will start Wednesday morning. Queens University is the defending champion in both the men's and the women's meet and are heavily favored to repeat for the fourth straight year.
Note: Just because a specific swimmer is not listed, does not mean we have forgotten them, or do not think they are worthy of watching. There are 340 total swimmers in this meet, so it was hard to narrow it down to 20.
Women's Psych Sheet
Men's Psych Sheet
Records
10. Rodrigo Codo Berti, Junior, Indianapolis
200 IM: 1:47.18, 4th; 100 back: 47.73, 10th; 200 back: 1:44.48, 4th
The GLVC swimmer of the championships is ranked high in both backstrokes and is fourth in the stacked 200 IM. Head coach Jason Hite indicated he wasn't tapered at the GLVC meet, but that meet was so long ago that it might not even matter how rested he was there. But UIndy has been on a roll all season, and Codo Berti is one of the main reasons why. He could have a breakout NCAA meet.
9. Victor Rocha Furtado, Junior, Florida Tech
50: 19.72, 2nd; 100 fly: 48.09, 13th; 100 free: 43.49, 2nd
Furtado is seeded second in both sprint free events. He had a breakout season as he only reached one A-final a year ago in the 100 free. Can Furtado upset the likes of David Lambert and Marius Kusch this season? He was most likely not fully rested for the Sunshine State Conference meet so he might have more in the tank.
8. Matthew Holmes, Junior, Florida Southern
200 IM: 1:46.28, 1st; 400 IM: 3:50.68, 3rd; 500: 4:26.92, 9th; 100 free: 44.82, 36th
Another Florida college swimmer, Matthew Holmes had a breakout 2018. He was fourth in the 200 IM last year and finds himself as the top seed going into this week's meet. Holmes had big drops from conference to NCAA's last year and can he repeat that in 2018? If he does, he could be on top of some really good swimmers.
7. Giulio Brugnoni, Freshman, Delta State
50: 20.15, 16th; 100 fly: 47.52, 7th; 100 back: 46.72, 2nd; 200 back: 1:45.39, 6th
The only freshman on this list is Delta State's Brugnoni out of Italy. He is seeded second in the 100 back behind Queens' Paul Pijulet who broke the NCAA record with that swim. He is only in his first season at Delta State and the rest of Division II doesn't know what to expect from the freshman. He swam his seed times at Delta State's Christmas Invite, so he may have more to prove at the NCAA meet this week.
6. Franco Lupoli, Senior, Nova Southeastern
1000: 9:02.20, 1st; 200 free: 1:38.24, 22nd; 500: 4:24.10, 2nd; 1650: 15:23.94, 4th
Lupoli has been one of the top distance swimmers all year for the Sharks. He has a good chance to win three individual titles in distance events in Greensboro. He is in his senior season and is one of the few seniors seeded that high in the three long distance events, so he could have that extra drive to put him over the edge.
5. Joan Casanovas, Sophomore, Drury
1000: 9:04.62, 3rd; 200 free: 1:35.05, 2nd; 500: 4:21.56, 1st; 1650: 15:31.58, 10th
Casanovas is one of the most versatile, as well as one of the most gritty swimmers in Division II. He has range all the way from the 200 free to the 1650, and he is a legit favorite in three of those races. He also swam on Drury's sprint free relays so he is showing range rarely seen at this level. Will the toll of racing wear him out as the meet goes on? He faded badly in the 1650 on the last day of the GLVC meet. Maybe it was lack of a full rest, but Drury is going to be relying heavily on Casanovas if they want a top three finish.
4. David Lambert, Senior, Oklahoma Baptist
50: 19.17, 1st; 100 free: 43.60, 4th
How low can Lambert go? Can he break 19 seconds? If he does, he could be the first college swimmer outside of Division I to do so. Lambert is only entered in two events, as he will be expected to swim on Oklahoma Baptist's four sprint relays. If Lambert is on, and if his teammates can respond, Oklahoma Baptist could be in for a huge meet as the team is making its debut at the Division II meet after spending years as an NAIA school.
3. Paul Pijulet, Senior, Queens
50: 19.98, 5th; 100 fly: 45.60, 1st; 100 back: 46.15, 1st; 200 back: 1:43.62, 1st
Pijulet broke the NCAA Division II record in the 100 back at the Bluegrass Mountain Conference Championships, and at one point led all swimmers in the NCAA in the 100 fly. It's fair to say that if Pijulet loses any race he is in, it would be a surprise (excluding the 50). He is a senior, but this is Pijulet's second season with Queens. Last season, he went from a 47.27 to a 46.58 in the 100 back and a 1:44.36 to a 1:42.08 in the 200 back. If he can repeat those drops at NCAA's, he could be in line for more records. He could go a 45 in the 100 back and he could challenge the NCAA record in the 200, which is a 1:40.74 by Matt Josa from 2014.
2. Nick Arakelian, Senior, Queens
200 IM: 1:46.97, 3rd; 400 IM: 3:49.72, 1st; 100 breast: 53.97, 1st; 200 breast: 1:56.18, 1st
Arakelian is the top seed in three events and is also seeded third in the 200 IM, which is perhaps the most stacked race of the meet based on who is entered. Arakelian holds the NCAA Division II record in the 400 IM, which he set his freshman year in 2015. He is the three-time defending NCAA champion in the 400 IM and has a legitimate chance to win a fourth straight and complete the sweep.
1. Marius Kusch, Junior, Queens
200 IM: 1:46.48, 2nd; 200 free: 1:34.58, 1st; 200 fly: 1:43.50, 1st; 100 free: 43.08, 1st
Kusch is perhaps the most versatile swimmer in Division II as he could have swam anything he wanted and been a high seed. Kusch won the 200 fly in record fashion last year and has a chance to get that low again. His 1:42.04 last year in the 200 fly would have scored at the Division I meet, so Kusch will definitely be looking to get down there again. If he can, he could be in the talks for one of the best Division II swimmers ever.
10. Bailee Nunn, Sophomore, Drury
200 IM: 1:56.78, 1st; 100 fly: 55.18, 19th; 100 breast: 59.63, 1st; 200 breast: 2:11.34, 1st
Nunn sat out of the GLVC Championships with an injury after only swimming the 50 free. But the coaches insisted she would be ready to go for NCAA's. How will she respond without having raced a full meet since January 18? Of course we may be overreacting, but Nunn didn't get a chance to show what she is capable of at her conference meet. Despite this, she could walk away with three individual titles as she is seeded well ahead of the rest of the women in her events. She holds the NCAA record in the 200 breast and is not far off of the records in the 200 IM and 100 breast, so if she is on, it could be a big weekend for Nunn.
9. Zuza Chwadeczko, Senior, Drury
200 IM: 2:00.67, 4th; 100 fly: 54.46, 8th; 100 breast: 1:00.76, 2nd; 100 free: 49.80, 2nd
Let's just say, for whatever reason, that Nunn won't be able to swim in Greensboro. Drury has a solid back-up in Zuza Chwadeczko. She is built very similarly to Nunn in terms of swimming strengths as the two are swimming three of the same events. Chwadeczko is seeded behind Nunn in the 100 breast and will also swim with her in the 200 IM. Chwadeczko is also one of the most versatile swimmers in Division II, as she is entered in four different stroke disciplines in Greensboro. That being said, you know her 200 IM is going to be good and she could surprise some people in the stacked event.
8. Katya Rudenko, Senior, Drury
50: 23.25, 18th; 100 back: 53.44, 1st; 100 free: 51.75, 57th
Rudenko is a three-time Olympian for Kazakhstan, making her first appearance in Beijing at age 13. Rudenko is one of the top sprinters in Division II as she leads the field in the 100 back this year. She will be chasing the NCAA record in that event, which stands at 52.45 by Mary Hanson of California Baptist. She just missed that time in 2015 when she went 52.75 but she got beat last year by Rachel Helm of Northern Michigan, who could very well win both backstrokes again this year. Rudenko is also in the 50 and 100 free, and if she can get near her relay splits from GLVC's (22.91, 50.70) then she could definitely score in all three of her events. And Drury is going to need every point they can get.
7. Laura Fornshell, Sophomore, Fresno Pacific
1000: 9:54.39, 2nd; 400 IM: 4:21.81, 5th; 500: 4:49.27, 3rd; 1650: 16:34.31, 3rd
Fornshell is a dark horse in the long distance freestyle events as she has been at or near the top of the Division II rankings for the whole season. Her best place a year ago in her freshman season was fifth in the 1650. She has already beaten her personal bests this season so she could seriously challenge the likes of Emma Sundstedt and Georgia Wright this year.
6. Randi Yarnell, Junior, Western State
50: 22.88, 3rd; 100 fly: 53.85, 3rd; 200 free: 1:48.80, 5th; 100 free: 49.20, 1st
Yarnell doesn't come from a top 25 program, but she is one of the best swimmers in Division II. She is the top seed in the 100 free, and is near the top in the 50, 200 free and the 100 fly. Yarnell could very well walk away with four individual titles, which would be a huge improvement off her dismal performance a year ago where she failed to scored in any of her events. In 2016 however, she did reach the A-final in the 200 free, placing seventh, so she does have experience scoring at the NCAA meet. She was also 15th her freshman season in the 50 in 2016. Could Yarnell exorcise those demons and score in all of her events at NCAA's?
5. Sofia Petrenko, Senior, California Baptist
200 IM: 2:01.62, 8th; 400 IM: 4:20.45, 2nd; 200 fly: 2:00.44, 4th; 100 free: 51.77, 58th
Petrenko is swimming in her first NCAA's since 2016. She sat out last year after transferring from Wingate to California Baptist. Petrenko was the 2016 champion in the 200 fly and is seeded fourth going into this year. She had the NCAA record before McKenzie Stevens broke it this year. Can she get her title back? In 2016, she was also third in the 200 IM and second in the 400. Her best times all-time would put her second on the psych sheet in her three main events. So although she did not compete last year, no one should take Petrenko lightly.
4. McKenzie Stevens, Senior, Queens
200 IM: 2:00.49, 3rd; 200 free: 1:47.65, 2nd; 200 fly: 1:57.62, 1st; 100 free: 50.59, 16th
Stevens broke Petrenko's NCAA record in the 200 fly at the Bluegrass Mountain Conference meet last month. Stevens, however, has never won an individual NCAA title, finishing third, fourth and third the last three years in the 200 fly. Stevens is a heavy favorite going into this year's 200 fly, but could get pressure from Petrenko. But if she can't win the 200 fly, she has a good chance in the 200 free where she is seeded second, and was third last year.
3. Courtney DeVeny, Senior, Nova Southeastern
200 IM: 2:00.22, 2nd; 400 IM: 4:16.40, 1st; 200 fly: 1:59.80, 3rd; 200 back: 1:57.73, 3rd
DeVeny is the top seed in the 400 IM and is second in the 200 behind Bailee Nunn and is also seeded third in the stacked 200 fly. DeVeny swam the same four events a year ago and only scored in the 400 IM (4th) and 200 back (7th). She won the 400 IM in 2015 and will be looking to get back to that level, and it looks like she is in a good spot to do that again. She is seeded first by four seconds over second place Sofia Petrenko.
2. Georgia Wright, Sophomore, West Chester
1000: 10:00.52, 5th; 500: 4:49.72, 4th; 1650: 16:34.60, 4th; 200 back: 1:58.96, 5th
Wright is the defending champion in the 1000 and 1650, but could have her hands full with Emma Sundstedt if she wants to repeat this season in either event. The distance events will be some of the most tightly contested events at Division II's this year and Wright will be at the center of them. Wright went best times in the 200 back and 500 this year, and those improvements could pay dividends for her in the 1000 and 1650, if she is to repeat.
1. Emma Sundstedt, Freshman, Nova Southeastern
1000: 9:46.63, 1st; 200 free: 1:47.49, 1st; 500: 4:46.06, 1st; 1650: 16:27.40, 1st
Sundstedt is seeded first in all four of the events she is entered in. She will be racing a lot of yards this weekend in Greensboro as she is entered from every freestyle event from the 200 all the way up to the 1650. Sundstedt broke the NCAA record in the 1000 earlier in the year and she has a potential to add more records to her repertoire in Greensboro. But the girls behind her are no slouches. Can Sundstedt exit the weekend unscathed? Or will one of the girls listed above, or perhaps someone else, take her down? If she can win all four of her races, it will be a feat rarely seen at any level of collegiate swimming.