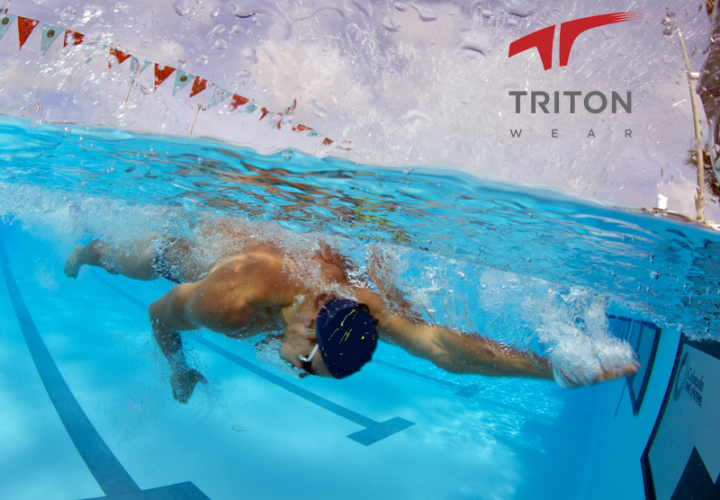 TritonWear is the proud sponsor of the Set Of The Week. This week's TritonWear Set Of The Week is from Coach Jeff Rapp, a graduate assistant coach at Springfield College who is currently completing a Ph.D. in Exercise Physiology.
This is a high intensity set that is described as developing "aerobic speed" for mid-stance stroke and IM swimmers. Coaches should repeat the four rounds of the set twice. Take a look to see this challenging set:
Two Times Through:
Round 1: 150 build + 100 at 200 pace + 75 all out from the blocks each on 2:30
Round 2: 100 build + 75 at 200 pace + 50 all out from the blocks each on 2:00
Round 3: 75 build + 50 at 200 pace + 25 all out from the blocks each on 1:30
Round 4: 75 + 50 + 25 all out from blocks each on 2:00
*Take an extra 2:00 after Round 4
This is a set designed primarily for mid-distance stroke and IM swimmers. If doing main stroke, athletes should do odd rounds full stroke and even rounds free the first time through. The second time through should be the opposite (odd rounds free, even rounds full stroke). IMer's should do reverse IM order on each round. Either way, this is a great way to build through different paces and teach swimmers to gain an awareness of controlling different race speeds.
An extra benefit to the set is the specific energy groups that are affected as each round progresses. According to Coach Rapp, "because of the work to rest ratio and increasing intensities through the rounds, the athletes have an ability to diminish muscle glycogen stores, stress their oxidative systems as well as find that extra gear towards the end of each round that we as coaches love to see at the end of races."
Each round progresses in intensity, and coaches should note how swimmers adapt to the increasing demands of the set as it progresses. The complexity of the set makes it more appropriate for senior age group of collegiate swimmers. Intervals can be adjusted, with an emphasis on full recovery after the fourth round before repeating the set.
With multiple distances and stroke combinations, this is a flexible set to make your own to meet the needs of your team. Happy swimming!
————————-
At TritonWear we strive to make superior athletes by enabling coaches to be as efficient and effective as possible. We do this in three ways:

1. Saving coaches time so they can work more with each athlete
2. Providing real-time performance information from all athletes
3. Tracking performance over time for effective goal management

The Triton automatically calculates 15 key performance metrics including splits, stroke count, stroke rate, DPS and more allowing coaches to spend all of their time focusing on technique improvements instead of grabbing splits and stroke rates while giving peace of mind that the data will be there when they need it. Both coaches and swimmers can stay on track towards their seasonal and long-term goals by comparing test set performances over time to help flag weaknesses in their stroke or fitness