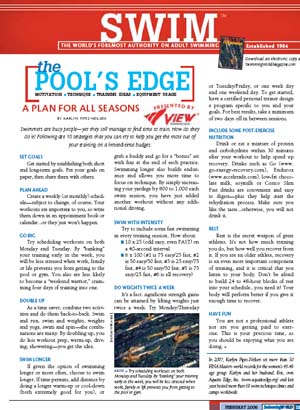 PHOENIX, Arizona, February 4. BALANCING daily responsibilities and juggling your other life outside of the pool can present challenges for maximizing precious water time.
Author and Masters World Record holder Karlyn Pipes-Neilsen provides readers with 10 practical pieces of advice aimed at getting the most out of your pool time. Among the 10 guidelines offered are; set goals, plan ahead as well as enjoy what you are doing.
This month's Dryside Training feature provides practical advice for establishing an early morning warm-up routine. This article underscores the importance of being committed to a "first thing in the morning" warm-up, which can be done even before leaving your bedroom. By enhancing your metabolism with this routine, you will burn more calories and still be ready for your daily swim.
Premium subscribers who download and read the February issue of Swimming World Magazine from the Premium Section will be able to enjoy all the multimedia elements embedded in the issue.
The February issue contains the following SwimmingWorld.TV interviews:
* Dave Marsh, Mecklenburg Aquatics head coach
* U.S. Olympic Trials Omaha Organizers
* Trevor Tiffany, Myrtha Pools
* Michael Lohberg, Coral Springs head coach
Click here for a preview of the multimedia items available in the February issue.
This issue is truly interactive with nearly 100 links for Premium Subscribers to get the rest of the story, results or even visit the web sites of Swimming World Magazine's advertisers.
Become a Premium Member Today to take advantage of these great digital versions of Swimming World Magazine.
February 2008 Issue
Contents of The February issue:


3 NIKE TECHNIQUE TIP: Butterfly Breath by Glenn Mills
8 WORLD CUP: Ain't Nuthin' Like It! by Jason Marsteller
There's nothing in competitive swimming quite like the FINA/Arena World Cup circuit, which had plenty of world, regional and national records.
10 SEIZING THE OPPORTUNITY by John Lohn
The American record book required a significant edit after some very fast short course yards meets at the end of the year.
13 OLYMPIC SYNCHRONIZED SWIMMING PREVIEW by Taylor Payne
For years, the United States and Canada dominated the sport of synchronized swimming, but Russia emerged as the world powerhouse at the turn of the century.
16 2008 OLYMPIC PREVIEW: AFRICA by Jason Marsteller
53 NAG TOP 16 (LONG COURSE)
DEPARTMENTS:
6 A VOICE for the SPORT
35 CAMP DIRECTORY
49 FOR THE RECORD
59 CALENDAR
62 PARTING SHOT
In the Swimming Technique portion of the magazine you will find the following:


24 Q&A WITH COACH MATT KREDICH by Michael J. Stott
In three short years, Matt Kredich has turned the University of Tennessee women's program into a potent force.
26 HOW THEY TRAIN: Christine Magnuson by Michael J. Stott
27 THE "A" FACTOR by Rob Price
Having strong abs is crucial in taking your athletic ability to the next level and beyond.
30 USSSA: Giving Back to the Sport by Bryan T. Crane
If swimmers give back to the sport by teaching swimming and safety skills, they can improve their own swimming as well!
In the SWIM portion of the magazine you will find the following:


19 THE POOL'S EDGE Presented by View by Karlyn Pipes-Neilsen
Here are 10 strategies that you can try to help you get the most out of your training on a limited-time budget.
20 DRYSIDE TRAINING: The Bedroom Warm-up Routine by J.R. Rosania
22 WORKOUT CARD: Back to "Base-ics" by John Salvino
In the Junior Swimmer portion of the magazine you will find the following:
32 HIGH SCHOOL ROUNDUP: Setting a High Standard by Brian Savard
Swimmers who will be competing in their state championships between now and May will have to swim fast just to keep pace with early-season performances.
33 SPEEDO AMERICAN RELAY
34 NATIONAL AGE GROUP RECORD SETTER: Ella Eastin