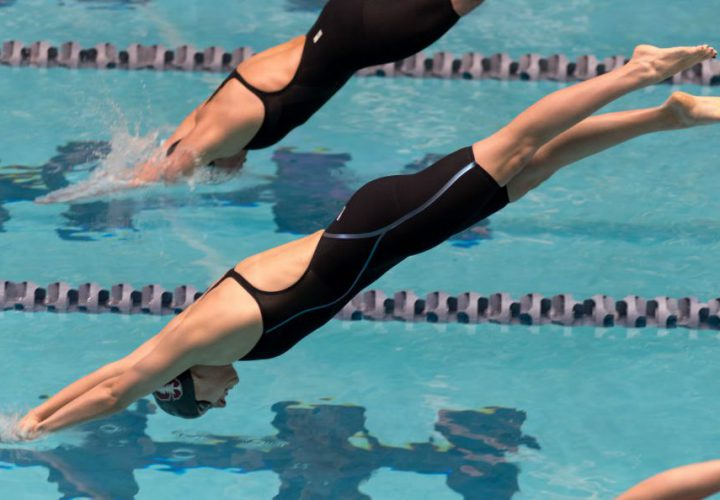 Photo Courtesy: Chuckarelei / Pac-12
By David Rieder.
No, there is no long course World Championships in 2018. It's that awkward middle year between Olympic cycles where the world's best swimmers will never all be in the same pool at the same time. So for this year, there will be no definitive answer of "Who is the best?"
The good news is, there are plenty of meets of significant impact coming up. Let's go through the eight most important ones, in chronological order.
You will hear plenty about all these meets when the time comes, with previews of every crack and crevice. For now, just a quick overview of what we're watching for at each one.
1. Women's NCAA Championships: March 14-17, Columbus, Ohio
Once again, all eyes will be on Stanford at this year's women's NCAA championships, with Greg Meehan's Cardinal favored for a repeat championship—for good reason. His team is led by Olympic gold medalists Katie Ledecky and Simone Manuel, Ella Eastin is one of the country's top swimmers, and Stanford is the deepest team in the country,
Still, even if there's relatively little drama at the top of the NCAA meet, the team battles remain compelling, and the ladies' college ranks remain a star-studded affair: Kathleen Baker, Lilly King, Mallory Comerford, Abbey Weitzeil and plenty of other familiar names will be among those battling for individual NCAA crowns.
2. Men's NCAA Championships: March 21-24, Minneapolis
For the first time since 2014, the men's championships should hold some drama in the team race. After three years of Texas blowouts, the Longhorns suffered big enough losses that should bring them back to earth—while Cal, even after the graduation of star backstroker Ryan Murphy, has its most well-rounded team in years.
Those two teams will battle for the NCAA championship, with the likes of Florida and North Carolina State hoping to play spoiler.
Speaking of the Gators, Caeleb Dressel will be there. The reigning World Swimmer of the Year will be competing in his final college meet, and some major barriers (18 seconds in the 50 free, 40 seconds in the 100 free) will be on high alert.
3. Commonwealth Games: Swimming April 4-9, Gold Coast, Australia
After winning just three gold medals at the 2016 Olympics and only one at the 2017 World Championships, the Australians will welcome the Commonwealth nations to the Gold Coast for the first of the year's major regional meets. All of Australia's stars that missed the 2017 World Championships, including sprinters Cate Campbell and Kyle Chalmers, are expected to be back in action.
Other top swimming countries that will send representative teams include Canada, New Zealand, South Africa, Singapore and the countries that comprise Great Britain—competing separately. So Adam Peaty and James Guy will represent England, while Duncan Scott is swimming for Scotland.
The meet will take place in the same outdoor venue on the Gold Coast that hosted the 2014 Pan Pacific Championships. But while the weather at that August meet was cold and rainy, much nicer conditions are expected for April.
Note also that the swimming competition lasts six days, as it does at the European Championships and Short Course World Championships later in the year. All these meets will offer semi-finals in 50 and 100-meter events, but not in 200-meter races.
4. U.S. Nationals: July 25-29, Irvine, Calif.
Aside from Olympic Trials, this Nationals is the biggest selection meet the United States has. That's because teams will be selected for every major meet in both 2018 and 2019.
The U.S. will pick its team for the Pan Pacific Championships in Irvine, and results from Nationals and Pan Pacs will be combined to determine teams for the Short Course World Championships in 2018 and the World Championships, Pan American Games and World University Games in 2019.
So, yeah, it's important. Anyone who has a bad meet is out of luck for not just one year but two.
For the fourth straight Olympic cycle, Irvine's William Woollett Aquatic Center will host this all-important meet, and the sunny venue usually draws some nice crowds and produces some exciting swims. The last time Nationals were in Irvine, Katie Ledecky broke the world record in the 400 free for the first time.
5. European Championships: Swimming Aug. 3-9, Glasgow, Scotland
The British home nations will reunite for a home European Championships that will be the 2018 focus meet for every other country on the continent. The European Championships are a semi-annual affair, held in every even year, but in Olympic years, the meet occurs in the spring as a warm-up act. In 2018, it's all that the top swimmers in Europe have.
Among the individual World Champions from last year expected to compete: Sarah Sjostrom, Katinka Hosszu, Yulia Efimova, Mireia Belmonte, Gregorio Paltrinieri, Gabriele Detti and Evgeny Rylov.
Oh, and countries can enter as many swimmers as they want in each event—but only two per country can advance out of prelims.
6. Pan Pacific Championships: Aug. 9-13, Tokyo, Japan
Yes, a major meet in Tokyo—two years before the Olympics come to town.
The Pan Pacific Championships were founded by four "charter nations," including the United States, Australia, Japan and Canada, but many other countries outside of Europe send representative teams. Brazil, South Africa, China and New Zealand have all sent swimmers to past editions of Pan Pacs.
The pool swimming competition lasts just four days, and there are no semi-finals in any events. Instead, swimmers who qualify for the meet can swim any event they want, but only three swimmers per country can advance to either the A or B finals (max two per country per heat).
Also worth keeping an eye on: who ends up with the top two times among Americans. To determine the squads for the 2019 Worlds team, times from the A and B-finals at Pan Pacs (but not prelims times) are compared with times from Nationals, and the top two in each event qualify. Got that?
7. Asian Games: Aug. 18-Sept. 2 (Swimming TBD), Kemayoran, Indonesia
Straight off Pan Pacs, swimmers from Japan and possibly China, South Korea, Singapore and elsewhere will head to Indonesia for the Asian Games, traditionally the focus meet for anyone on that continent. Often held later in the calendar compared to other major meets (often October), this year's Asian Games come right after the Pan Pacific and European meets.
Although Chinese swimmers occasionally compete at Pan Pacs, this will likely be the main meet for that country's top swimmers, including Sun Yang, Xu Jiayu and Li Bingjie.
8. FINA Short Course World Championships: Dec. 1-5, Hangzhou, China
Technically, this is the only global competition of the year, but with Short Course Worlds, the world's top swimmers almost never all show up.
That said, attendance should be better this December than it was last year, in the immediate aftermath of the Rio Olympics. European swimmers typically show up at nearly full strength for Short Course Worlds, but swimmers from the U.S., Australia and Asian countries frequently pass. It will be a while before we know exactly who will be making the trip to China next year.