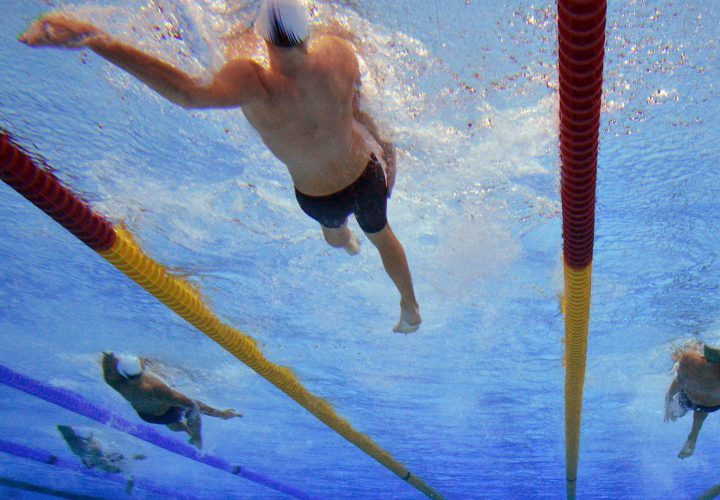 OPOLE, Poland, May 4. TOMASZ Polewka charged to a Polish record in the men's 50-meter backstroke as the Polish Grand Prix in Opele came to a close.
Polewka, who swims for AZS AWF Katowice, powered his way to a 25.12 in the sprint backstroke. That time cleared Bart Kizierowski's Polish record of 25.27 set back in 2009 at the Polish Championships held in Ostrowiec Swietokrzyski. The swim also moved Polewka up to 11th in the SwimVortex world rankings. Milosz Mikicin finished second in 26.32 with Krzysztof Jankiewicz placing third in 27.04.
Aleksandra Urbanczyk topped the women's 50-meter free finale with a 25.70, while Anna Dowgiert placed second in 25.99. Nikola Petryka picked up third in 26.74. Filip Wypych followed up with a touchout triumph ahead of Szymon Dymerski in the men's 50-meter free, 23.82 to 23.86. Przemyslaw Gawrysiak placed third in 24.14.
Urbanczyk doubled up with a 28.73 to win the women's 50-meter backstroke. Alicja Tchorz took second in 29.37, while Klaudia Nazieblo touched third in 29.46.
Dominika Sztandera won the women's 200-meter breast in 2:41.36 with Marlena Dudek finishing second in 2:42.70. Ewa Dymarek placed just behind with a third-place time of 2:42.89. Mikolaj Machnik claimed the men's 200-meter breast title in 2:16.89. Dawid Szulich (2:17.09) and Barlomiej Roguscki (2:23.04) rounded out the top three.
Mirella Olczak hit the wall in 1:02.11 to win the women's 100-meter fly. Anna Dowgiert took second for the second time tonight with a 1:02.66, while Paulina Peda placed third in 1:03.46. Pawel Korzeniowski picked up the men's 100-meter fly title in 53.16 with Michal Poprawa placing second in 53.94. Oskar Krupecki closed out the top three in 54.70.
Filip Zaborowski clinched the men's 1500-meter free crown in 15:38.17, while Marcin Kaczmarski placed second in 15:39.51. Pawel Furtek pocketed third-place honors in 15:42.75.
Bartlomiej Kobkowski crushed the field in the men's 400-meter IM with a 4:31.42. Karol Zaczynski placed well behind with a second-place 4:36.12, while Mateusz Czarnota wound up third in 4:41.27. Alicja Tchorz concluded the meet with six gold medals after winning the women's 400-meter IM in 4:50.74. Klaudia Nazieblo placed second in 4:52.82 with Mirella Olczak earning third in 5:03.63.