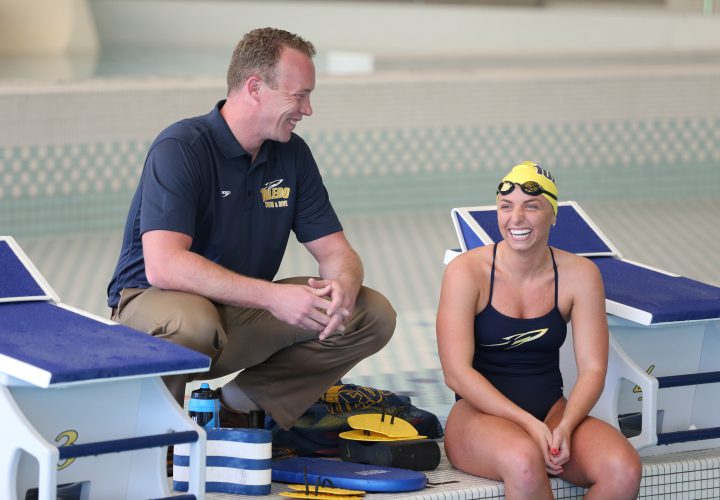 Photo Courtesy: University of Toledo
Toledo will host five opponents and compete against Ohio State and Kentucky in a non-conference tri-meet as part of its 2017-18 schedule, Head Coach Jonas Persson announced.
"It's a much more competitive schedule than last year and probably one of the most competitive in our conference," Persson said. "We have a schedule that will prepare us well for our conference meet where they can swim one afternoon and then come back the next morning and race again. It will be fun; we have a very talented team."
The top Rockets returning to the water will include senior Jessica Avery and sophomore Izzy Jones, who both swam to a second-team All-MAC selection in the 2016-17 season.
UT will open its season at home with the Blue and Gold Meet on October 5-6 in the Toledo Student Rec Center. The second day of competition on Oct. 6 will include the Alumni Meet as well.
The Rockets will hit the road for their next matchup with a dual meet against Mid-American Conference opponent Buffalo (Oct. 28). They will return home the following weekend for a tri-meet against MAC opponent Ball State and Oakland (Nov. 4) and will remain home for another tri-meet against Findlay and Tiffin (Nov. 18).
Toledo will end the year in Florida with a two-day meet against Florida Gulf Coast (Dec. 20-21).
The Rockets will welcome in the New Year with a competitive three-session tri-meet against No.18 Ohio State and No. 17 Kentucky (Jan. 5-6) in Lexington, Ky.
Toledo will host its last home meet of the season against defending MAC champion Akron (Jan. 13) before traveling to IUPUI (Jan. 19) the following weekend.
UT will travel to Bowling Green (Feb. 2-3) for the "Battle of I-75" in a two-session dual meet that will close out its regular season.
The 2018 MAC Championships will take place on Feb. 21-24 at Ohio University in Athens, Ohio.
Press release courtesy of Toledo Athletics.