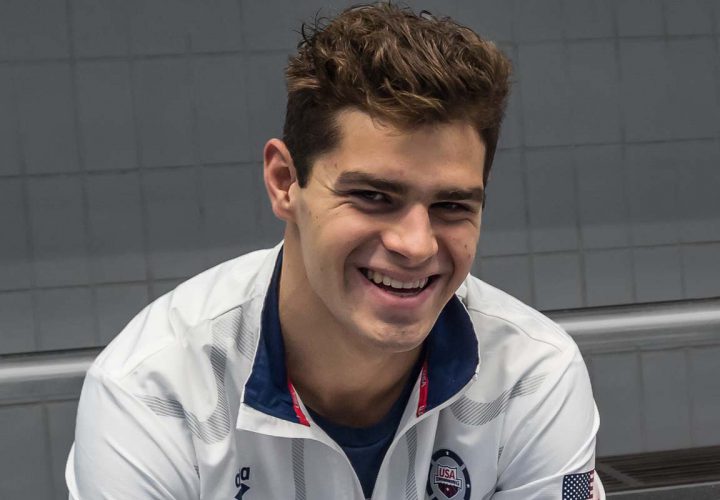 Photo Courtesy: Peter H. Bick
Morning Splash by David Rieder.
Michael Andrew celebrated his 19th birthday. It might seem like Andrew should be older than 19, since he became a professional swimmer almost five years ago, but remember: He was only 14 at the time.
At that point, Andrew had already set his share of national age group records, and he ended up breaking more than 100. Since 2015, he has set world junior records in five different long course events and won four gold medals at the FINA World Junior Championships.
But he has never qualified for a senior U.S. national team, an Olympics, World Championships or Pan Pacific championships. (That doesn't count the 2016 Short Course World Championships in 2016, which Andrew swam at—and won gold in the 100 IM—after many Olympians and NCAA swimmers declined invitations.)
The past three years, there has always been a junior-level meet to fall back on. Not anymore. In the summer of 2018, it's Pan Pacs or bust. Andrew, understandably, would rather be headed to Tokyo as one of the 52 swimmers that will swim for the United States.
The full selection criteria for Pan Pacs have yet to be released, but typically, the top three finishers in every Olympic event at U.S. Nationals (July 25-29 in Irvine, Calif.) are likely to be selected—and, based on how the math works out, possibly even some fourth-place finishers. The team for the 2019 World Championships would then be picked from the results of Nationals and Pan Pacs combined.
Andrew made finals in five events at U.S. Nationals last year, the 50-meter events of all four strokes plus the 100 breast. Those non-freestyle 50s, of course, are still not Olympic events, so only the winners are selected for Pan Pacs and for Worlds.
50 fly? Hard to see Andrew—or anyone beating Caeleb Dressel. 50 back? Better chance there, but beating Justin Ress, Matt Grevers and Ryan Murphy will be extremely tough. 50 breast? Maybe, but you'd have to think Kevin Cordes is the favorite there.
But even if Andrew does win a 50, none of those events are going to get him to the Olympics, the standard by which all elite swimming careers are judged. So that leaves the 50 free and 100 breast. Andrew has plenty of history with the 200 IM as well, but he has moved away from that event over the past year and indicated a shift in focus to other events.
In the splash-and-dash, the teenager has a real opportunity to break through. Certainly, Dressel will be the overwhelming favorite at U.S. Nationals after winning last year's World title in 21.15. Behind him are veterans Nathan Adrian and Anthony Ervin behind him, but neither has had much 50-meter success since the Olympics.
Even in what was a good year all-around for Adrian in 2017, he didn't make the 50 free final at the World Championships. His best time on the year was 21.83, No. 3 among Americans—and the guy who was No. 2 was Andrew.
Already this year, Andrew out-dueled Adrian in the 50 free when the two met at the TYR Pro Swim Series meet in Atlanta, and Andrew's time of 21.93 from that meet made him the only American to break 22 so far this season. So, yes, he has a chance there—and also in the 100 breast.
===
Back before the 2016 Olympic Trials, the majority of the attention Andrew received was for his status as the youngest professional swimmer in history. Few actually considered him a legitimate threat to make an Olympic team. And then, in the very first session of the meet, the then-17-year-old broke 1:00 for the first time in the 100 breast.
No, Andrew still ended up not making the Olympic team. But he swam as fast as 59.82 in the 100 breast final, good enough to finish fourth—a lot higher than most people realistically expected.
Later in that meet, Andrew finished sixth in the 200 IM semi-finals (he scratched the final) and also qualified for the semi-finals in the 50 free and 100 fly. Overall, a disappointing performance? Some might have thought so, given Andrew's notoriety, but compared to realistic expectations for someone like that at his first Olympic Trials, it was a fantastic effort.
Andrew's breaststroke wasn't at that level for most of 2017, but so far this year, he's already swum 1:00.07 in Atlanta and then 1:00.16 at the TYR Pro Swim Series stop in Mesa last weekend. In Mesa, despite extremely windy conditions, Andrew won the race by more than a second over a field that included Cordes, the American record-holder in the event, and Olympic bronze medalist Cody Miller.
So, yes, Andrew has chances—plural—to make Pan Pacs this summer.
"It's exciting. At the same time, nerve-wracking. I feel really blessed because I have a lot of experience racing at high-stress level meets," Andrew said in Atlanta. "At (Nationals), it's going to be another meet. It's going to be a big meet, and selection is going to be intense for the next two years, but you have to race and let it happen."
Remember, this shouldn't be seen as an "about time" situation for Andrew. Yes, you might have known his name for a long time, but even if he does make Pan Pacs, it's not like he will have a lot of contemporaries on the team, at least on the men's side. Only three teenage men qualified for last year's Worlds team: Ress and the two milers, True Sweetser and Robert Finke.
And Andrew acknowledges that he's young and still learning. At both the Atlanta and Mesa Pro Series stops, he pointed out without prompt something he particularly respected about a veteran on deck. As he raced Adrian, 10 years his senior, Andrew pointed out that he admired Adrian's year-by-year consistency and his minute-by-minute routine to make sure he was primed for each race.
But a swimmer can only be an up-and-comer for so long. In July, it will be time for Michael Andrew to prove he belongs. No more junior this or age group that—the real thing.