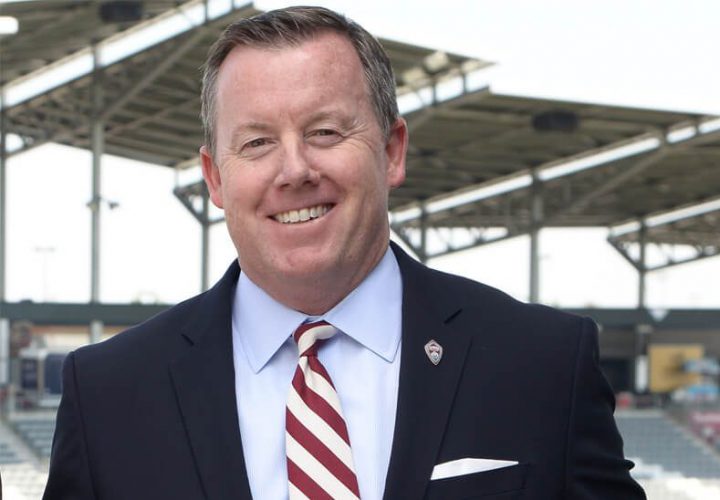 Photo Courtesy: USA Swimming
Tim Hinchey, the newly appointed CEO of USA Swimming, delivered the annual "State of the Sport" address last weekend at the United States Aquatic Sports (USAS) Convention in Dallas, Texas. The report marked Hinchey's first time speaking as the face of USA Swimming to its members since he was named CEO following the passing of longtime-CEO Chuck Wielgus.
In his report, Hinchey shared some of his observations from his 100 day listening tour; reflected on the 2017 FINA World Championships and World Junior Championships; and discussed opportunities he foresees for the future of USA Swimming.
100-Day Listening Tour
Just 60 days into his tenure, Hinchey has attended multiple USA Swimming events across the country and world, where he has met with board members, volunteers, sponsors, FINA representatives, and more.
According to Hinchey,
"I needed to get out in the field and familiarize myself with the volunteer structure and the coaching communities, and understand where we really are in terms of athlete development. I can't wait to visit more clubs and coaches across the U.S. and learn as much about the organization as I can so we can continue to grow the sport of swimming."
Hinchey's tour has also taken him to Washington D.C. where he accepted an award presented to USA Swimming from partner Sigma Gamma Rho Sorority, Inc.
Additionally, one of his goals for the rest of 2017 includes getting to know each full-time staff member located in Colorado Springs. Hinchey set a goal for himself to have coffee with each of the 84 staff members at the local Starbucks. He explained,
"Chuck's greatest legacy are the people he hired at USA Swimming. It's no secret that USA Swimming is the best NGB in the Olympic family and I want to have the chance to get to know each staff member that contributes to the success of the organization."
His tour will continue throughout the end of 2017.
Reflections on 2017 International Competitions
No "State of the Sport" report would be complete without reviewing USA Swimming's successes at the two largest international competitions of the year.
At both the 2017 FINA World Championships and the 2017 FINA World Junior Championships, Team USA brought home the largest medal haul in U.S. history. In Budapest, Team USA took home a total of 41 medals (19 gold, 12 silver, and 10 bronze), while in Indianapolis Team USA took home 32 medals (12 gold, 13 silver, and 7 bronze).
Hinchey commented,
"It's a dream come true to dedicate my professional career to the sport that has defined who I am, not only as a professional, but more importantly personally. With what I've seen so far in the first few months with our coaches, athletes and volunteers I'm excited to be a part of such an incredible organization and I'm eager to see what the future holds."
Early Observations and Future Opportunities
The bulk of Hinchey's address featured some of his early observations and future opportunities he sees for USA Swimming. Hinchey explained to the audience that USA Swimming's mission of Build – Promote – Achieve will not change throughout his reign and will remain a high priority.
On the upcoming horizon, Hinchey noted that he will be conducting an organization review and audit, so that a clear focus and direction can be established, while also looking into how to continue to grow membership within USA Swimming. One way he is hoping to do so is by allowing members to join USA Swimming in a flex membership category, without having to sign up for a full-year membership. The flex membership would allow rec swimmers and others who don't participate in the sport year-round to get to know USA Swimming.
Hinchey explained,
"As someone who got their start in the sport from a rec league, I have a passion to bring those swimmers in as USA Swimming members and right now our organization has a real disconnect with this audience. With the purposed flex membership category, we have the ability to connect with the other two million rec swimmers in our country, educate them on the benefits of USA Swimming and invite them to join us." 
Further opportunities for USA Swimming include the building of the commercial side of USA Swimming, such as building more unique partnerships, like the one with Sigma Gamma Rho, in order to build and expand the brand of USA Swimming.