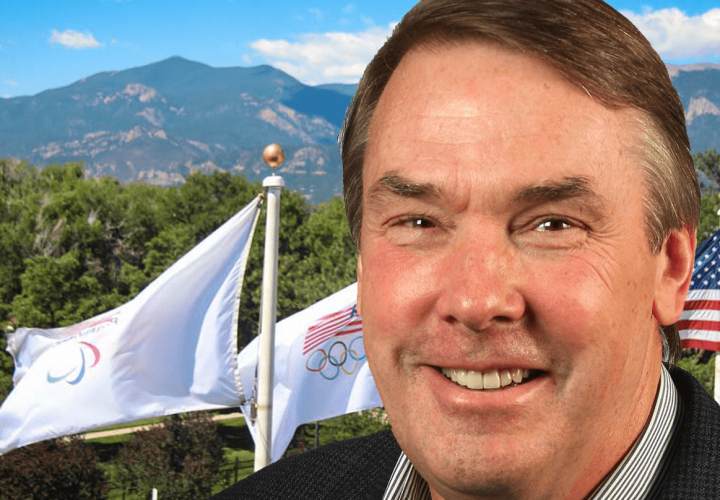 Chuck Wielgus, the Chief Executive Officer for USA Swimming has passed away. Swimming World was informed by USA Swimming early today – April 23, 2017. Wielgus announced his retirement earlier this year. He has also served as CEO of the USA Swimming Foundation since 2004. Mike Unger is now the interim CEO as a national search continues to find the next Chief Executive Officer.

Statement From USA Swimmming
Chuck Wielgus, who served USA Swimming as Executive Director for nearly 20 years, passed away on Sunday in Colorado Springs. Wielgus died of complications from colon cancer, which was first diagnosed in 2006 and Wielgus battled while continuing to steer USA Swimming to record growth. He was 67.

Joining USA Swimming as Executive Director in July 1997, Wielgus was the longest-tenured chief executive in the Olympic family. Wielgus added duties as Chief Executive Officer of the USA Swimming Foundation at its inception in 2004.

"This is an extremely sad day, as we lost Chuck Wielgus, one of the finest men I have ever had the pleasure to work alongside. He will be missed by all of us in USA Swimming and all his friends and colleagues around the world. Our thoughts and prayers go out to his wife, Nancy, and his entire family in this difficult time," said USA Swimming Board of Directors Chair Jim Sheehan. "Chuck was one of the finest CEOs in all of sport and his leadership of USA Swimming has made it the premier National Governing Body in the Olympic movement. Chuck's selflessness, compassion and intelligence have been hallmarks of his work with the staff, Board of Directors, athletes, coaches and volunteers of USA Swimming."

Well-known for his core objectives of "Build, Promote, Achieve," Wielgus led USA Swimming to new heights with notable achievements in several key areas.

In the year before Wielgus arrived, USA Swimming had fewer than 200,000 members and membership growth has doubled to more than 400,000 members. Along the same lines, revenues increased by 600 percent, including an expansion of corporate partners to approximately 15 annually. In 2001, Wielgus formed the Club Development Division to provide swim teams across the country with resources and expertise to help them improve as small businesses and with their swim performance.

Wielgus' vision to promote swimming to wider audiences resulted in securing annual year-round network television coverage of championship swimming events, including the Pro Swim Series, National Championships, World Championships, U.S. Olympic Team Trials, Pan Pacific Championships and the made-for-TV Duel in the Pool. The creation of the Golden Goggle Awards celebration and fundraiser furthered the efforts by giving swimming a high-profile event to recognize that year's accomplishments.

Wielgus was instrumental to growing the U.S. Olympic Team Trials – Swimming into a major showcase event in a 17,000-seat entertainment venue. The 2016 Olympic Trials was completely sold out with more than 200,000 tickets for 15 sessions at the CenturyLink Center in Omaha.

During Wielgus' tenure, there were 156 podium performances by the U.S. Olympic Swim Team in five Olympic Games, including 33 medals (16 gold) at the 2016 Olympic Games in Rio de Janeiro. The medal count has equated to approximately 33 percent of the total Team USA count.

Wielgus was a driving force behind the formation of the USA Swimming Foundation, which provides financial support for National Team athletes and helps to save lives through swim lessons with the Make a Splash initiative.

Wielgus' distinguished career included numerous awards, including a 2016 National Honorary Doctorate from the United States Sports Academy Prior recipients include Prince Albert of Monaco, Bud Selig, Billie Jean King, General Norman Schwarzkopf, Donna de Varona, Pat Summit and Condoleezza Rice.

He was awarded the first-ever Association of Chief Executives of Sport (ACES) Chief Executive Leadership Award in 2015, received a Lifetime Achievement in Sport award from the El Pomar Foundation and was the 2011 recipient of the National Great Comebacks Award for his cancer survival and contributions.

Within swimming, he was named among the 30 Most Influential People in Swimming for the 30-year period of 1975-2015 and has earned awards from the International Swimming Hall of Fame, American Swimming Coaches Association and the College Swimming Coaches Association.

He is survived by his wife Nancy, daughters Savannah and Shelby, sons Chip and Tommy and four grandchildren. Born on February 6, 1950, Wielgus grew up in Larchmont, New York, and earned his M.Ed. from Springfield College in Springfield, Mass., in 1974 and a B.A. in history from Providence College in 1972.

An avid pick-up basketball player, Wielgus built a successful professional career that reflected his love of sports at all levels. Prior to his work at USA Swimming, he was the executive director of the Senior PGA Tour Tournament Directors Association. From 1989-96 he was the executive director of the United States Canoe and Kayak, the national governing body for that Olympic sport.

From 1983-89, Wielgus was the executive director of the Hilton Head Island Recreation Association, where he led the effort to produce the master plan for the resort island's public recreation facilities and sports programs. From 1974-83 he was a coach and recreation director in Woodstock, Vt., where he coached basketball, lacrosse and swimming and served two terms as the president of the Vermont Recreation and Parks Association.

In addition to his work guiding organizations, Wielgus had a passion for writing, and co-authored three books with award-winning writer Alexander Wolff: The In-Your-Face Basketball Book, The Fan's Book of Sport Nicknames and the Back-In-Your-Face Guide to Pick-Up Basketball.
Statement from the United States Olympic Committee:
"Chuck Wielgus was an impactful and respected leader in the U.S. Olympic Movement. During his tenure at USA Swimming, American swimmers enjoyed more success and more support than ever before. He had a passion for his work and cared deeply about sport. Chuck fought a long and hard battle with amazing grace and optimism, and will be missed." – USOC CEO Scott Blackmun
Statement from Speedo USA:
"Few have done more to advance the sport of swimming than Chuck Wielgus. Though we are saddened to hear of his passing, we trust that his legacy will live on through his pioneering work at USA Swimming, across the country and on the global stage. On behalf of Speedo USA, our thoughts and prayers are with his family and colleagues. He will be greatly missed."
Wielgus faced a recurring battle with colon cancer over the past decade, and he wrote in a letter to USA Swimming members that his health was a primary reason for his retirement. He was first diagnosed with colon cancer in 2006 during the Christmas holidays. He made what appeared to be a full recovery at the time, thanks to daily radiation treatments and a 24-hour mobile intravenous chemo-injection system that he toted around his office for six weeks.
The cancer reappeared in 2011, and after complications from surgery, he took a medical leave of absence. According to a USA Swimming spokesperson at the time, Wielgus "remained highly engaged in the day-to-day business of USA Swimming." Just over a year later in Nov. 2012, Wielgus announced at a Board of Directors meeting that he would again go on leave to begin aggressive treatment at Memorial Sloan Kettering Cancer Center.
Since then, the cancer has returned and affected his life where Wielgus believes he can no longer fully function in his job.
"My cancer has metastasized to the point at which it is very difficult to travel, and international travel is impossible. I also anticipate going back onto chemotherapy in the near future and the side effects of the drug I'll be taking are likely to impact my daily quality of life, and thus my ability to work and lead effectively," Wielgus wrote in his letter to USA Swimming members.
During each of Wielgus' absences from the organization, Mike Unger has taken over his day-to-day duties. USA Swimming later named Unger the Assistant Executive Director, the No. 2 behind Wielgus in the organizational power structure.
Wielgus returned to the organization and maintained his role as executive director. In 2015, Speedo named Wielgus on its list of #30MostSwimfluential, and in Feb. 2016, USA Swimming rewarded him with a contract extension that would run through the 2020 Olympics. Wielgus then presided over a successful summer in which American swimmers won 33 total medals, 16 of them gold, at the Olympics in Rio, and he described the banner year that was 2016 in his annual State of the Sport address in September.
Wielgus' twenty-year run at USA Swimming has coincided with a massive period of growth for the sport. On a grassroots level, Key Wielgus hire Pat Hogan played a central role in restructuring and strengthening the club system as the Managing Director of Club Development. Wielgus also helped pioneer Make A Splash and hired the organization's first diversity specialist with the goal of increasing opportunities for minority athletes. Under his direction, USA Swimming launched an online anti-bullying program to serve its members.
Wielgus took huge steps to increase swimming's popularity and spectator-appeal. He pushed almost immediately for deals that would increase swimming's television schedule, culminating with all eight nights of Olympic Trials being shown live on television since 2008. In 2016, seven of eight nights were broadcast on network television (NBC). Fans have now come to expect swimming on their television screens year-round.
Wielgus helped launch the Duel in the Pool against Australia back in 2003 as a made-for-TV event, and it has since become a biannual matchup of American and European swimmers. Prior to the 2013 edition of the meet in Glasgow, Scotland, he explained the detailed history of that event. Another Wielgus creation, the Golden Goggles, were a novelty when first conceived in 2004 but now an annual tradition that has lasted 13 years.
The Olympic Trials, at least in the public eye, figures to be Wielgus' greatest legacy. Held in the IUPUI Natatorium (a 4700-seat venue) in 2000, USA Swimming moved the event four years later to a temporary 10,000-seat venue in a Long Beach, Calif., parking lot. That event proved so successful that four years later, Wielgus and USA Swimming opted for a temporary facility inside a 14,000-seat arena that more regularly serves as the home of the Division I Creighton men's basketball team.
Trials has been held inside the CenturyLink Center three times: in 2008 (when the building was then known as the Quest Center), 2012 and 2016, and each night's finals sessions sold out for the 2016 edition of the meet. Two days before that meet started, Wielgus likened Trials to the "Super Bowl" of swimming.
"Athletes are front and center with their performances. We've been able to build an experience around that, an atmosphere that has this become a legitimate, major sporting event," Wielgus said in June.
Wielgus helped provide previously-unforeseeable opportunities for professional swimmers. Through the USA Swimming Foundation, he helped increase year-round funding for post-collegiate athletes, and USA Swimming's marketing utilizes top athletes and reimburses them for their services. In the past decade, the Grand Prix Series—later renamed the Arena Pro Swim Series—has turned into a legitimate source of revenue for professional swimmers.
Swimming World's thoughts and prayers are with his family.
Brent Rutemiller and David Rieder contributed to this report.