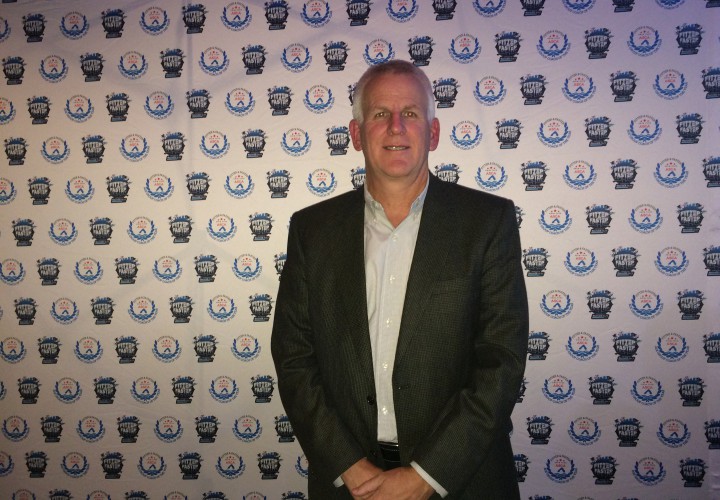 Photo Courtesy: Swimming World
For the third year in a row, Bruce Gemmell is the American Swimming Coaches Association's pick for coach of the year. His work in guiding Katie Ledecky to five gold medals and three world records at last month's world championships was undoubtedly the catalyst for the selection among a great list of nominees for the top American coach.
Only Eddie Reese (2004-2006) has won three times in a row.
Bob Bowman and David Marsh were also nominated. It's likely these two did not feel the pain of not winning the award, as they were still on a high after being named head Olympic coaches the day before.
"I want to thank Katie, not for her performance in the water but what she does out of the water," Gemmell said. "She is a great role model and friend."
Ledecky's world records in the pool came in the 800 free with an astounding 8:07.39 in the finals, as well as two world marks in the 1500 free. She swam a 15:27.71 in prelims, then followed it up with an incredible 15:25.48 a day later. She also won gold in the 200 and 400 freestyles and the 800 free relay to continue an unbeaten streak in a major meet that goes back to the 2012 Olympics.
Gemmell, as head coach of Nation's Capital Swim Club, oversees a large group of coaches, and he was quick to acknowledge them as well for their work in making the club one of the best in the country. In his personal group of athletes, he counts son Andrew Gemmell and rising distance swimmer Matthew Hirschberger as major talents.
Gemmell was a part of the coaching staff at the world championships, where he worked with the distance swimmers. Connor Jaeger, who set an American record in the 1500 freestyle in Russia, and Michael McBroom swam as a part of Gemmell's distance squad during the team's time in Europe.