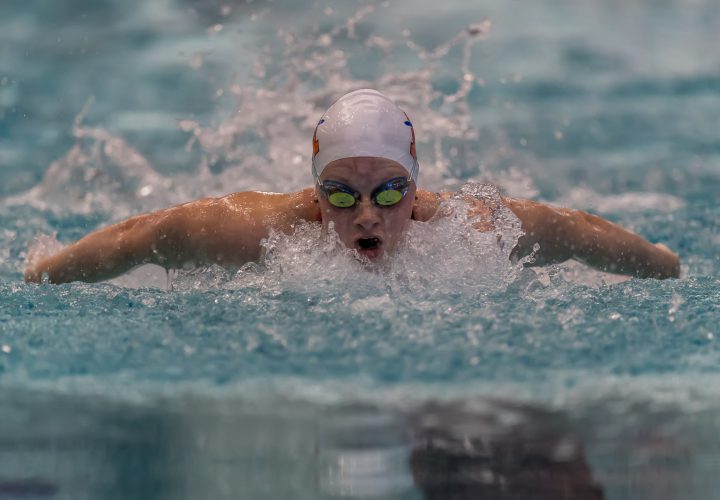 Photo Courtesy: Peter H. Bick
Agon is the proud sponsor of all high school coverage (recruiting, results, state championships, etc.) on SwimmingWorld.com. For more information about Agon, visit their website?AgonSwim.com.?National Records for High School Are Pending Application Verification.? Click Here to Learn More
Agon is the proud sponsor of all high school coverage (recruiting, results, state championships, etc.) on SwimmingWorld.com. For more information about Agon, visit their website AgonSwim.com.
A total of three records were broken at the Texas 5A High School State Swimming and Diving Championship final.
It was a close meet from start to finish, with the winners edging out the runner-ups by only 14 points for both the girls and boys. Dripping Springs won the girls meet with 199 points followed by Humble Kingwood Park (185) and Lubbock (117). Dallas Highland Park took home the boys title with 189 points followed by Georgetown (175) and Humble Kingwood Park (133).
Dallas Highland Park's Felix Van Cauwelaert (23.73), Henry Wang (26.04), Peter Paulus (22.15) and Omar Hmimy (21.59) combined to win the boys 200 medley relay in 1:33.51, breaking the previous Texas 5A mark set back in 2010.
Denison's Lindsay Looney broke her own Texas 5A record in girls 100 fly with a time of 54.40, eclipsing her previous mark by .01 set last year. She also won the girls 200 IM in 2:00.54.
Lewis the Colony's Emma Garfield took the top spot in the girls 100 breast (1:01.74) in record-setting fashion. The senior, who was also second in the 200 IM (2:03.67), just got under the old Texas 5A record of 1:01.78 set two years prior.
Pflugerville Weiss' Ana Herceg cruised to first in the girls 200 free, stopping the clock in 1:49.01. She also finished second in the girls 500 free behind winner Lucas Lovejoy's Raime Jones (4:52.88). College Station A&M's Kaitlyn Owens powered her way to the gold medal in the girls 100 back (55.70) and earned silver in the 50 free (23.87).
Manvel's Jack Armstrong, who broke the Texas 5A record in the 100 free yesterday during prelims, was just off his record-setting time of 44.57. The junior won the event in 44.75 as well as the 50 free in 20.41.
Georgetown's Will Barton was crowned the Texas 5A individual champion in both the boys 200 free (1:39.55) and 500 free (4:31.68). College Station A&M's Peter Simmons took the top spot in both the boys 100 fly (49.62) and 100 back (49.68). Jiwoo Oh of Frisco Liberty won a close boys 100 breast battle in 56.93.
On the boards, Lubbock's Payton Props dove to first in the girls 1-meter with 415.65 points while Mansfield Lake Ridge's Hunter Jaynes won the event for the boys with a score of 363.65.
Full results can be found on Meet Mobile – 2018 5A State Meet.