Photo Courtesy: UB Swimming & Diving Facebook
This week swimmers at the University of Buffalo continued to make their voices heard after their men's program was cut unexpectedly in April, with six swimmers now suing the university. Read about that fight and all of the other news from the week in this edition of The Week That Was.
The Week That Was #5 – Olympians Continue Worlds Prep At 2017 Atlanta Classic
Georgia Tech was host to some more fast swimming this week following the Arena Pro Series stop just a week ago. Several more Americans were on hand in the competition pool this week, including 2016 Olympians Caeleb Dressel and Josh Prenot. Dressel had a busy weekend of racing in his first long course meet since the 2017 NCAAs back in March. He won the 50 free (22.13) and 100 fly (53.97) in addition to swimming the 100 and 200 free. Prenot, for his part, had strong swims in the 200 breast and 200 IM. He was just off his season best of 2:09.93 in the 200 breast when he posted a 2:10.09 out of prelims in the event, and was just .01 off his 200 IM season best with a 1:58.94 out of prelims. Perhaps the best swim of the weekend came from Kentucky's Asia Seidt, who notched the 12th-fastest time in the world this year in the women's 200 back, 2:09.82. Also notable was a 53.75 win in the 100 backstroke from Wolfpack Elite's Justin Ress. That is the 19-year-old's best time and gives him the eighth-fastest time in the world this year. Ress also upset Olympians and 400 free relay gold medalists Dressel and Ryan Held when he won the 100 free in 49.48. You can read all the recaps and results from the 2017 Atlanta Classic on our Event Landing Page.
The Week That Was #4 – Cassidy Bayer Commits To Cal-Berkeley
High school junior Cassidy Bayer announced her verbal commitment to swim for Cal-Berkeley and Head Coach Teri McKeever for the 2018-2019 season. Bayer is one the top recruits from the high school class of 2018 to make her verbal commitment following Julia Cook's verbal to Texas last week, and she will have an immediate impact on the Bears roster. Bayer was third in the 200 fly at the 2016 U.S. Olympic Trials with a 2:08.68, just over a second away from making the Olympic Team and fourth in the 100 fly as the only woman under 21 in the Championship final. Bayer has missed most of this short course season due to a knee injury, but she still would have scored in the 200 fly with her yards best of 1:55.20. She will overlap one year will Katie McLaughlin, who was second in the 200 fly at this year's NCAA meet, and could also help boost the Bears sprint fly with the Noemie Thomas graduating this upcoming season and Farida Osman now gone as well.  
The Week That Was #3 – USA Water Polo's Tony Azevedo Announces Retirement
Five-time Olympian and USA Water Polo stalwart Tony Azevedo announced the date of his final match this week, effectively giving the water polo star less than a month before he will officially retire. Azevedo will be playing his final game for Team USA on June 11 in a match against Croatia at Stanford. The longtime captain of Team USA is considered by many to be the greatest player in the history of USA Water Polo. He is the all-time leading scorer in FINA World Championship history and was a member of the silver medal water polo squad in Beijing 2008. He has also won five Pan American gold medals and two silvers from the FINA World League Super Finals. Azevedo has also been named Pac-12 Conference Men's Water Polo Player of the Century. Azevedo's last match at Stanford is fitting, given he spent his NCAA career with the Cardinal, which included two NCAA Championships. You can find information on tickets to his final match here.
The Week That Was #2 – Stanford Downs UCLA At NCAA Water Polo Championships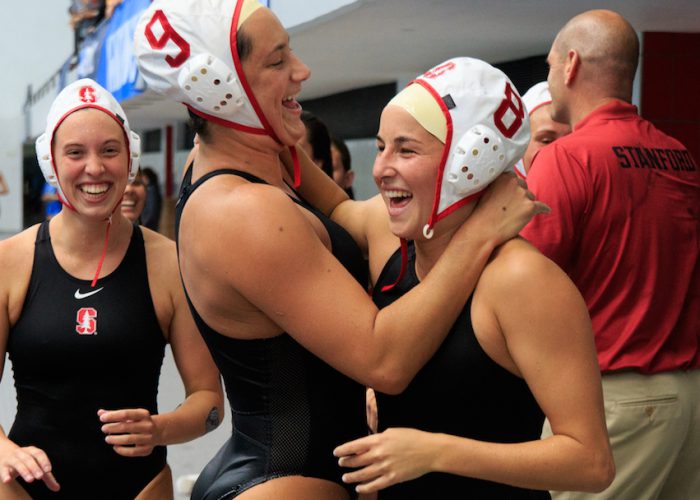 Stanford won the women's 2017 NCAA Water Polo Championships this weekend over UCLA 8-7 in what was a nail biter on a finish. The game was tied up with 14 seconds left before Stanford captain Maggie Steffens got the ball from goalie Gabby Stone and fired a shot through UCLA's defense, scoring the game winning goal. This win gives the Stanford senior class, which includes Steffens and Stone, three NCAA championships in four straight NCAA championship appearances for the Cardinal. UCLA looked to be a potential spoiler to take the title after losing to Stanford in 2014 and 2015. The Bruins had only lost one game this entire season and had won over Stanford twice in earlier season play.
The Week That Was #1 – Six Swimmers Suing Buffalo After Men's Program Cut
According to a report from the University of Buffalo student newspaper The Spectrum, six swimmers are filing a lawsuit against the university after their men's program was surprisingly cut in early April. The six swimmers are suing for compensation for the expenses of transferring to another school so they can continue their swimming careers. Richard Lydecker, an attorney and former University of Buffalo swimmer, will be representing the six swimmers pro bono. This story came days after the UB swimmers staged a sit-in at the UB president's office in order to get a meeting with him. That sit-in did lead to the president agreeing to a meeting with alumni and donors to discuss the possibility of an endowment for the team.