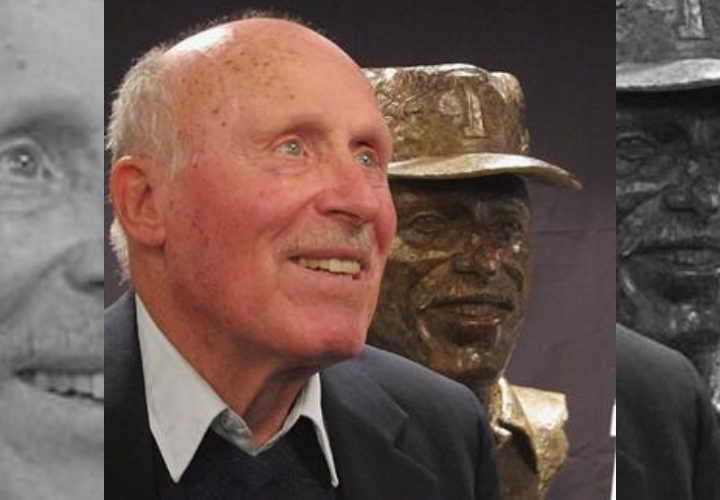 Relive this exclusive interview with Hobie Billingsley, first published in May of 2008.  The legendary diving coach joins Brent Rutemiller in the pioneering years of SwimmingWorld.TV when internet video was just emerging.  Enjoy this lost interview recently found in the Swimming World Vault and learn more about Billingsley's extraordinary career that spanned more than 60 years.   There is a great deal of excitement flowing around this summer's celebration of Hobie Billingsley's 90th birthday in Bloomington, Indiana – June 22-25.
Billingsley is a five-time Olympic coach, former collegiate coach and author. Billingsley talks about his early years in the Great Depression, when he moved around frequently with his mother at the age of 4. Living on about $500 a year, Billingsley was unable to play sports, but at 7, he joined the YMCA in Erie, Pa. Billingsley talked about how he was denied admission after age 7 but snuck into the building for the next nine years.
He talks about his first diving experience in an unorthodox pool. He started with a tumbling group at the YMCA and was performing as well as the older kids. When a kid on the diving team fell ill, he was called down and instantly fell in love with the sport.
When his coach told him he would not make a good diver, Billingsley picked up an older book that showed him how to execute certain dives and become somewhat self-taught.
Billingsley turned down a free scholarship at the University of Michigan to dive and study at The Ohio State University, where he paid his tuition by working at the same country club where Jack Nicklaus played.
His freshman year, he won two NCAA diving titles. In order to serve in the Armed Forces, he deferred college for a year and dove in the Amateur Athletic Association before fighting in Japan during World War II. Billingsley talks about the chance he missed to attend Yale and study to be a minister after he returned from service. His only choice, he said, was to return to Ohio State and dive with great divers.
After a couple of failed career options, which included dentistry and teaching, Billingsley found his way into coaching at Ohio University in Athens, Ohio, in the late 1950s. Doc Counsilman, who was a teammate of Billingsley's at Ohio State, was one of the key players in getting Billingsley into the coaching position at Indiana University in 1959.
Billingsley talks about the battle he faced with a similar job offer from the University of Minnesota.
After years of bouncing around the country trying to find his way in life, Billingsley stayed at Indiana for 30 years. Billingsley talks about his first impressions of the program and how he worked with Counsilman to turn the program into an NCAA championship team.