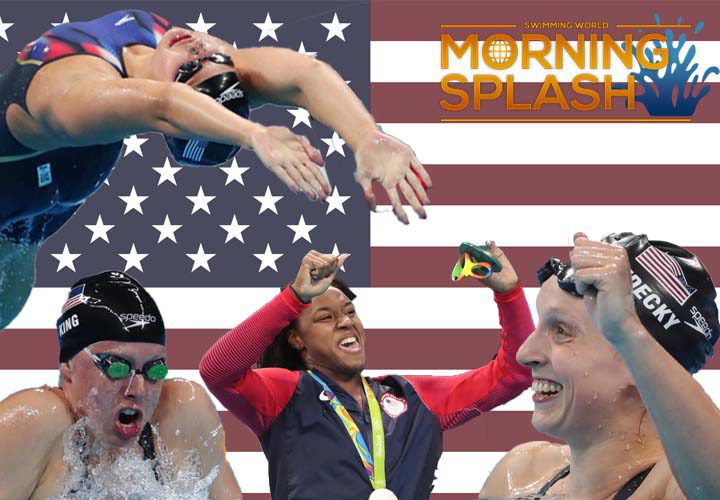 Photos Courtesy: USA TODAY Sports
Editorial content for the 2017 USA Swimming Nationals is sponsored by TritonWear. Visit TritonWear.com for more information on our sponsor. For full Swimming World coverage, check event coverage page.
Morning Splash by David Rieder.
The USA Swimming women's team won 13 individual and three relay medals at last summer's Olympics in Rio, and despite a few losses, that core returns mostly intact for this summer to seek spots on the World Championships roster.
Of the eight different women who won at least one individual medal in Rio, six will be competing at Nationals. But Maya DiRado's three medals, one of each color, will be tough to replace, and it's no shocker that some of the biggest questions exist in her specialty events.
So how does each event look for the American women heading into Nationals? Keep reading to find out.
Sprint Free: Promising With Questions
The key reason for promise: Simone Manuel. She struggled through much of the 2016 season leading up to the Olympics… before breaking out in Rio. In one of the week's most memorable races, Manuel tied for gold in the women's 100 free, and she later got the silver in the 50 free. Since then, she's been excellent on the NCAA circuit (45.56 in the 100-yard free) and strong throughout the early parts of long course season.
But behind Manuel, there are some question marks. Abbey Weitzeil, an Olympic finalist in the 100 free, had a rocky first year at Cal, finishing outside the top three in both sprints, and she has not yet broken 55 in the 100 free all year. Aside from Manuel, no other American woman has swum under 25 in the 50.
Still, the U.S. 400 free relay could be in strong shape, with Katie Ledecky continuing to improve in the 100-meter race, Amanda Weir and Lia Neal still around and young swimmers like Mallory Comerford showing promise. Australia's Cate Campbell is skipping Worlds, making the American path to relay gold much clearer.
Mid-Distance/Distance Free: Ledecky
The plan had been to cover mid-distance and distance separately. But why bother, when Ledecky figures to go to Budapest as the heavy favorite for gold in the 200, 400, 800 and 1500 free? The 200 will be the most competitive, but Sarah Sjostrom's departure from the event makes Ledecky's job much easier.
Likewise, it would not be at all surprising if Leah Smith ends up joining Ledecky as the No. 2 American swimmer in all four of those events. She was the Olympic bronze medalist in the 400 free, a finalist in the 800 free and a key member of the gold medal-winning 800 free relay.
Speaking of that relay, the Americans are typically pretty good at winning it, and with Ledecky and Smith still on hand, expect that pattern to continue—even without Allison Schmitt, without Missy Franklin, without DiRado.
Melanie Margalis, Manuel, Comerford, Cierra Runge, Katie McLaughlin, Katie Drabot, Hali Flickinger… plenty of options strong enough to fill that slot, especially when there's a 1:53 swimmer anchoring your squad.
50s/100s of Fly/Back/Breast: A-Okay
We could have broken down each stroke separately, and that would have been perfectly logical. But in analyzing each event, an obvious pattern emerged while comparing the sprint events to the 200-meter events.
Kathleen Baker was the Olympic silver medalist in the women's 100 back, while Olivia Smoliga joined her in the Olympic final. Both were impressive in their returns to college swimming this year. So far in long course season, Hannah Stevens and Ali DeLoof have been 59.4 in the 100 back, and 15-year-old Regan Smith swam a 59.7. No problems here.
In sprint breaststroke, Lilly King and Katie Meili won gold and bronze, respectively, in the 100 in Rio, and Molly Hannis is a sprint specialist, even if her Olympic spot came in the 200 breast.
100 fly Olympic bronze medalist Dana Vollmer won't be swimming this summer as she prepares to give birth to her second son, but Kelsi Worrell looks like a more-than-adequate replacement. Although there is no clear No. 2 right now, Worrell won the 100 fly at Olympic Trials last year in 56.48, which ended up as the third-fastest time in the world for 2016.
In summary, no major holes in the sprint events. Now, about those 200s…
200s of Fly/Back/Breast: Dicey
In the 200 back, DiRado is retired, and the 200 breast and 200 fly were the only events in which American women failed to medal in Rio. As far as proven veterans, there's not much in any of these events.
So far this year, the only two Americans under 2:10 in the 200 back are Regan Smith and Asia Seidt, neither of whom have any international experience. Of everyone at the meet, only Baker has previously competed internationally in the 200 back (at the 2014 Pan Pacs), but she didn't even swim the event at Olympic Trials.
Meanwhile, King has yet to master the 200 breast long course, and neither she nor Hannis made the Rio final. Meili, Margalis, Bethany Galat and Madisyn Cox have all shown promise this year, but all are at least a few steps away from competing for an international medal.
And then in the 200 fly, Cammile Adams has not competed since finishing fourth in Rio. The best bets in this event would be Olympic finalist Flickinger, 2015 Worlds finalist McLaughlin, 17-year-old Cassidy Bayer and NCAA champion Ella Eastin.
It's not unfair to expect World Champs finalists to come from this group, but it would require big improvements for the Americans to win any medals.
IM: Iffy But Hopeful
This is where DiRado's absence will hurt the most as she won a silver in the 400 IM in Rio and a bronze in the 200 IM. But finishing one spot behind DiRado 200 IM was Margalis, who enters that event at Nationals as a legitimate medal hopeful for Budapest.
Elizabeth Beisel was the other American in the 400 IM final in Rio, but she took an extended break after the Olympics and likely will not be at her best come Nationals.
But there's still some good options in that event. Cox and Eastin both showed promise during the college season, and so did Baker in the 200 IM. Galat finished third at Olympic Trials in the 400 IM and sixth in the 200 IM. So there are options here from whom it's not unreasonable to expect some big improvements.
Undoubtedly, conventional wisdom will shift over the course of the five-day meet in Indianapolis. Perhaps a big name misses the team or an up-and-comer breaks out in a 200-meter event.
Actually, that will all probably happen. We'll all find out together beginning June 27 in Indianapolis.
All commentaries are the opinion of the author and do not necessarily reflect the views of Swimming World Magazine nor its staff.