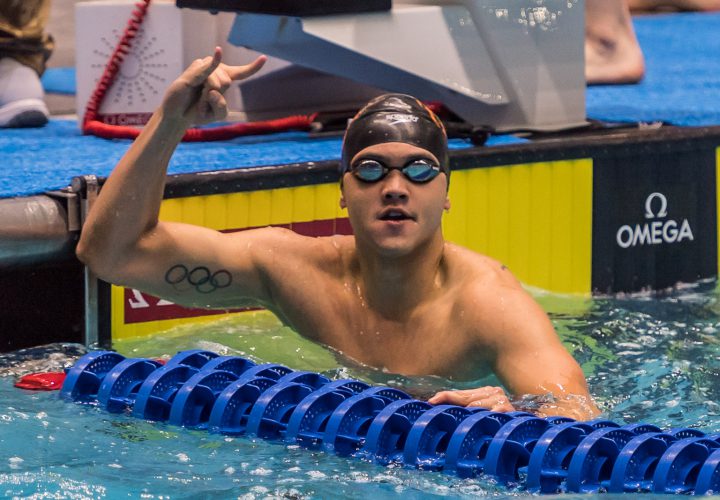 Photo Courtesy: Peter Bick
NCAA DI editorial coverage is proudly sponsored by Adidas. Visit adidasswimming.com for more information on our sponsor. For all the latest coverage, check out our event coverage page.

CLICK HERE FOR LIVE RESULTS
Just 24 hours after breaking the 3-minute barrier in the 400 medley relay, Texas had a similar performance in the 200 medley relay Friday night, smashing the NCAA and US Open record with a 1:21.54. That smashed Michigan's 1:22.27 from the 2013 NCAA Championships. In fact, the top two teams were under that record. John Shebat (20.84), Will Licon (22.91), Joseph Schooling (19.45) and Brett Ringgold (18.34) are the new record holders in that relay.
Alabama swam in second with a 1:21.89, the second fastest swim in history. The Crimson Tide were led by Connor Oslin's 20.39 backstroke split that was the fastest in the field. Oslin, Pavel Romanov, Luke Kaliszak and Zane Waddell swam for the Tide on that relay. California was third at 1:22.28. Oslin, Licon, Schooling and Caeleb Dressel had the fastest splits for each stroke on that relay. Dressel swam a 17.93, a little slower than his 17.71 this morning.
Missouri (1:22.48), Florida (1:23.08), NC State (1:23.18), Stanford (1:23.74) and Louisville (1:24.06) also competed in the A-final.
Texas now has five NCAA titles in the 200 medley relay. The 2017 team joins the teams from 2003, 2001, 2000 and 1991 to win the 200 medley relay at the NCAA championships for the Longhorns.
 Event 14  Men 200 Yard Medley Relay
==================================================================================
         NCAA: N 1:22.27  3/29/2013 Michigan
                          M Ortiz, B Ortiz, S Fletcher, Z Turk
 Championship: C 1:22.27  3/29/2013 Michigan
                          M Ortiz, B Ortiz, S Fletcher, Z Turk
     American: A 1:22.40  3/27/2015 California
                          R Murphy, C Katis, J Lynch, T Messerschmidt
   U. S. Open: O 1:22.27  3/29/2013 Michigan
                          M Ortiz, B Ortiz, S Fletcher, Z Turk
         Pool: P 1:22.17            Michigan
    School                              Prelims     Finals Points 
==================================================================================
                            === Championship Final ===                            
 
  1 Texas                               1:23.17    1:21.54P  40  
     1) Shebat, John SO               2) r:0.30 Licon, Will SR        
     3) r:0.26 Schooling, Joseph JR   4) r:0.45 Ringgold, Brett JR    
    r:+0.61  10.28        20.84 (20.84)
          31.03 (10.19)       43.75 (22.91)
           52.45 (8.70)     1:03.20 (19.45)
         1:11.91 (8.71)     1:21.54 (18.34)
  2 Alabama                             1:23.93    1:21.89P  34  
     1) Oslin, Connor SR              2) r:0.13 Romanov, Pavel SR     
     3) r:0.17 Kaliszak, Luke JR      4) r:0.14 Waddell, Zane FR      
     r:+0.59  9.99        20.39 (20.39)
          30.71 (10.32)       43.69 (23.30)
           52.76 (9.07)     1:03.63 (19.94)
         1:12.15 (8.52)     1:21.89 (18.26)
  3 California                          1:23.27    1:22.28   32  
     1) Murphy, Ryan SR               2) r:0.26 Hoppe, Connor JR      
     3) r:0.24 Lynch, Justin JR       4) r:0.16 Sendyk, Pawel FR      
    r:+0.53  10.05        20.47 (20.47)
          30.93 (10.46)       43.63 (23.16)
           52.65 (9.02)     1:03.67 (20.04)
         1:12.33 (8.66)     1:22.28 (18.61)
  4 Missouri                            1:23.29    1:22.48   30  
     1) Hein, Daniel FR               2) r:0.22 Schwingenschloebian SR
     3) r:0.19 Sansoucie, Andrew SR   4) r:0.21 Chadwick, Michael SR  
    r:+0.50  10.56        21.24 (21.24)
          31.37 (10.13)       44.17 (22.93)
           52.99 (8.82)     1:04.03 (19.86)
         1:12.87 (8.84)     1:22.48 (18.45)
  5 Florida                             1:23.37    1:23.08   28  
     1) Blyzinskyj, Jack SR           2) r:0.19 Bray, Chandler FR     
     3) r:0.14 Szaranek, Mark JR      4) r:0.27 Dressel, Caeleb JR    
    r:+0.57  10.56        21.26 (21.26)
          31.94 (10.68)       45.07 (23.81)
           53.91 (8.84)     1:05.15 (20.08)
         1:13.62 (8.47)     1:23.08 (17.93)
  6 NC State                            1:23.53    1:23.18   26  
     1) Stewart, Coleman FR           2) r:0.17 Hren, Derek SR        
     3) r:0.14 Ress, Justin SO        4) r:0.31 Held, Ryan JR         
    r:+0.59  10.50        21.17 (21.17)
          31.81 (10.64)       44.81 (23.64)
           53.64 (8.83)     1:05.05 (20.24)
         1:13.49 (8.44)     1:23.18 (18.13)
  7 Stanford                            1:23.97    1:23.74   24  
     1) Dudzinski, Ryan SO            2) r:0.13 Anderson, Matt SO     
     3) r:0.29 Liang, Andrew JR       4) r:0.31 Perry, Sam JR         
         r:+0.55          21.64 (21.64)
                              45.05 (23.41)
                            1:04.98 (19.93)
         1:13.92 (8.94)     1:23.74 (18.76)
  8 Louisville                          1:23.87    1:24.06   22  
     1) Tarasevich, Grigory SR        2) r:0.10 Claverie, Carlos JR   
     3) r:0.16 Quallen, Josh SR       4) r:0.23 Carroll, Trevor SR    
    r:+0.56  10.50        21.38 (21.38)
          31.59 (10.21)       44.97 (23.59)
           53.81 (8.84)     1:05.12 (20.15)
         1:14.00 (8.88)     1:24.06 (18.94)
Men - Team Rankings - Through Event 14                      
 
  1. Texas                           391.5   2. California                        253
  3. Florida                         224.5   4. NC State                          196
  5. Indiana                         189.5   6. Stanford                          160
  7. Southern Cali                   142.5   8. Univ of Georgia                   141
  9. Missouri                        135.5  10. Louisville                      102.5
 11. Auburn                          100.5  12. Alabama                            98
 13. Arizona State                      68  14. South Carolina                     60
 15. Purdue                             57  16. Texas A&M                          56
 17. Tennessee                          55  18. Michigan                           46
 19. Wisconsin                          33  19. Ohio St                            33
 21. University of Miami                31  22. Lsu                                28
 22. Virginia Tech                      28  24. Harvard                            21
 25. Arizona                          19.5  26. Minnesota                          18
 27. Penn St                            16  28. Notre Dame                         12
 28. Duke                               12  30. George Washington                   9
 31. Denver                              7  31. Florida State                       7
 33. UNC                                 6  34. Kentucky                            4
 34. Northwestern                        4  36. Cornell                             3
 37. Hawaii                              2  37. Penn                                2
 39. Pittsburgh                          1