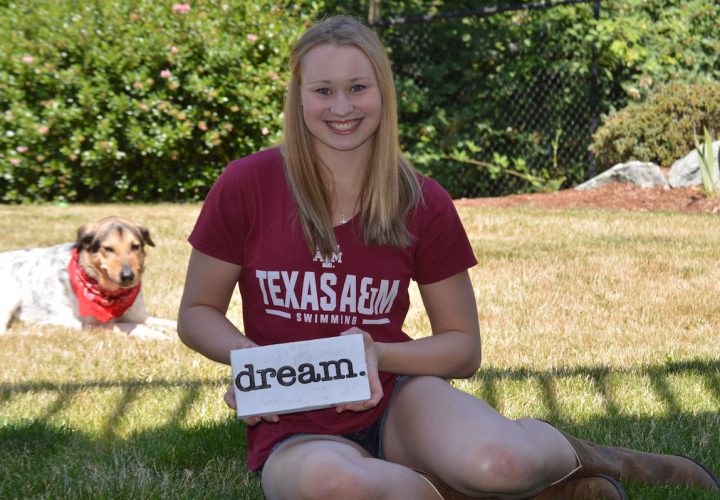 Photo Courtesy: Kerri Carlton
Agon is the proud sponsor of all high school coverage (recruiting, results, state championships, etc.) on SwimmingWorld.com. For more information about Agon, visit their website AgonSwim.com.
To report a college commitment, email HS@swimmingworld.com. Join Swimming World's Watch List
NEW COMMIT: USA World Junior Team member and Olympic Trials Qualifier Emma Carlton has verbally committed to swim for Texas A&M University starting in the Fall of 2018.
Carlton, a Senior at Mount Vernon High School, WA and a member of the Bellingham Bay Swim Team in Bellingham, WA is thrilled to announce her dream to be a future Aggie:
"Howdy Y'all! I am so honored to announce my verbal commitment to swim for Texas A & M University. Thank you to everyone who has helped me through this experience. Fall of 2018 cannot come fast enough to be an Aggie! Coach Steve, Coach Tanica, and Coach Chris made me feel like I can be part of something truly special, and the team made me feel as if I was "home" and part of an amazing family immediately…a dream come true! Gig 'Em!!"
Carlton was the "18 and Under National Champion" in the 50 Fly at the Phillips 66 National Championships this past June, finishing 10th overall in the event, and earning her a spot on the USA World Junior Championship Team that will be competing in Indianapolis this August.
Carlton is the number one recruit in the state of Washington for the Class of 2018 and holds the Pacific Northwest Swimming record in the 15-16 year old 100 Fly Short Course Yards. She competed at the US Olympic Trials last June, earning the cut as a 15 year old with a time of 1:00.84.
She was the 2015 4A State Champion in the 50 Free and the 2016 4A State Champion in the 100 Fly, earning All-American Times both years in the 50 Free and 100 Fly. She was also named the WIAA 4A Swimmer of the Meet in 2015. Emma was a Scholastic All-American for the 2016-2017 school year, and has been recognized as the Skagit Valley Swimmer of the Year for the past three consecutive years. Her most special accomplishment is her contagious smile, noticed by officials, teammates, and fellow competitors alike!
Posted best times are:
50 Free 22.99 SCY, 26.35 LCM
100 Free 50.16 SCY, 57.70 LCM
100 Fly 52.83 SCY, 1:00.84 LCM
200 Fly 2:01.00 SCY
100 Back 54.81 SCY, 1:04.02 LCM
200 IM 2:06.92 SCY
Posted best relay splits this year:
50 Free relay split: 22.33 SCY
50 Fly relay split: 23.22 SCY
Bellingham Bay Swim Team is a 120+ member swim team located in Bellingham, WA. She has been coached by Sean Muncie for the past five years, where she grew and developed in the 6 lane, 25 yard pool, since the age of 11 years old. Prior to that, she swam for Tucson Ford Aquatics in Tucson, AZ, from age 9-11.
Kerri Carlton contributed this report.