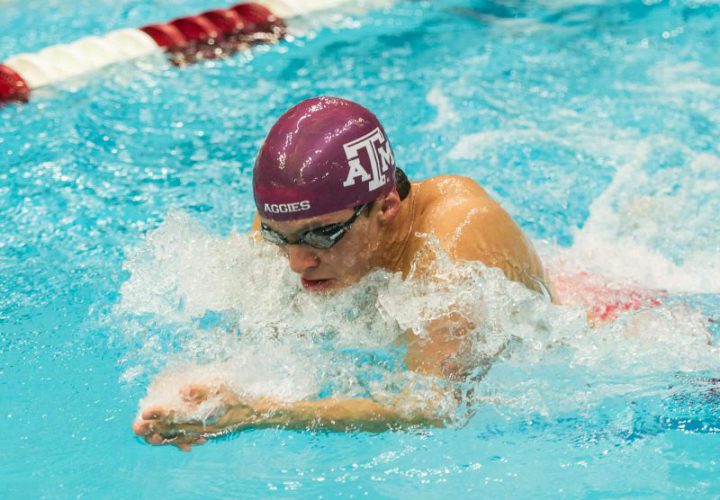 Photo Courtesy: Texas A&M Athletics
The Texas A&M men's swimming and diving team hosted the University of Incarnate Wood in College Station, Texas this weekend with the Aggies emerging victorious over the Cardinals 169-113. The Aggies earned wins in all but one event against the Cardinals.
The Aggies are now 4-1, and remain undefeated at home, while the Cardinals are now 4-1 as well.
The meet opened up with Texas A&M completing a 1-2-3 sweep the 200 medley relay with their A relay touching first in a time of 1:29.14. Incarnate Wood's A relay touched fourth in 1:35.44.
Some impressive individual performances came from Texas A&M's Benjamin Walker in the 400 IM where he posted a 3:53.28, well ahead of two fellow Aggies. Austin Van Overdam touched second in 3:59.55 while his teammate Hudson Smith was right behind in 4:04.67.
Incarnate Wood was able to secure a victory in the 200 freestyle with Kyrylo Shvets swimming a 1:40.21, just ahead of Texas A&M's Steven Richardson who swam a 1:40.25.
Aggie sprinter Mike Thibert had two wins against the Cardinals in the 50 and 100 freestyles. Thirbert posted a 20.84 in the 50, the only sub-21 swim of the entire meet, and a 45.95 in the 100.
Texas A&M diver Sam Thorton took both the 1-meter and 3-meter diving events. Thorton earned a score of 382.20 on the 1-meter board and a 417.60 on the 3-meter.
The Cardinals technically won the 400 freestyle relay by virtue of the Aggies swimming their relays as exhibition due to a large margin of victory. The Cardinals put together a 3:13.14 while the Aggies swam exhibition in a time of 3:06.39.
Next up for the Aggies will be the Orange Bowl Classic in Key Largo, Florida while the Cardinals will travel to U.C. San Diego.
For complete results of this weekend's dual, click here.