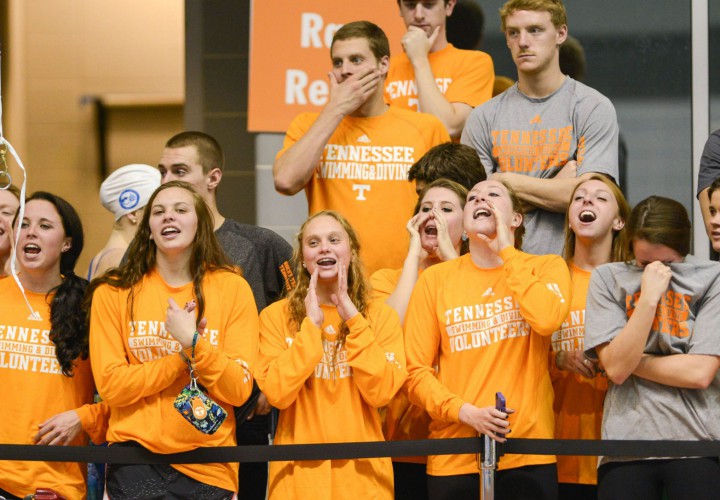 Photo Courtesy: Tia Patron/Tennessee Athletics
WILMINGTON, North Carolina, September 26.  Tennessee opened up the season with its annual training trip to UNC-Wilmington with a pair of victories against the hosts.  The men won 174-117, while the women picked up a 166-120 triumph.
Tennessee Press Release
WILMINGTON, N.C. — The Tennessee swimming and diving program utilized a team effort to defeat UNC Wilmington on Friday to open the 2014-15 season.
UT posted the top time or score in all 32 events between the men's and women's competition.
Behind a pool record-breaking effort by redshirt freshman David Heron and several quality debut swims of the season, the Vol men defeated the Seahawk men by a 174-117 scoreline. Meanwhile, the UT women took control from the very first race en route to a 166-120 win over UNCW.
After warming up with the rest of the distance specialists and swimming for almost 21,000 yards the past few days, Heron broke the UNCW pool's 19-year-old record in the 1,000-yard freestyle with a time of 9:11.21. This new mark places Heron in eighth place all-time in Tennessee history and set the tone for the rest of the season.
"During the race, I was trying to make this record," said Heron. "I wanted to take (the start) out a little fast and then follow with a pace where I seemed comfortable. Then, I just tried not to slow down."
At the other end of the natatorium, Tennessee's divers jumped out to a great start of the season, thanks to a pair of 1-2 finishes in both the 1-meter and the 3-meter competitions. Redshirt junior Sarah Chewning won her first two competitions as a Lady Vols and teammate Samantha Lera earned a pair of second place finishes to complete the Lady Vol sweep.
The male duo of Mauricio Robles and Michael Howell also earned the Big Orange sweep. Robles ran away with both the 1-meter and 3-meter springboard competitions, while Howell showed massive improvement and a major boost in confidence and composure, leading to an NCAA zone qualifying score — a feat which all four divers earned by meet's end.
"I was very pleased," said diving coach Dave Parrington. "Coming into this meet, I'm never really sure what to expect because it's the first meet of the year and it's early, coming off of this training camp and doing a lot of rigorous dry-land work. My expectations are usually very open. Way more positives and very few negatives to be honest with you."
"I really wanted to have a good time and not worry about myself, as Dave always says," said Michael Howell. "I get really nervous at meets, but I tend to clam up and I think a lot of is that I need to be more open and gain more experience. Last year, there was none of that, being a freshman. Everyone's here to do the same thing and that's to dive. It's made my diving so much more positive."
Throughout the day, the Tennessee coaching staff got to see the performances of many newcomers making their first collegiate starts for the Orange and White. Four true freshmen, two men and two women, won races for Tennessee.
For the men, Slovenian Peter John Stevens won the 100-yard breaststroke (57.37) and Sam McHugh placed first in the 200 individual medley (1:52.20).
Micah Bohon placed second in the 200-yard freestyle, while winning the 200-yard breaststroke (2:22.34). Meanwhile, fellow freshman Alex Cleveland had quite the afternoon, winning the 50-yard freestyle (23.72), while also earning some solid times on a pair of relay teams.
"It was a lot different, a lot faster than what I am used to, but I am excited for more," said Cleveland. "It was really exciting because I knew I was going against the best of the best and I was in shock and very happy and I can't wait to race more people."
Tennessee competed as exhibition in the final six events, so the results did not factor into the team scoring.
The Vols and Lady Vols will meet up with the Seahawks once again this trip, as the two teams will compete in an open water race in Wrightsville Beach, with two courses designed for sprinters and for distance specialists.
UNC-Wilmington Press Release
Tennessee swept host UNCW in a dual meet on Friday in the swimming and diving opener for both teams at the Seahawk Natatorium.
The Vols won the men's meet, 174-117, and added a win in the women's by a score of 166-120.
UNCW posted four second-place finishes on the afternoon while Tennessee, who finished in fourth in both the men's and women's SEC championships last year, won all its races before exhibitioning late.
Hannah Stephenson and Jenson Engen were second in the 100 Backstroke and 100 Breaststroke, respectively. Stephenson posted a time of 57.73 seconds and Engen clocked in at 1:05.62.
On the men's side, Valtteri Halonen claimed second in the 100 Backstroke with a time of 51.10 and Drew Gaertner went 21.42 in the 50 Free.
In diving, Giovanni Villanueva placed third in the men's 1-meter board and Rachel McCormick took third on the women's 3-meter board.