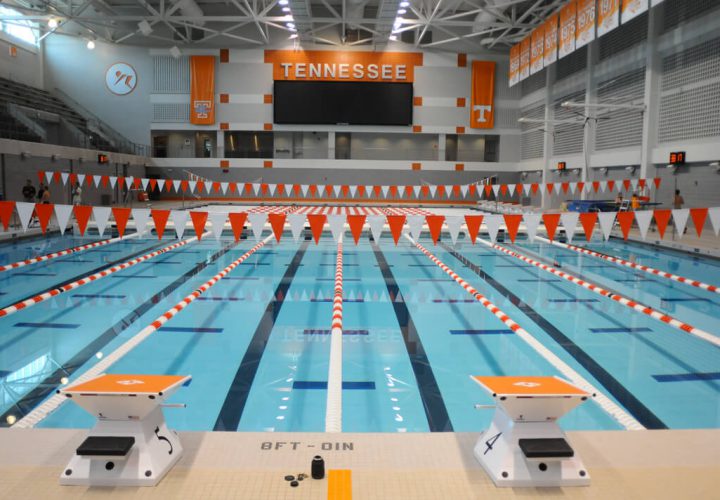 Photo Courtesy: Tennessee Aquatics
Agon is the proud sponsor of all high school coverage (recruiting, results, state championships, etc.) on SwimmingWorld.com. For more information about Agon, visit their website?AgonSwim.com.?National Records for High School Are Pending Application Verification.? Click Here to Learn More
Agon is the proud sponsor of all high school coverage (recruiting, results, state championships, etc.) on SwimmingWorld.com. For more information about Agon, visit their website AgonSwim.com.
By Emily Messina, Swimming World College Intern
High Schoolers from all over Tennessee will be gearing up for their state championship meet this coming weekend- February 10 to February 11.The meet will be held at the Allan Jones Aquatic Center on the campus of the University of Tennessee-Knoxville.
Women
Last year Harpeth Hall won the state title by more than 50 points over St. Mary's Episcopal School and the Baylor School.
Alex Walsh of Harpeth Hall is the top seed in 200 free and 100 back, while Ella Nelson holds it in the 200 IM. Teammates Ophelia Pilkinton and Julia Eskew are swimmers to keep an eye out for as well.
Brentwood Academy's Allie Raab is the first seed in the 100 breaststroke. Look for her to go after her own state record which she set last year with a 1:00.95. In addition, Raab is seeded second in the 200 free.
Some additional swimmers to watch include Lauren Mabie (200 IM and 100 breast) and Kiara Norris (50 free) of St. Mary's Episcopal School. St. George's Independent School's Sarah Thompson will be a fast contender in both the 50 free and the 100 backstroke.
Station Camp's Riley Gaines will attempt to repeat her double golds from 2016 in both the 100 butterfly and 100 freestyle. Erica Laning of Hardin Valley Academy will look to do the same in the 200 free and 500 free. She currently holds the state record in the 500 with a very quick 4:42.79.
Men
Memphis University School will try to hold onto their team title at the state meet this year over the Baylor School.
Memphis returns their 50 freestyle champion, Christian Berry. He will also swim the 100 free. Alex Robinson currently sits in first in the 100 backstroke and third in the 200 free. Teammates Jack McCaghren (100 butterfly, 100 backstroke) and Parker Kaye (100 breaststroke) will also be athletes to watch. Their team has the top seed in the 200 Medley Relay.
Trey Freeman of the Baylor School will race in the 200 freestyle where he has the state record in a 1:36.70. He also sits in first in the 500 free where he will attempt to take down a record set in 2014 by former teammate Sam McHugh. He currently sits 15 seconds over the rest of the field in this race. In addition, Gershwin Greene (50 free, 100 free) and Peter Lochmaier (500 free) will be strong contenders in their respective races. The team's 200 and 400 freestyle relays have the first spot.
L&N Stem Academy's Alex Hines will be one to watch in the with his first seed in both the 100 breaststroke and the 200 IM. After coming in second in both of his events (200 IM, 500 free) back in 2016, he is sure to be a force in the water this year.
Caleb Harrington of Beardon High School is on a mission to hold onto his state title in the 100 butterfly and take a second one in the 50 free as well.
Eric Wisenant of the University School of Jackson will be some nice competition for Robinson and McCaghren in the 100 backstroke.
Meet information can be found here, and the psych sheets can be found here.