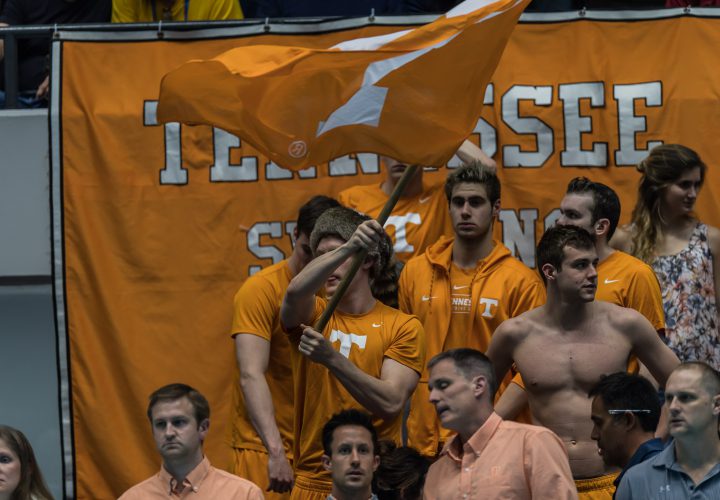 Photo Courtesy: Peter H. Bick
Tennessee Vice Chancellor/Director of Athletics John Currie announced Friday that swimming head coach Matt Kredich has received a contract extension through the 2022 season.
Kredich's previous contract was set to expire on May 31, 2018. The new five-year deal includes an increase in salary to an average annual compensation of $198,000.
"Coach Kredich is tremendously well respected nationally and has done a fine job leading our combined men's and women's program over the last five years," Currie said. "I see great promise in the direction of our program not only competitively but also academically and from a character standpoint."
Kredich has led the combined men's and women's swimming & diving team since the programs merged following the 2011-12 season. He had previously been the head coach of Tennessee's women's program since 2005.
"I'm very grateful to John Currie and the University of Tennessee for the trust and confidence that this contract extension represents," Kredich said. "I've always considered myself blessed to have the opportunity to coach amazing young men and women who are pursuing excellence in every realm of their lives, to work with colleagues throughout the university who are among the best in the world at what they do, and to be a steward for the proud legacy of one of the great swimming and diving programs in NCAA history.
"I'm humbled to be the head swimming coach at Tennessee and to be able to 'give my all' every day for our university, our department, our alumni and our team."
Tennessee's women's squad achieved its best-ever national performance as a combined program when the team finished third at the 2013 NCAA Championships. That team captured the program's first NCAA relay titles, winning three at the meet.
The Tennessee men also have returned to prominence on the national scene under Kredich's guidance, recording their best NCAA finish in 15 years when they took seventh at the NCAA Championships in 2016.
Individually, Tennessee has won more than 20 SEC titles and earned more than 200 All-America honors in the Vols' first five years as a combined program. The Vols had three swimmers compete at the 2016 Olympic Games, including Molly Hannis (United States, 200 breaststroke), Kira Toussaint (Netherlands, 100 backstroke) and Martina Moravcikova (Czech Republic, 200 breaststroke).
Tennessee swimming and diving has enjoyed multiple academic highlights in recent years. For the men, their multi-year Academic Progress Rate (APR) has increased for each of the last three years, rising to a record high of 987 in the most recent data release. The men's most recent Graduation Success Rate (GSR) was a perfect 100 percent for the first time in school history. The men also have posted a team GPA of at least 3.00 for six consecutive semesters.
The women also have excelled in the classroom, as their most recent multi-year APR was a program record 993, and their most recent GSR was a record-tying 95 percent. And for an incredible 10 consecutive semesters—dating to Fall 2012—their team GPA has been 3.20 or better. That includes a 3.51 team GPA in Spring 2016.
As the head coach of only the women's team, Kredich was named the SEC Women's Coach of the Year in both 2008 and 2012. He notably helped develop Lady Vols standout Christine Magnuson, who went on to become a 2008 Olympic silver medalist and the 100-meter butterfly American champion.
The swimming and diving program opens the 2017-18 season with the annual Orange & White Intrasquad Meet next Friday, Sept. 29, at Allan Jones Intercollegiate Aquatic Center. The event begins at 3:30 p.m. ET, and admission is free.
Press release courtesy of Tennessee Athletics.