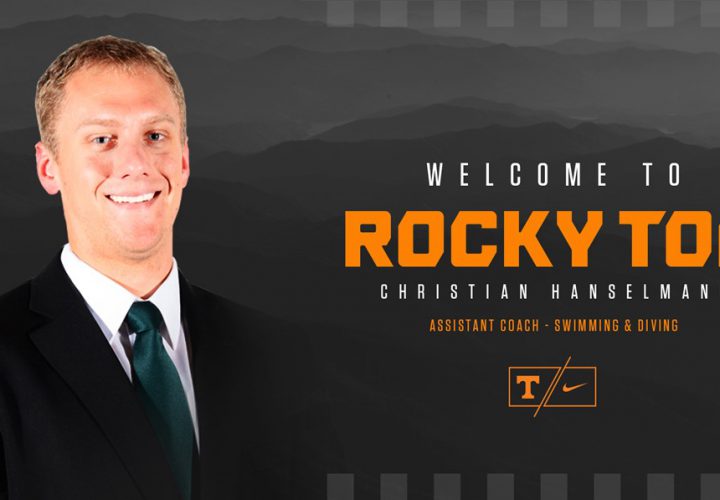 Photo Courtesy: Tennessee Athletics
Christian Hanselmann is returning to Knoxville to join the Tennessee swimming and diving program as an assistant coach, head coach Matt Kredich announced Thursday.
Hanselmann spent the last year as an assistant coach for the Eastern Michigan swimming and diving program. Prior to that, he was a graduate assistant for Tennessee and an assistant coach on the Tennessee Aquatics staff, working with the elite high school group and the master's program.
"It feels great to be able to bring Christian Hanselmann and his family back to Tennessee," Kredich said. "During his time here as a graduate student, he showed himself to be an original and creative thinker and student of the sport, an outstanding communicator and motivator, and a man of great character.
"He strengthened all of those attributes working for Peter Linn and Eastern Michigan, one of the best coaches in our sport. He's a great fit for this program at a time of exciting growth and realignment."
Last season, EMU won its 34th MAC championship on the men's side, beating Missouri State by one point, while the women's team finished second. Two women, Alexis Mitcheltree and Delaney Duncan, qualified for the NCAA championships.
He swam for three years at BYU and served as a student manager in his final year. He earned his bachelor's degree in exercise and wellness from BYU and his master's degree in sport psychology from Tennessee.
Hanselmann is married to the former Jenny Connolly, one of the greatest swimmers in Tennessee history. She won eight SEC titles and was a 22-time All-American for the Lady Vols from 2009-12. They have two children, Liam and Livvy.
The Vols have two new assistant coaches on staff this year. Rich Murphy joined the Vols from the Dynamo Swim Club in Atlanta last month.
The above press release courtesy of Tennessee Athletics