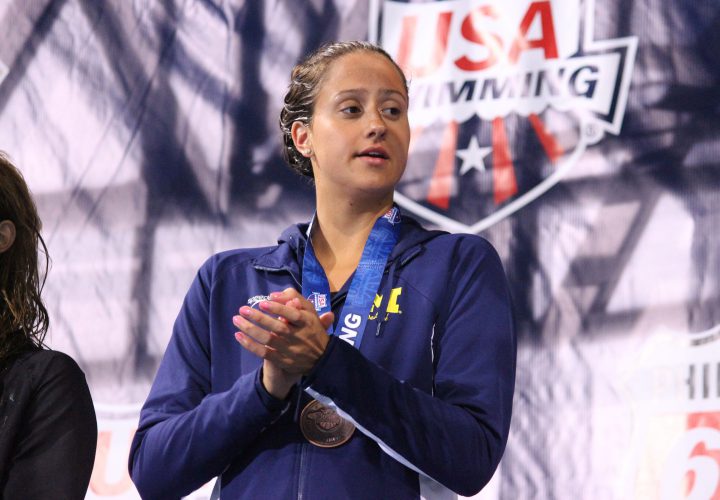 Photo Courtesy: Griffin Scott
The USA College Challenge got off to a quick start with the Team USA 'B' relay delivering a new American record in the 400 medley relay.
Ali Deloof jumped to an early lead for the Team USA women with a 50.59 backstroke split, before handing off to Andee Cottrell for the breaststroke leg.
Cottrell was able to hold off both Kirsten Vose (58.82) and Lilly King (56.85) with a split of 57.61 to maintain a lead for Team USA.
Kelsi Worrell, the American record holder in the 100-yard fly, slipped past the 50-second mark with a 49.36 split, giving Amanda Wier (48.04) plenty of room to bring it home resulting in an American record time of 3:25.60.
Their time overturns the previous American record of 3:26.14 set at last year's NCAA D1 Championships by Stanford's Ally Howe, Sarah Haase, Janet Hu, and Lia Neal.
Comparing splits:
Team USA (2016): 50.59/57.61/49.36/48.04 = 3:25.60
Stanford (2016): 51.89/57.02/50.65/46.58 = 3:26.14
The differences in the relay stand with the backstroke and butterfly legs as both Deloof and Worrell posted times over a second faster than Stanford's Howe and Hu, making up for the difference in the freestyle splits.