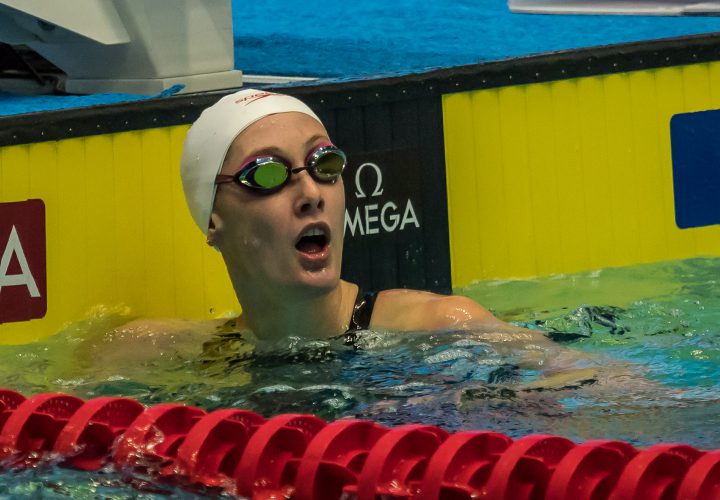 Photo Courtesy: Peter H. Bick
Women's 100 Back Semi-Finals
The women's 100 back followed the record-breaking momentum that the men's 100 breast had set, delivering another set of championship and World Junior Records (WJR). Canada's Taylor Ruck powered to a top qualifying time of 59.28 from heat one, lowering Australia's Minna Atherton's 2016 WJR of 59.34 in the process.
Ruck's time also lowers Regan Smith's championship record of 59.52, set in prelims earlier in the day.
Smith of the USA echoed Ruck's top time in heat one with a quick showing of 59.41 in the second heat of semi-finals. Smith's time qualifies her second for tomorrow night's finals and flirted with the National Age Group Record held by Missy Franklin. The record of 59.18 was set in 2011 before Franklin's Olympic debut.
The two young stars have set themselves up for an exciting race in tomorrow night's finals. Smith delivered the strongest first 50-meters out of the entire field, splitting a 28.95 over Ruck's 29.07, however Ruck brought home the race in a 30.21 over Smith's 30.46.
Joining the two young backstroke stars in finals will be fellow Canadian Jade Hannah and her qualifying time of 1:00.21.
Japan's Natsumi Sakai qualified fourth overall with a 1:00.23, followed by the USA's Grace Ariola and her time of 1:00.39.
Polina Egorova of Russia grabbed the sixth place seed with a 1:00.48, just ahead of the British duo of Cassie Wild (1:00.58) and Anna Maine (1:00.71).
Swimming World Radio
Grace Ariola, United States
---