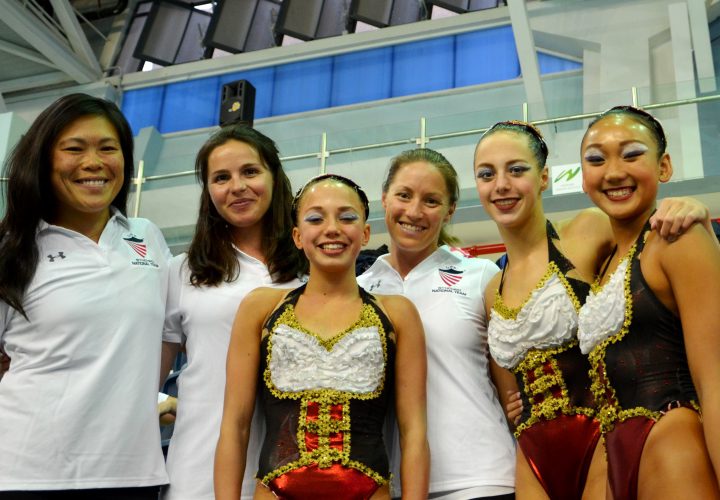 Photo Coutesy: Paola Tirados. 2008 Olympic medalist Paola Tirados poses with members and coaches of the U.S. 13-15 National Synchronized Swimming Team.
By Dax Lowery, Swimming World contributor
Paola Tirados, born in the Canary Islands in 1980, was a member of Spain's synchronized swimming team at three Olympics Games (2000, 2004, 2008) and won a team silver medal in 2008. She enjoyed a highly decorative competitive career, winning 10 World Championship medals in addition to 75 Spanish championship medals and 15 European and World Cup medals. Tirados had a quick rise in the sport: She picked it up at the age of 5, won at the national level at 10 and was soon claiming medals in international events.
Tirados started a club in New York City after moving there in 2013, and last year she coached the U.S. 13-15 National Synchronized Swimming Team. She now leads the Rising Star program for USA Synchro, where she travels to various clubs to provide assistance to talented athletes.
Here, Paola talks about her early years in synchro, what it feels like to win Olympic medals and the app she created to help others get the most out of the sport.
How did your mom come to introduce synchronized swimming to you when you were 5 years old? Were you a natural?
My parents are from a small city in Spain and they moved to the Canary Islands after they got married. When they had my brother and me, they decided we should learn to swim, something they never did. My mom loves water, but she only knows the breaststroke, and my father hates the water.
When I was 3 my mom brought me to the pool to start swimming classes. From the beginning I really enjoyed being in the water, so it was so easy to convince me when I was 5 to swim on the synchro team. My mom enjoyed watching the synchro team practice while she was waiting me to finish the swim class. So when my swimming coach told her I was ready to start with the swimming team, she decided to ask me about the synchro team, too. Of course I chose synchro. It was so fun – somersault, jumping, leg up, leg down. My mom always reminds me that at the beginning my synchro coach asked her to bring me to the rhythmic gymnastics classes; I was very flexible. So my mom tried it, but the gymnastic coach said I was so young and that we would have to wait until I was 7 years old. So she brought me back to the pool. Thanks, mom!
When did you realize you were pretty good at synchro?
I'm not sure. But I remember at the beginning, every competition was easier to get better results. This gave me a lot of energy and motivation to keep working hard every day in something that, of course, I loved.
When I was 8, I went to my first national championships, and when I was 10 I won the national championships in Spain in all the events (figures, solo, duet and team) for the first time. It was the moment when my family and I realized I was not bad at synchro, because I was very young and I was competing against girls who were 11 and 12 years old.
At what age did you think you could compete at the Olympics? Did you have a plan for how you would accomplish that?
I remember dreaming about being on the national team, and in 1992, the year of the Barcelona Olympics, I was so excited to watch live synchro, but my parents said it was very expensive. I got good grades, so my parents gave me a gift – they had bought tickets to go to Barcelona to watch synchro at the Olympics! It was the best synchro surprise of my life.
I'm from a small club, and at that time the best synchro in Spain was in Barcelona, Madrid and Seville. So I knew that I had to do something different to achieve my dream. It was very hard because I had to move to Barcelona and leave my family, friends and life to keep fighting for my dream. These days, the Spanish government helps the national team athletes with scholarships to be at the Olympic Training Center, but when I moved to Barcelona, my family and club had to pay all the expenses. I moved two years before Sydney 2000; the national coach told me if I didn't move there, I could not be in the national duet fighting for a place at the Olympics, so of course I did, again, thanks to my family.
What were some of your favorite memories in the sport before you competed at the Olympics?
I think the best moment was when we got the first European synchro medal for Spain, in Helsinki in 2000. We got third place with my duet partner, Gemma Mengual, after Russia and France, and we beat Italy. It was an amazing success and the beginning of a golden time for Spain. Some months later, Russia was disqualified because their doping test was positive and our medal changed from bronze to silver.
What was your Olympic experience like? What does it feel like to compete for your country? What does it feel like to win an Olympic medal? Do you have any other favorite memories from that time?
My three Olympic experiences were great. Each of them was very different, but I remember all of them with a lot of love.
Sydney was my first. I was young and we were there to perform our best duet routine without any pressure. We were just trying to get a place in the finals, so seventh place was a great success.
At Athens we were fighting for a medal, but we got fourth place for duet and team. We were practicing very hard, but our dream didn't come true.
In Beijing, we had a lot experience, and the medal had to be ours after many years waiting for that moment. Finally, we got it.
To be at the Olympics is the best experience for an athlete. After many years of work, behind every athlete there is a great story of fight and overcoming – you have to do your best performance in three to five minutes (for synchro). So you can imagine how it felt to get an Olympic medal. It's your prize for all the days when you were down, when you wanted to stop fighting but finally found the courage to keep moving forward.
When did you retire from the sport? What made you decide to do that?
I stopped practicing with the national team in 2009 before the Rome World Championships.
The situation inside the Spanish synchro team was not the best. I'm not talking about practices and trainings – I'm talking about how the national coach was managing our scholarship money and her coach-swimmer relationships. I wrote a letter to the national federation and sport government to ask for help to fix the swimmers' situation, but they told me they cannot do anything because we had won medals, so everything behind that was fine.
When you are 29 years old, you are not willing to keep doing your sport while living with that kind of situation around you. We are people, not robots. So I decided to stop. I was waiting for someone to improve our conditions, but nobody did, so I said goodbye to my synchro career even earlier than I had imagined.
It was a very hard time, but I knew I had to do it that way. I had to try to help the sport I loved; I'm not going to look the other way and wait for the next girls on the national team to suffer like us.
You moved to New York in 2013 – why did you decide to do that?
After I stopped my synchro practices, I focused on my university career. I finished my studies in architecture in Barcelona. My boyfriend, Dimas, who was also competed in the Olympics in sailing, and I decided to move outside of Spain. He is an engineer, and at the time the situation in Spain was very bad for construction jobs.
We didn't want to move to another European country like other people were doing, so we decided the U.S. could be a good option. We put on our backpack and came to New York City, maybe because it was   the first city you stop in when you are coming from Spain. We fell in love with New York, so we decided to start our new life here.
You coached the U.S. 13-15 National Team in 2016. What was that experience like? How did you get involved?
I started to help U.S. national team in 2011 when the team was trying to qualify for the London Olympics, with Mayuko Fujiki as the head coach. When (USA Synchro Executive Director) Myriam Glez arrived, she told me about her project. We used to swim against each other. So I told her I was available to help if they needed it.
I love synchro – I spend a lot of hours inside the pool, so even knowing I don't want to have a full-time synchro job, I'm so happy to help my sport.
My experience with the U.S. 13-15 National Team in 2016 was amazing. I really had a great time. We worked so hard, but at the same time, like when I was a swimmer, even when you are practicing all day and you are tired, you have fun because you love what you do. It was like coming back to my old life as a swimmer, dreaming and living for the dream. Very beautiful.
Right now I'm working with the U.S. Rising Stars Program. It's my second year, and I'm so happy with this job. I really enjoy helping girls improve their synchro skills with my experience and knowledge. I think it is the perfect synchro job for me because I have a 2-year-old son, so sometimes it's hard for me to coach national teams. My husband and I are alone in this country; we don't have family who can help us, so it's not easy to do both jobs: coaching synchro and being mom.
What does the future of U.S. synchronized swimming look like?
I think USA Synchro is doing a great job. I'm starting to see changes in the national teams. But everyone who knows our sport knows it's so hard to move forward and improve the results. You have to swim much, much better than the others to beat them. You have to do something different, something special, something that judges and people remember to start to grow up and be a good team in the world.
It's not easy work and it takes time, maybe six or eight years to see the results, but the secret is to start with the young people to make it real. I think the U.S. has potential, and of course they have a reference point – the U.S. was once the best in the world in synchro, so we need to find the way again.
Tell me a little bit about the Rising Stars program for USA Synchro. What does that entail?
I think it's a great program. The future of the U.S. is in these kids. We have to support and help them when they are young in order to get their best results when they are adult swimmers.
The U.S. is a big country – many kids are practicing synchro – but there is not enough support for these small teams that maybe don't have the tools to keep learning about our sport. Sometimes we have potential girls with amazing synchro skills on these small teams, and if they don't have the help needed we might lose these athletes and future champions.
We try to give them the support they need to improve their technique, routines and practices. I'm a consulting coach, and I help the Rising Stars athletes and, of course, their coaches when they need it. I'm visiting them twice during the year, but any time they want to share videos, comments or questions they can do it.
You are associated with an app called SINCHRO. Did you create it? What does the app do?
Yes, after many years in the water, competing around the world, I decided to take on a new adventure in order to help the sport I love.
We live in a world where people always check their phones, tablets and computers for everything. People cannot live without them. So I created the SINCHRO app, the first app for the sport of synchronized swimming. It's a new way, modern and in keeping with the times, to improve the quality of your workouts, your exercise, figures and routines. It keeps you always connected to the world of synchronized swimming.
Right now, the SINCHRO app has the "Official FINA Rules and Regulations Book" and incorporates video illustrations filmed above and below water. You will also find strokes, propulsion and transitions that are not in the FINA Book but which are necessary for any figure, routine or choreography or when you want to start to practice synchro.
Another tool in the app is "Measurements," a new tool to improve the quality of swimmers' training sessions, both live and by choosing specific parts of the exercises. It allows you to review and quickly correct athletes by analyzing angles, distances and heights through a series of guides that facilitate a quick visualization of minor failures and mistakes. And "Events" is a tool where you can check official synchro competitions from all over the world.
You also coach with Imagine Swimming. What is that and what do you do with them?
When I arrived to NYC, I realized that synchro was not a popular sport here. The first problem was the access to a good pool. So I decided to offer the opportunity to enjoy the sport to the kids in Manhattan.
I found Imagine Swimming, a company that is working hard to teach swimming and get people to love the water. They teach babies and kids and they have a swimming and water polo team, so when I met Casey Barrett and Lars Merseburg, the founders, they were excited to start a synchro team, which is Imagine Synchro.
It's not easy in a big city full of buildings and people always on the go, but we made it real, thanks to Imagine Team support. Right now we have a synchro team with 12 girls on the competition team, and this fall we are starting a new novice group. We are so excited and looking for synchro coaches to join us!
You also design synchro swimwear. How did that come about?
When I arrived in NYC and I started to create the app, I also realized it was so hard to find swimsuits specifically made for synchro — black suits for figures competition or routines suits. So I thought I have to change that and I started to design them.
I want to make the dream suit for synchro swimmers. This is something very important for our sport. It's not a simple suit – it has to be in line with the music with the choreography, so I'm so happy to work hard to try to get it.
How do you see the future of synchronized swimming as a sport and in the U.S.?
I think the main problem is the money. I cannot understand why the sport doesn't have government support because I came from a country that has that support, even though sometimes it's not too much. It's so sad to hear that swimmers don't make national teams because of family money. If we can fix this, we will be able to do amazing things. We need sponsors.
We have kids with the passion for the sport, so we only have to work hard, with passion, to make improvements with the USA Synchro team, and I think they are doing that right now. But as I said before, it's not easy in our sport. We have to climb the mountain step by step.
You've made a successful career out of synchro. Why do you love this sport?
I love this sport because I love music, being in the water and expressing feelings with my body. This sport taught me a lot. It helped me grow up to be the person I am right now. It taught me to fight for my dreams, to not give up during the bad times, and of course to work with a team – the best results arrive when you work hard together with your mates for the same goal.