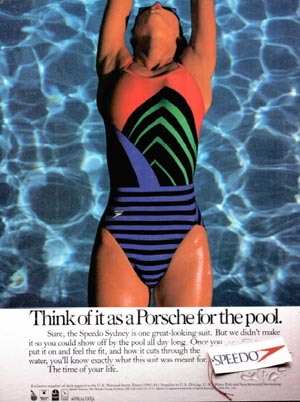 PHOENIX, Arizona, March 11. THIS weekend, SwimmingWorldMagazine.com Rewind takes a look back 20 years ago to the March 1987 edition of SwimmingWorldMagazine.
March 1987 Table of Contents
FEATURES:
Not the Retiring Type by Russ Ewald
Although he'll be 27 this year, Soviet great Vladimir Salnikov plans to continue competing as long as he can swim good times – 27
Q&A with Kipke by Dr. Jim Brik
The GDR'S Dr. Lothar Kipke, head physician of the sports medicine center in Leipzig, talks informally about the GDR swimming program – 31
Barcelonan Dreams by Mark Muckenfuss
Members of the U.S. women's water polo team are hoping for Olympic recognition after competing in last year's World Championships – 34
An Exciting Adventure by Buck Dawson
Picking a camp, let alone attending one, can be an adventure all its own – 39
Poseidon's Stop at Skinker and Wydown
The 12 aquatic events contested at the 1904 Olympics in St. Louis (today's Skinker and Wydown intersection) were a major chapter in the sport – 43
Mmm… Maastricht by Bob Ingram
Maastricht, the provincial capital of Limburg and one of the oldest cities of the Netherlands, played host to over 100 American swimmers who spent their Christmas holiday at KLM'S International Friendship Meet – 47
COVER:
Over 100 American swimmers were greeted by the city of Maastricht's deputy mayor at city hall while participating in the first KLM International Friendship Swim Meet in the Netherlands, Dec. 28-30, 1986. For most of the U.S. kids, it was their first opportunity to travel internationally as swimmers from Holland, Germany, Belgium, the Netherlands Antilles and the United States competed in different age groups from 13 to 18. Besides gaining an invaluable experience, the U.S. contingent had a lot of fun, too! See story, page 47. (Photo by Paul Mellaart)
Here is an excerpt of the Mmm..Maastricht piece written by Bob Ingram:
MAASTRICHT, The Netherlands–Bill was nervous.
It was only natural. After all, this was Bill's first international competition. The 14-year-old had come all the way from Lemoore, Calif., one of those small central California towns halfway between Bakersfield and Fresno.
He was now in the land of windmills and wooden shoes: Holland.
No, this wasn't a world championship. Yet there were swimmers from Holland, West Germany, the Netherlands Antilles, Belgium and the United States.
This was the inaugural KLM International Friendship Meet . . . with the emphasis on friendship.
Yet Bill was still understandably nervous, trying to invent things to do with his time while waiting for the start of the 200 meter IM.
It wasn't that he had a realistic shot of winning his race, especially when your entered time in the event is 3:33.48!
"I've traveled a lot," he said, 'but never like this–to Europe!".
For the complete Swimming World Magazine article, click here.
Premium online subscribers can view the entire March 1987 edition of the magazine, as well as any other edition of the magazine back to 1960. To order a premium subscription, please click here.