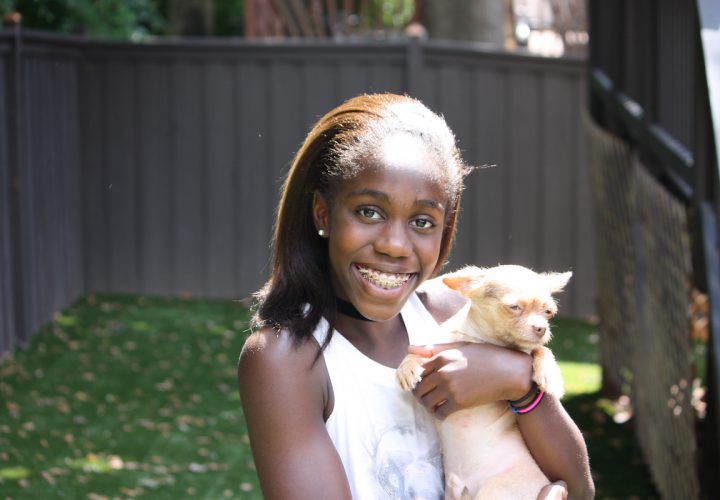 Photo Courtesy: Ulett Family
Up & Comers: Rye Ulett
Ryenne "Rye" Ulett, 12, of the Dynamo Swim Club has been quickly following in her older sister's footsteps. Tristen, 14, was featured in Swimming World in April 2016 as an "Up & Comer" for her record-setting prowess in the girls 13-14 age group.
Now, it's Rye's turn!
She holds eight Dynamo team records, including two that were pre- viously held by Tristen! Rye also recently set three Georgia state 11-12 age group records while swimming at the YCF Summer Solstice Invi- tational, June 16-18, in Orlando. Competing in the girls open division, she won the 100 and 200 meter back (1:05.90, 2:19.05) and placed fourth in the 100 y (1:04.40).
Rye also holds state records in the 10-and-under age group: 50 and 100 meter free (29.13, 1:04.61) and 200 IM (2:38.92).
"Rye loves to race," says her coach, Beth Winkowski. "She was eager for more competition, so we worked out a plan where she raced some meets as an 11-12 and some meets as open." Her parents, Dane and Tina, added, "She's very comfortable in who she is, and she knows what she wants to accomplish. She's a go-getter, over-achiever, a great encourager and very determined."
To learn more about the younger Ulett sister, check out the September 2017 issue of Swimming World Magazine, available now!
Not a subscriber?  Subscribe With This Special 3-Year Offer! Swimming World Magazine gives you access to all of the back issues of Swimming World Magazine dating back to 1960!  Visit the Swimming World Magazine Vault.
Save 25% on a 1 year subscription and download more issues from the Swimming World Vault and get the following:
Use Coupon Code: realnews and save 25%
A monthly print copy of Swimming World Magazine in the mail for 1 year!
Free download of the next 12 issues and the past 12 issues of Swimming World Magazine!
Free download of next 24 issues and the past 24 issues of Swimming World Biweekly!
Free download of next 4 issues and the past 4 issues of Swimming Technique Magazine!
Click Here For This Special Offer with coupon code "realnews" during checkout.
Take a tour through the current Swimming World Magazine…
FEATURES
010 A RED, WHITE AND BLUE DANUBE WALTZ
by David Rieder, Brent Rutemiller, Taylor Brien and John Lohn
Team USA danced circles around its com­petition in Budapest's (Hungary) beautiful Duna Arena at the 17th FINA World Cham­pionships, July 23-30. Beginning nine days earlier on July 14, the city came alive, sup­porting all the aquatic sports—open water, diving, high diving, synchronized swimming and water polo.
020 WORLD CHAMPIONSHIPS PHOTO GALLERY
All photos courtesy of SIPA USA

028 POISE AND CONSISTENCY IN THE LONG BLUE LANE
by Annie Grevers
Men who have been fortunate enough to be a part of the legendary St. Xavier High School swimming tradition in Cincinnati, Ohio know what it means to belong to the "The Long Blue Lane." But the members of the exclusive group also realize how instru­mental their years as St. X Aquabombers were to their character development.
032 THE X FACTOR
by Annie Grevers
St. Xavier swimmers knew they could do something pretty impressive during the 2016-17 high school season. By "doing the work and putting in the time," Coach Tim Beerman's Aquabombers won Swimming World's boys' national high school champi­onships, securing its fourth title to go along with team victories in 1973, 1992 and 2001.
036 EMBRACING THE CHALLENGE
by David Rieder
Carmel High School (Ind.) once again won Swimming World's girls' national high school championships—for a fifth straight year and for the sixth time in the last seven years.
COACHING
040 LESSONS WITH THE LEGENDS: BOB KIPHUTH
by Michael J. Stott
044 SPECIAL SETS: TRAINING FOR EXCELLENCE IN THE INDIVIDUAL MEDLEY
by Michael J. Stott
This is the first of a two-part series on train­ing for the individual medley, which requires time, sacrifice, incredible endurance and speed to achieve world-class status. This month, Coaches Ted Knapp and Jeff Kostoff share "the Stanford way" of training their IMers. Next month: North Baltimore Aquatic Club coach Paul Yetter will provide some of his IM training secrets.
046 SWIMMING TECHNIQUE MISCONCEPTIONS: STROKE COUNTS
by Rod Havriluk
This month's article addresses the miscon­ception that a lower stroke count represents a more effective technique. While stroke counts can provide meaning­ful feedback about technique, swimmers often make technique adjustments that lower their stroke count, but do not necessarily make their tech­nique more effective.
049 Q&A WITH COACH JON CARLSON
by Michael J. Stott
050 HOW THEY TRAIN: TANNER SONNEK
by Michael J. Stott
TRAINING
043 DRYSIDE TRAINING: THE IM STROKE SERIES—BREASTSTROKE
by J.R. Rosania
JUNIOR SWIMMER
053 UP & COMERS
by Taylor Brien
COLUMNS
008 A VOICE FOR THE SPORT
048 MOMS AT MEETS
054 GUTTER TALK
056 PARTING SHOT