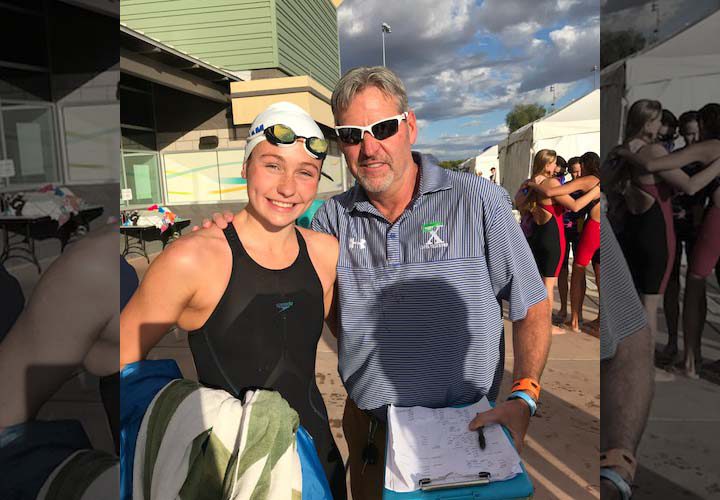 Photo Courtesy: Mark Rankin
Up & Comers: Mia Rankin
At 14, Mia Rankin of the Phoenix Swim Club, Ariz., knows all about mental toughness. She hails from a talented family of swimmers with both of her parents (Mark and Maureen) and uncle (Matt Rankin) spending many years coaching swimming and having successful swimming careers themselves.
Each year, Rankin continues to improve. When she was 12, she achieved sectional standards in six events. She built upon that by adding a junior national standard cut in the 200 meter breast at the age of 13, while also finishing 10th in the 1650 yard free at the 2017 junior nationals. She has won high-point awards in both the 12- and 13-year-old age groups, and holds a club record in the 200 yard IM (2:05.39) for 13-14 girls.
Last year was a heart-wrenching one for Rankin and her family, as cancer claimed the life of Mia's mom, Maureen ("Mo"), in September. In spite of her tragic loss, Mia threw herself into swimming, finding refuge in the sport that her mom loved so dearly. As a freshman at Xavier College Prep, she contributed to her school's state title, placing second in the 500 yard free (4:55.93) and third in the 200 IM (2:04.68).
Rankin's dad, Mark, who took over the coaching responsibilities at Xavier following the tragic passing of his wife, told Swimming World that "Mia has an unbelievable mental toughness, considering we had a tough 2017 as a family" and that "she almost always has a smile on her face."
Phoenix Swim Club coach Mike Maczuga echoed Mark's comments: "Mia has had to deal with some pretty hard life issues this past year outside the pool. Despite this, she has maintained her ability to be a mentally strong leader in the pool with her friends and teammates."
Outside of the pool, Rankin enjoys "eating as much as I can" and playing water polo—a fitting activity, considering her aunt—Peggy Haslach, Mo's older sister who swam at Stanford—was an assistant water polo coach in 1981 and made the U.S. national water polo "B" team in 1984.
To learn more about Rankin, check out the February 2018 issue of Swimming World Magazine, available now!

[ PHOTO BY GIORGIO PEROTTINO/DEEPBLUEMEDIA/INSIDEFOTO ]
Swimming World Magazine gives you access to all of the back issues of Swimming World Magazine dating back to 1960!  Visit the Swimming World Magazine Vault.
FEATURES
018 THE CASE FOR HIGH SCHOOL SWIMMING
by Annie Grevers
To swim in high school or not to swim in high school? Swimming World asked five U.S. Olympians for their perspective on the subject—swimmers who are but a few in a long line of high achievers who might never have reached the pinnacle of the sport without high school swimming.
021 UNDERSTANDING AND DISPROVING RACIAL STEREOTYPES
by Bruce Wigo
If there ever was a baseless stereotype that went against historical facts, it is that "black people can't swim."
024 SHI'S THE ONE
by Dan D'Addona
China's Shi Tingmao has dominated women's diving for the past three years, having won six gold medals and one silver medal at the last two World Championships and the Olympics.
026 NCAA DIVISION I DIVING PLAYBOOK
by Annie Grevers and Erin Keaveny
The 2018 NCAA Division I Championships will be chock-full of diving talent. Here are a few names of some of the outstanding divers who will be competing this year in Colum­bus, Ohio (women's meet, March 14-17) and Minneapolis (men's, March 21-24).
029 DIVERS MATTER
by David Rieder
Swimmers and divers almost never compete in each other's championship meets, yet the two sports are contested together at the NCAA level—with points from each disci­pline counting toward the eventual team champion. If a top swim team can get some quality diving points, that can make the dif­ference in a tight battle for the team title.
COACHING
010 LESSONS WITH THE LEGENDS: JAY FITZGERALD
by Michael J. Stott
013 COLLEGE RECRUITING: UNDER PRESSURE
by Michael J. Stott
In the fourth and final article of a multi-part series, Swimming World looks at early com­mitments, offers and obligations of coaches and college recruits.
016 SWIMMING TECHNIQUE CONCEPTS: CAN KATIE LEDECKY SWIM FASTER? (Part I)
by Rod Havriluk
There are substantial changes that Katie Ledecky can make in her head position and breathing motion—as well as in her arm coordination—to swim considerably faster. Next month's article will explain how to ad­dress these technique limitations.
040 HIGH SCHOOL TAPER SETS
by Michael J. Stott
While a preponderance of points at high school state meets are often scored by club swimmers, every team requires a cadre of dedicated, tapered athletes to support a championship drive.
043 Q&A WITH COACH BRENDAN HANSEN
by Michael J. Stott
044 HOW THEY TRAIN NICCO VELASQUEZ
by Michael J. Stott
TRAINING
039 DRYSIDE TRAINING: WANT MORE PULLING POWER?
by J.R. Rosania
JUNIOR SWIMMER
046 UP & COMERS
by Taylor Brien
COLUMNS & SPECIAL SECTIONS
008 A VOICE FOR THE SPORT
030 2018 SWIM CAMP DIRECTORY
047 GUTTER TALK
048 PARTING SHOT